Tacoma Link Light Rail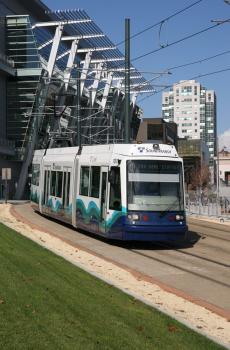 Getting around downtown Tacoma is easy with the Tacoma Link Light Rail.
The Tacoma Link Light Rail provides service from one end of downtown to the other. Hop on to ride between the 13 stops at: the Tacoma Dome, South 25th Street, Union Station, the Convention Center, South 11th Street, Theater District, Old City Hall, South 4th Street, Stadium District, Tacoma General Hospital, 6th Avenue, Hilltop District, and St. Joseph's Hospital.
The Link Light Rail operates 365 days-a-year. Parking is free in the six-story Link garage located next to the Tacoma Dome Station. The Link travels between ends approximately every 12 minutes. Check the schedule for train frequency.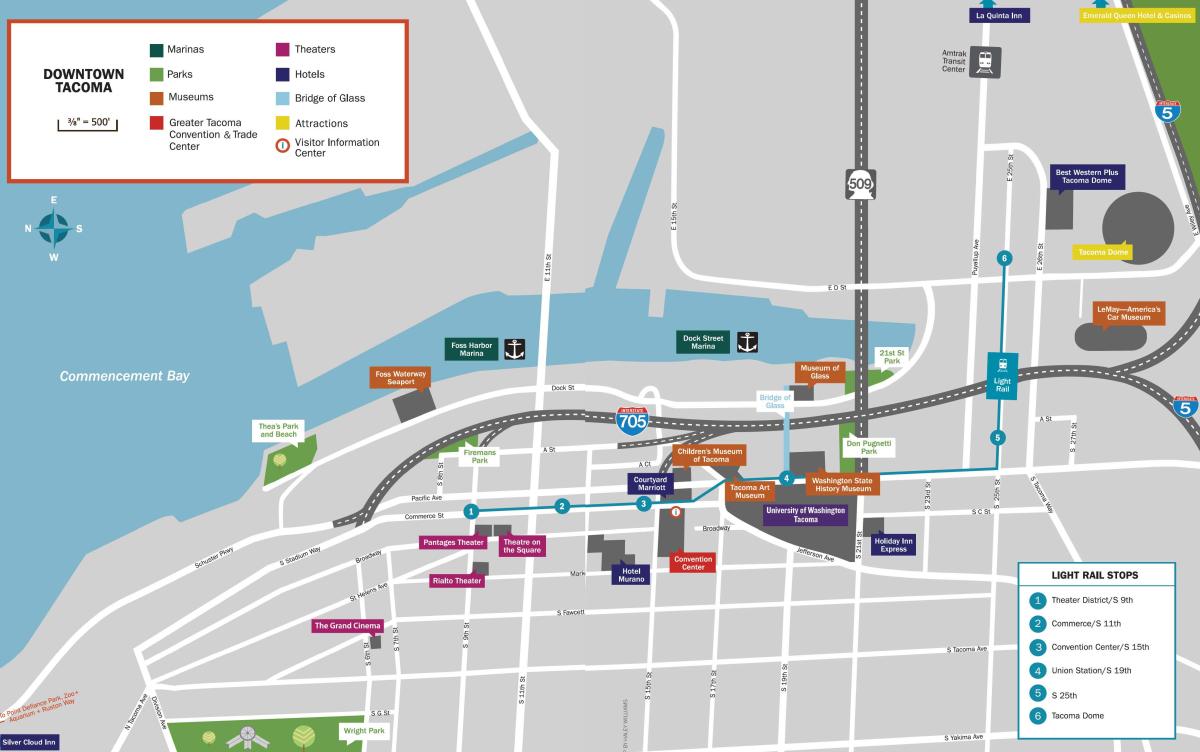 Click for larger map
Hours of Operation
Mondays through Fridays: 5 a.m. to 10 p.m.
Saturdays: 8 a.m. to 10 p.m
Sundays and Holidays: 10 a.m. to 6 p.m.
Tacoma Dome Station [424 E. 25th St.]
Tacoma Dome Station is a transportation hub with train rail, bus and light rail
Pop in to Freighthouse Square for food, shops, antiques and art galleries
Adjacent to the station, the Tacoma Dome holds concerts, meetings and sporting events
South 25th Street Station [South 25th + A Street]
Have an All-American burger at this popular joint, Chalk Talk Bistro, or try a deep-fried hot dog, old-school burger or gluten-free meal at Friesenburgers
Union Station [Pacific Avenue + South 19th Street]
Convention Center Station [Commerce Street + South 15th Street]
South 11th Street Station [Commerce Street + South 11th Street]
From May to October, visit the Tacoma Farmers Market on Broadway Street for fresh local foods, crafts and music
Enjoy lunch or dinner at Galanga Thai and many other great restaurants
Theater District Station [Commerce Street + South 9th Street]
Tacoma City Theaters offers a variety of year-round entertainment at Pantages, Rialto, and Theater on the Square
Adjacent to the Theater District is Antique Row, where numerous shops offer a wide range of antiques and collectibles