It's understandable if you've found yourself dining al desko for most of the winter, but now the weather has turned, and we're starting to chain together a few heat waves into a legitimate spring that occasionally feels like a summer. The t-shirts are coming out of storage, pale legs are making their annual debut and outside seating has started playing into restaurant decisions.
With that in mind, here are some of the places in Tacoma and Pierce County that serve great food with a side order of sunny vitamin D.
Tacoma
1. Duke's Chowder House – Ruston Way​: Most of the Tacoma waterfront restaurants have outdoor seating, but Duke's does it very, very well. They have a huge deck with Christmas-tree style lighting strung up that gives it a nice ambiance after sundown, so you can savor your dinner and enjoy a drink or two afterward. Local tip: Go for happy hour – coincidentally only available in the bar and on the deck – when drinks and beers are mostly $5.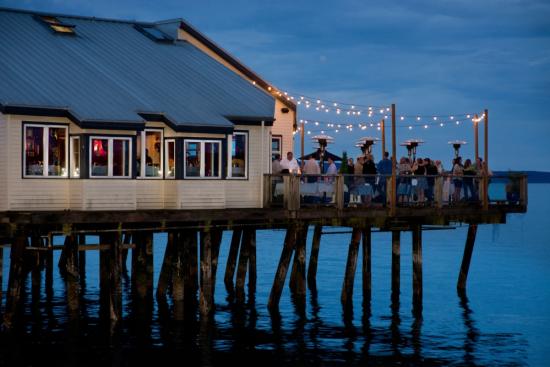 2. Katie Downs Waterfront Tavern and Eatery (21+): Casual and cool, affordable and atmospheric, Katie Downs balances a Pacific Northwest, come-as-you-are easiness with views for which you'd expect to pay a premium, but don't have to. Throw into the mix their award-winning pizza and you've found your dinner plans. Local tip: The spacious deck is perfect for bigger groups, and means that on a crowded day at the waterfront, Katie Downs is likely your best shot at finding an open table.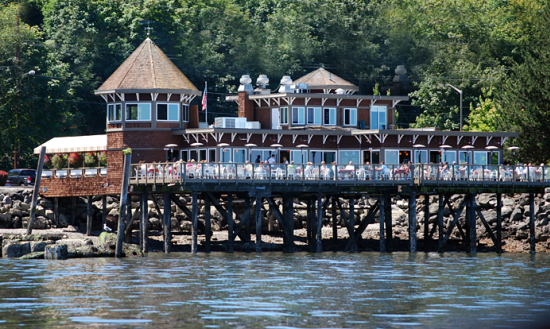 3. Boathouse 19: One waterfront restaurant just won't do the trick when you have a whole summer to plan for, and Boathouse 19 is on anyone's repeat list who has sat outside there. About a dozen tables with umbrellas (and a few with fireplaces) await diners who are looking for not only great food, but also some of the best views of Commencement Bay. Local tip: They make some signature milkshakes – salted caramel, s'more, banana caramel, etc. – the old fashion way, and you can add a little 21-and-over kick to them for an extra $4.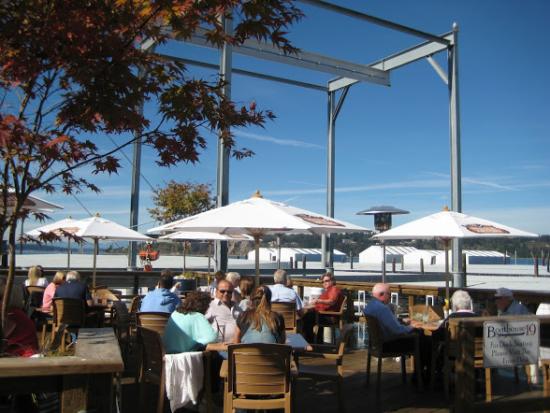 4. The Matador: Right in the heart of downtown Tacoma, The Matador is a good spot for a business lunch or to hang out with friends on a sunny weekend in the city. The service is spectacular and the seating outside provides ample opportunity for people watching. Local tip: There isn't much outdoor seating (maybe a half dozen tables), so get there early if you'd like to sit outside.
5. Top of Tacoma Bar (21+): The stellar beer list is to be expected, but the food here is also reliably good. The outdoor seating section is only a couple tables, so if you're able to score one of them, it's like having a private dining room very much in public. Local tip: Brunch is their secret weapon, but get there before opening (11 a.m.) on weekends because they fill up fast. That probably says a lot about the food (the pork belly hash comes recommended), but it probably doesn't hurt that brunch drinks are just $3.
Gig Harbor
6. The Hub at Gig Harbor: Part of the Harmon Brewing Company family of brew pubs and restaurants, the Hub at Gig Harbor offers all the food that Harmon is famous for, as well as their beers, of course. Located on the runway of the Tacoma Narrows Airport, when you sit outside, you'll have a front-row view to watch planes taking off and landing. Local tip: Go for happy hour, when there are great food specials (pulled pork sliders are a favorite), but Harmon's flagship beers are only $3.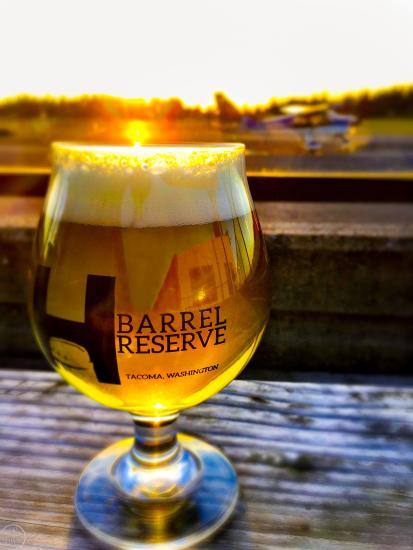 7. Tides Tavern (21+): Since 1973 the Tides Tavern has been a Gig Harbor mainstay, offering great food, friendly service, and an amazing waterfront deck. The St. Louis Burger is a masterpiece, topped with Pt. Reyes blue cheese crumbles, onions, mayo, lettuce and tomato. Local tip:  Customers visiting by boat receive free moorage on the Tides Tavern private docks while dining.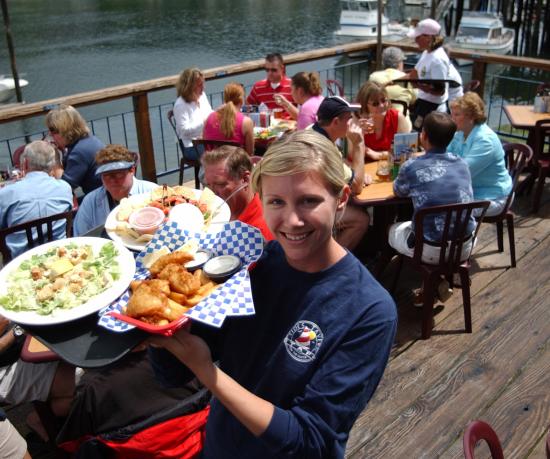 Fife
8. Pick-Quick Drive In: Pick-Quick seems custom-made for nice weather and enjoying a burger out in the open air. To set the scene, you pick up your beefy and cooked-to-perfection burger and fries (or hot dog, if that's your thing), and then take it to the picnic table area where you'll sit beneath giant evergreen trees, surrounded by flowers. And on the days when the heat really kicks in, you'll already be within "shut-up-and-take-my-money" distance of some of the best shakes and malts in the state. Local tip: Chocolate shakes are good, but blackberry marshmallow shakes are on a whole different level.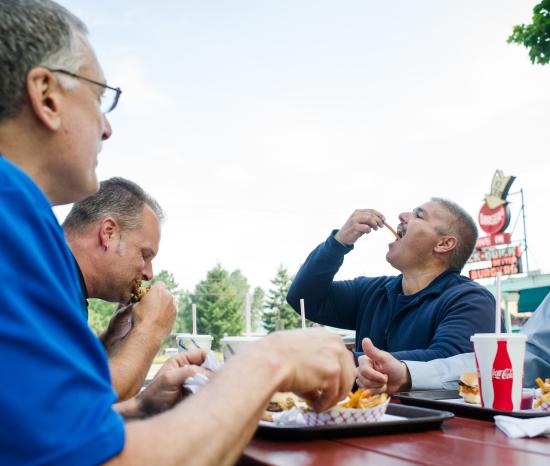 9. Warthog Barbecue Pit: Anyone that's been to a Texas barbecue pit will feel well at home at Warthog. The community-style seating lets you enjoy your slathered meat and side dishes while planning your next order based on what's on your table-mates' plates. The outdoor area doubles the capacity of the restaurant with a fenced-in patio area. Local tip: If you're not familiar with how a Texas-style barbecue joint works, the options can seem a little overwhelming. If you're indecisive, opt for the Moo, Oink & Cluck entrée to enjoy a bit of beef, pork and chicken.
Puyallup
10. Spark Firehouse Deli: When the weather is nice, Spark Firehouse Deli opens the glass door to an entire patio area of outdoor seating, really transforming the space. They focus mainly on their fire-roasted sandwiches, and rumor has it the Hazmat (pulled pork, BBQ sauce, pepperjack cheese) is a clear winner.
Sumner
11. The Windmill Bistro: Picturesque Sumner is an ideal place to slow down and enjoy a relaxed outdoor meal with friends and family, and the Windmill Bistro is a great place to do it. Their outdoor dining experience is different than many others, in that it's actually located in the adjacent Windmill Gardens nursery, putting you smack-dab in the middle of a floral feast for the eyes and nose. The food focuses on Pacific Northwest fare, so it's no surprise that their open-faced Dungeness crab melt is an easy go-to choice.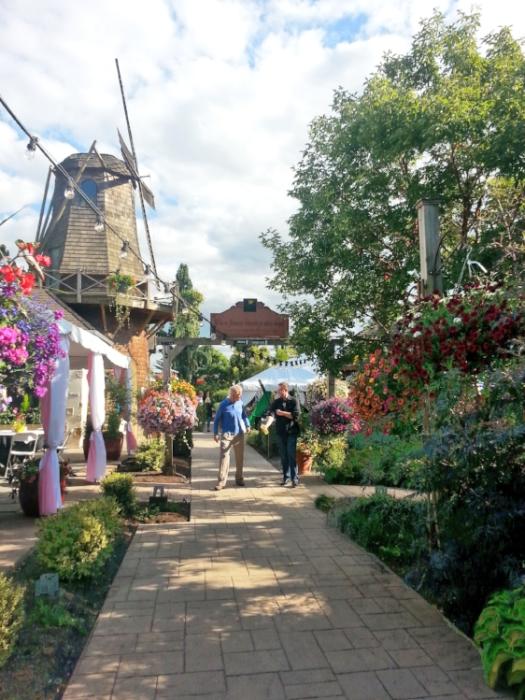 12. Sorci's Italian Café: Sorci's is a pizza-and-pasta joint with a not-exactly-secret love for wine. Their wine list has all of the main domestic regions covered (Washington, Oregon, California), but their selection of Old World Italian wines is what sets them apart. They've partnered with their neighbor Garden Market to offer a stunning outdoor dining area behind the restaurant, in the actual garden. What's better than sipping a glass of Italian Chianti in a garden on a warm evening? Not much.
Mt. Rainier area
13. The Summit House: The Summit House is pretty much the gold standard of outdoor dining. As the highest elevation restaurant in Washington State (6,872 feet), there isn't much competition for views of Mt. Rainier, and it's one of the only restaurants you can access by gondola. Although it just closed for the season, they will reopen May 28 for weekends only through June 24, and then will be open daily.