Thanks to a growing number of refined and health-conscious palates in Pierce County, local produce is getting a much shorter commute before landing on restaurant tables.
With diners in major metropolitan cities clamoring for farm-to-table restaurants, historically, much of what was grown in the Puyallup Valley ended up trucked to tables in larger, more distant cities. These days, however, thanks to increasing demand for more sophisticated fare in Pierce County, the fruits, berries and vegetables grown in the farmlands of Puyallup and Sumner often stay in the county, and sometimes never even leave the city where they were grown.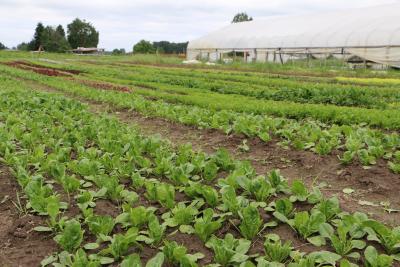 The reason really boils down to Pierce County finally having both the supply and demand side of farm-to-table economics. While the South Puget Sound and particularly the Puyallup Valley have been one of Western Washington's main sources for quality produce for more than 150 years, the demand side was lacking, locally. In recent years, however, derelict buildings in the region have been transformed into university campuses; empty lots have become world-class museums and vacant storefronts become thriving craft breweries, clothing boutiques and chic restaurants. The demand has finally caught up with the supply.
And it's a supply-side that enjoys an embarrassment of riches. Dozens of family farms dot the landscape in and around the city of Puyallup, providing the fresh, seasonal ingredients chefs crave both in the South Sound and beyond. Wild Hare Organic Farm, for example, provides produce to famed chef/restaurateur Ethan Stowell's Mkt. restaurant in Seattle, but also increasingly sees orders from Tacoma and Pierce County. Their organic fruits, vegetables and herbs grace menus of South Sound restaurants like (aptly named) De La Terre in Steilacoom, and Primo Grill and The Table in Tacoma. 
As both a farmer and a chef, Ben Herreid of Wilder Local Fare & Libations in Tacoma (formerly of Arista Pasta in Puyallup) has long been an evangelist of the Puyallup Valley. Sometimes his farm's yield is such that he can't help but defer to it as a chef. "Puyallup has got some of the best soil in the country. We've gotten to the point where what's coming out of the field is dictating what's going on the menu in a major way," he said.
Even Puyallup-based Spooner Farms, most well known for their berries, becomes a much-loved local ingredient. They provide the strawberries that give a fruity sweetness to Powerhouse Restaurant & Brewery's seasonal Strawberry Shake IPA, which is brewed and served in…you guessed it…Puyallup.