Today is National Plan For Vacation Day, and while it sounds like a fun day to celebrate, the reason we recognize this day is kind of depressing: Americans aren't taking the time off that they've earned, and that's costing them and their companies money and stress.
More than half (55%) of employees leave their days off unused, and in 2015, a total of 222 million vacation days that were on the books simply disappeared. They didn't get paid out or rolled over; They were something that belonged to the employee on Dec. 31 and then didn't exist on Jan. 1. These are days that could have been spent with family and friends, exploring a national park, taking a long weekend on the Mountain or relaxing and recharging batteries.
That's why today, on National Plan Your Vacation Day, we're joining with Project: Time Off to encourage people to take a few minutes and figure out what they're going to do with their time away from work in 2017, and put that time off on their calendars. To help with the planning, here are five resources that will help you out:
1. 25 free things to do in Tacoma and Pierce County
This is Travel Tacoma + Pierce County's list of 25 experiences you can have around this region, free of charge. Here's a list of beach excursions, hidden walking paths, museum free-entry days and more that will jump start your imagination while leaving your wallet unscathed. 
2. Five things to do for less than $5 in the South Puget Sound
Some things are just too good to give away, but for these gems, a monochrome paper portrait of Abraham Lincoln should suffice.
3. Free-admission days at U.S. National Parks - including Mount Rainier!
Every year, the U.S. National Park Service determines a few days and weekends that have free admission to the national parks. Here are those days in 2017, when you can get your admission to these national treasures, free of charge.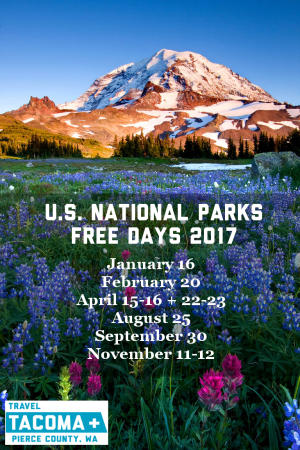 4. Recommended itineraries for the South Puget Sound
These are more than two dozen pre-packaged adventures, just waiting for you to find the time to have them. Whether you're looking to get out of your comfort zone with some tightrope-walking adventure, or just looking for an undiscovered viewpoint to enjoy for an afternoon, there are dozens of one-day, two-day and three-day options for you.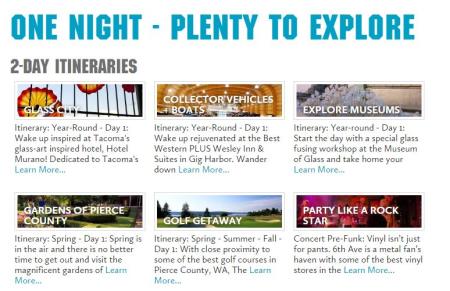 5. Tacoma + Pierce County Visitor Guide
The people whose job it is (full disclosure: that would be us at Travel Tacoma + Pierce County) to figure out the best ways for visitors to spend their hard-earned time off in Pierce County have condensed a whole lot of insight, ideas, recommendations and good reading into one annual guide. And it's free to request a hard copy or download immediately and directly.