Tacoma Art Museum doesn't shy away from hard topics and stories told through the lens of art, which is part of what integrates the museum into the fabric of Tacoma's identity. Continuing the chain of back-to-back hard-hitting exhibitions like 30 Americans, The Outwin 2016: American Portraiture Today and Zhi Lin's In Search of the Lost History of Chinese Migrants and the Transcontinental Railroads is the museum's latest exhibition: Immigrant Artists and the American West.
With immigration a hot topic of the moment, and Tacoma being an officially designated Welcoming City, TAM chose the right time and the right exhibition for the zeitgeist.
Focusing on art created by immigrants to the United States and their children, the exhibition looks to convey their take on the American West, both in its modern form, and in America's Age of Expansion during the 1800s. Immigrants from Asia and Europe had a fascination and romanticism they expressed over and over in paintings on display.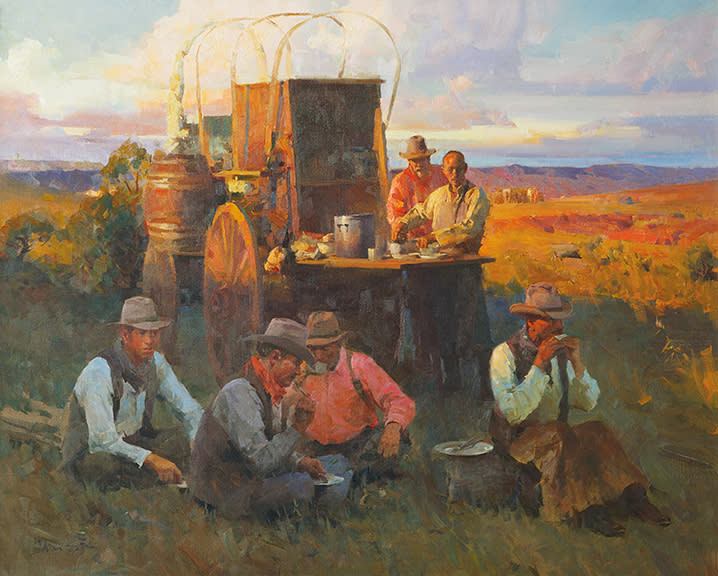 Mian Situ (Chinese American, born 1953); Beef, Beans and Biscuits 2004
"The myth of the west had so much weight around the world, and the Southwest was so different than anything else in Europe," said Faith Brower, TAM's Haub Curator of Western American Art.
The exhibition itself begins with and includes several reminders throughout that visitors to the museums are, by and large, the product of immigration, which is part of the impetus of the exhibition.
"We have a kind of collective amnesia about the fact that we're all immigrants," Brower said. She pointed out that as we walk through this exhibition, we're standing on what was originally Puyallup tribal land.
Fittingly, the first installation visitors encounter in the exhibition is a study (a smaller version done as a model for a larger work) of the Welcome Figure, downtown Tacoma's iconic, 24-foot-tall wooden statue, carved by Puyallup Tribe member Shaun Peterson.
The exhibition goes on to showcase work from immigrants from places as far ranging as Japan, Pakistan, France, China, Denmark and Mexico, and doesn't pretend to show "the immigrant experience." Indeed, the range of styles, subjects and forms – from sculpture to photography to painting – highlight that such a uniform experience doesn't exist.
Immigrant Artists and the American West is open now through June 14, and draws from Tacoma Art Museum's Haub Family Collection of Western American Art, its Northwest Art Collection and loans of contemporary art.