If you're driving through Wilkeson and you're sleepy, it wouldn't take much to convince yourself that you'd nodded off for a few seconds and dreamed you'd been ripped backward in time a hundred years. The walkway past the brick storefronts of "downtown" - all two blocks of it - is covered with an old-west style awning supported by timbers so weathered and timeless that your imagination might superimpose a hitching post that hasn't been there for a century, but was definitely once there.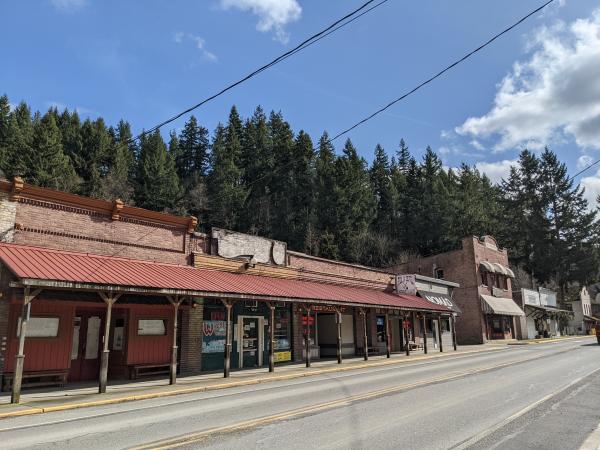 Downtown Wilkeson is just a couple blocks of rugged history that also happens to be a burgeoning culinary destination.
Wilkeson is one of those rare small towns that have come by authentically what so many others try to manufacture or at least exaggerate: a visible history with a sense of place, and something to be known for.
A Visible History with a Sense of Place
Not much sparkles here, and that's good. Wilkeson was built from, and remains, old iron, weathered brick and creosoted timber. Lately, painted lumber has been added to some storefronts, which has granted the town a stately air while not making it feel even a bit more modern. In Wilkeson, history, beauty and functionality have been welded together since the beginning, and they still are.
The city was founded on coal and sandstone mining more than 140 years ago, and it certainly flaunts that history, as much in the "show me" as in the "tell me" sense.
Aside from Church Street – the main road through town on the way to Mount Rainier – plaques and monuments are around nearly every corner (see If You Go).
Even the bell-towered Wilkeson School, built in 1912 with locally quarried sandstone, feels so out of place for a small-town elementary school that it's almost audacious. But if you ask a stone-proud town to build a structure for its children, the result is bound to be something that's still monumentally impressive even after more than century. Naturally, the school is on the National Register of Historic Places, along with four other sites in this town of only 500 residents. That's about one national historic place per 100 residents, and it's hard to imagine many places beating that ratio. Like most things in Wilkeson, the school is just a two-minute drive from Church Street, and well worth the time to see if school is not in session.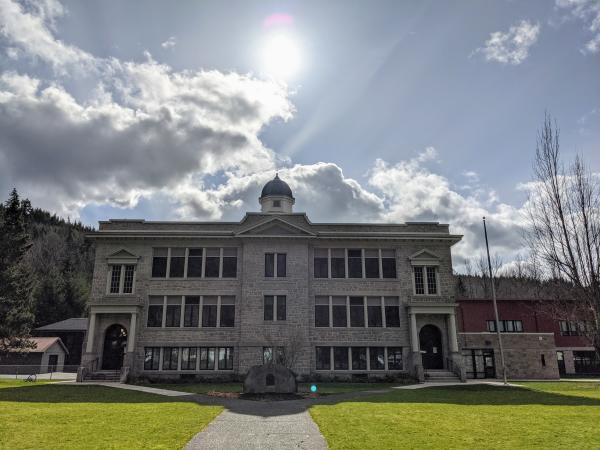 Wilkeson School, built in 1912 from locally-quarried sandstone, is still a functioning elementary school.
Visitors and those just passing through are greeted by a road-spanning wooden arch that declares Wilkeson the gateway to the Carbon Glacier. The arch itself is another National Historic Place. Everything here feels like a National Historic Place.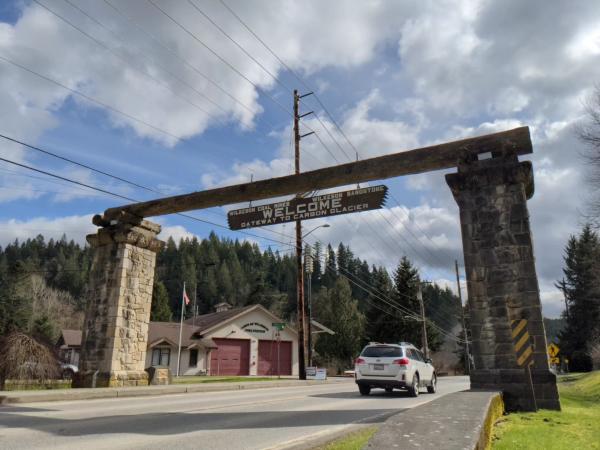 The annual festivities here also tip a hat to the town's history. The third Saturday in July each year, teams of two or four pump railroad handcars, Looney Tunes-style, down railroad tracks for the annual Wilkeson Handcar Races. Just like the town, the festival punches above its weight as it takes over for the weekend, and locals throw a parade, bring in food vendors, and live bands provide the background music to it all.
Something to be Known For
After the mining industry in Wilkeson slowed, the town became known as the gateway for adventurers launching themselves into the most rugged of the four entrances into Mount Rainier National Park: The Carbon River Entrance. It's only in the past few years that they've become known for something unexpected for a small mountain mining-town-turned-outdoor-adventure hub: they've become a culinary destination with an insane batting average for top-tier food and drink spots.
On main drag through town, Church Street, you can count the number of storefronts on one hand, but each one of them is among the elite at what they do.
Pizza: The Carlson Block
There's only one pizza place, called the Carlson Block. Their wood-fire pizza was called out by the Seattle Times as being the best pizza the food writer has tried in Washington, and the question is not whether they've earned the accolade. It's what took the world so long to realize it. I can't compete with the
Seattle Times's description of the pizza itself
and the singularity of the Carlson Block's sauce and fresh-from-curd mozzarella. I can only agree with it.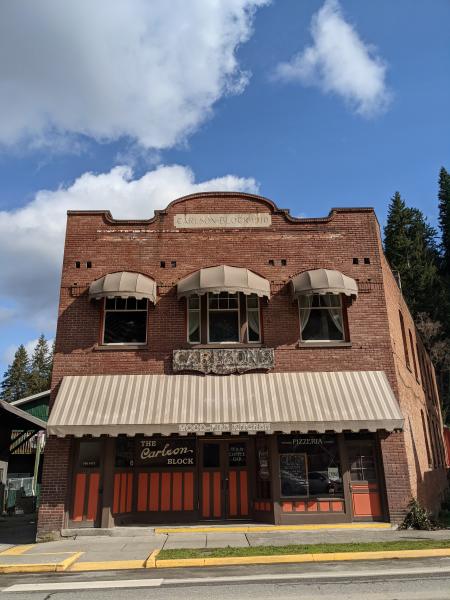 Coffee: Nomad PNW (currently closed till spring)
There's just one coffee shop, called Nomad PNW, and it's one of the best coffee shops in the region, if not the state. The owners of Nomad PNW are coffee-obsessed, and it is contagious. They've developed their own brewing system and equipment just to do their roasts justice. If you're just stopping through to put some caffeine in your veins, Nomad will certainly fill your cup, but if you have the time and the interest, they will sit you down and take you to school on their gravity filters. Also, I recommend you take some of their homemade empanadas with you. If you haven't figured out that eating empanadas under fir trees after putting a few miles of dirt between you and your car is one of the planet's rare glories, you'll thank me later.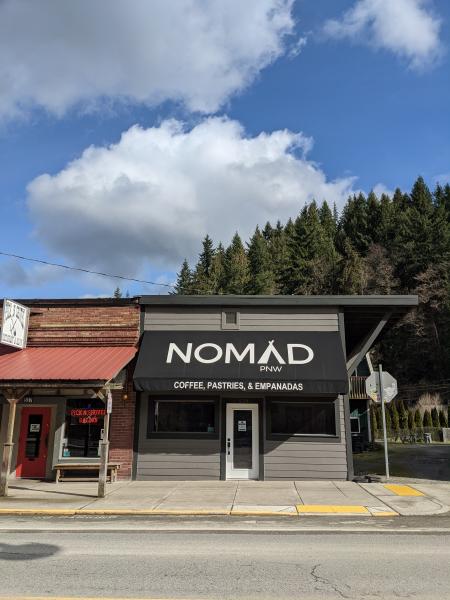 Soda/Cocktails/Ice Cream: Simple Goodness Sisters (currently closed till spring)
There's one soda shop, called Simple Goodness Sisters, although calling it a soda shop is like calling Nordstrom a store for bed linens. They are a "garden to glass" infusion emporium, which I realize clarifies very little unless you've been there.
The Simple Goodness Sisters, Belinda and Venise, grow ingredients on their farm in Buckley, and then create syrups they use to infuse sodas, cocktails, ice cream, and just about anything else that could use a little more blueberry lavender (or berry sage, lemon herb, marionberry mint, etc.), which is many things. So if you're in need of a snack, it's the ice cream parlor you're looking for. If your body is calling for hydration, it's your refreshment station. And if you're looking for something a little higher proof, they will check your ID and fill your glass. All of this in a storefront with details that look like it was designed for an Instagram Hall of Fame photo shoot.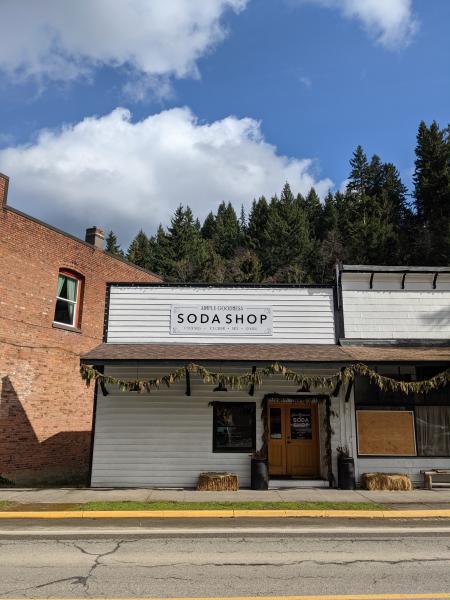 The Pick & Shovel Saloon and Restaurant
You'd consider the bar side of the Pick & Shovel the coolest dive bar in your neighborhood if it were in a city, but in Wilkeson, the place has fully earned the term "saloon." Exposed brick decor, cheap drinks, and hearty pub grub are the draws (the Boinker Burger takes a certain amount of faith, and earns it), but the walls are plastered with images of Wilkeson's past. In the absence of an official town museum, isn't history best served with a cold beer? Miners are welcome on both the bar side and the restaurant side of the Pick & Shovel. Minors are welcome on the restaurant side only.
In itself, and as a gateway to other things, Wilkeson has become a place worth stopping, and eating, and getting a to-go bag from.
Gateway to Carbon Glacier
As the archway says when you enter town, Wilkeson is the "Gateway to Carbon Glacier." In summer, it's the entrance preferred by rock climbers and backpackers, and one of the few places in the park where you can mountain bike. In winter, the road to the entrance is open to vehicles tough enough to handle the rough road, and then visitors continue on foot – preferably by snowshoe – into the park.
There are easier trails along the outskirts of Wilkeson, bikeable in the summer and hikeable all year with the right boots, that also tie into the history of the area. The Melmont Ghost Town hike starts as a scramble down a slope abutting a trestle bridge before wandering through dense forest alongside the Carbon River for several flat, easy miles. The ghost town itself, like most ghost towns, is a disappointment for those expecting abandoned storefronts and creepy, empty main streets, consisting instead of a few remaining building foundations, most of which have acquired several layers of spray paint. However, the hike itself is the real destination.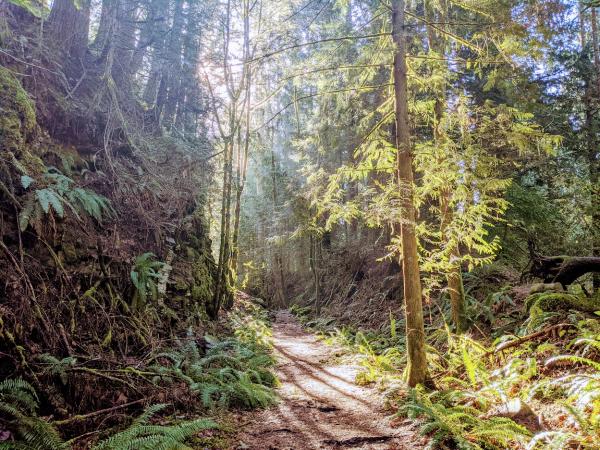 A scene from the Foothills Trail - Melmont Ghost Town hike outside Wilkeson, Washington
The same archway that welcomes you to Wilkeson has a back side that you see on the way home from Mount Rainier that asks you to "Remember Wilkeson." Once you've time traveled there, had coffee that was crafted with care and obsession, downed a slice of the best pizza in Washington, and chased it with a scoop of infused rhubarb vanilla bean ice cream, you won't need to be reminded twice.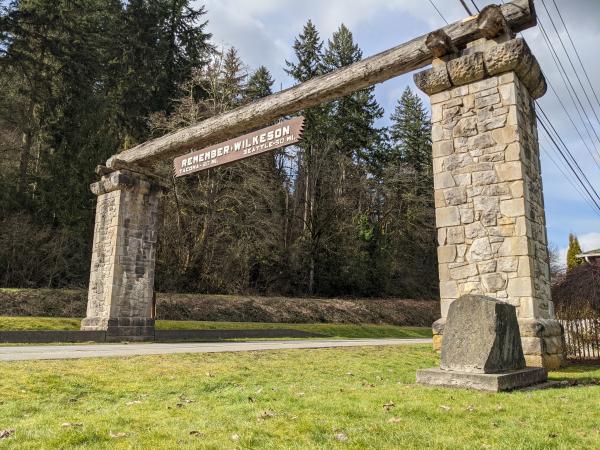 If you go…
Stay Overnight:
As a country getaway to make sure you have a chance to check out the food, see the sites, and hike your fill. Find affordable comfort close by in

Buckley

,

Puyallup or Sumner

.
Historical Stops:
Holy Trinity Orthodox Church (National Historic Place); 433 Long St, Wilkeson, WA 98396
Wilkeson Welcome Arch; 323 Church St, Wilkeson, WA 98396
Wilkeson Miners Memorial; across the parking lot from City Hall
Wilkeson Community House (National Historic Place, now Wilkeson City Hall); 540 Church St, Wilkeson, WA 98396
Wilkeson School (National Historic Place); 640 Railroad Ave, Buckley, WA 98321
The Red Caboose; 660 Church St, Wilkeson, WA 98396
Culinary and Provisions Stops (Several are only open seasonally, or have reduced hours in some seasons. Check before you go.)
Wilkeson Grocery; 523 Church St, Wilkeson, WA 98396
Pick & Shovel Saloon and Restaurant; 527 Church St, Wilkeson, WA 98396
Nomad PNW Coffee; 529 Church St, Wilkeson, WA 98396
The Carlson Block; 531 Church St, Wilkeson, WA 98396
Simple Goodness Sisters; 533 Church St, Wilkeson, WA 98396
Hikes (Some may be open seasonally, or be in accessible in some seasons. Check before you go.):