Stunning Waterfront in Tacoma and Pierce County
Experience Miles of Sparkling Shoreline and Endless Exploration
With the Puget Sound, Gig Harbor, American Lake, and many more lakes and rivers in the area, Tacoma and Pierce County are home to miles and miles of stunning shoreline and endless exploration. Visit each one of our towns and regions to experience a unique adventure on the water.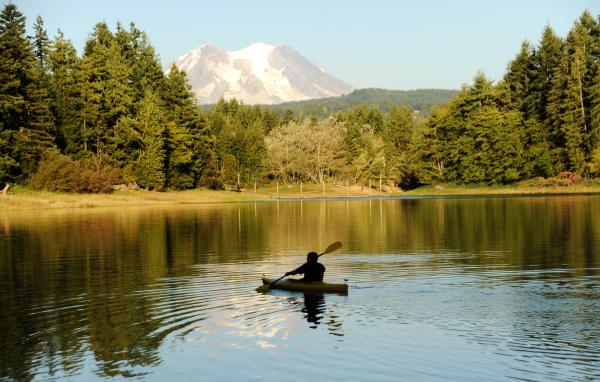 Kayaking on Alder Lake
Activities
Enjoying this beautiful waterfront's scenery and activities couldn't be simpler in Tacoma + Pierce County. We have highlighted a few of our favorite thing to do on the water
Tacoma
Head over to the Ruston Way Waterfront, for a variety of waterfront fun. Walk, run or stroll Ruston Way and discover several waterfront parks and beaches as you take in views of the Puget Sound, Mount Rainier, downtown Tacoma, and the Olympic Mountains. Then get out on the water! Try kayaking, paddle-boarding or boating on the Puget Sound. Bring your own gear or visit one of our trusted vendors for rentals, guided torus, lessons and more.
Lakewood
Bring your family and friends to American Lake in Lakewood for boating, water skiing, tubing, sailing, swimming, fishing, picnicking and more. American Lake hosts a variety of water activities and boasts wonderful scenery. In the summer, the parks have a festive atmosphere, full of revelers out for a day by the lake.
Puyallup
Originating from the glaciers of Mount Rainier, the Puyallup River flows through the city of Puyallup into a the Puget Sound. The river is regularly stocked with varieties of salmon and is also an historical spawning ground for many types of salmon and steelhead. Need gear, bait or insider tips? Check out a local sport fishing spots in town for the best insights from the locals.
Gig Harbor
Culture and outdoor recreation unite in the peaceful waterfront village of Gig Harbor where maritime heritage thrives. After your kayaking excursion or boat tour, visit the Harbor History Museum, Waterfront History Walk and Narrows Park in Gig Harbor for and learn more and take in the rich maritime history of the area. Take the a ride on the Gig Harbor Gondola to get to know the entire area in one quick visit.
DuPont
Hike along the Sequalitchew Creek trail that leads to Sequalitchew Beach in DuPont. Along the way, keep your eyes open for local wildlife in the air, trees, bushes, and on the trail beneath your feet. You may even get lucky and spot an Orca or humpback whale in the waters off Sequalitchew Beach.
Dining
After a fun-filled day of exploring, you will need to sample our local cuisine. Enjoy regionally-sourced shellfish, oysters, freshly-caught fish and more. Plus, take your meal to the next level by dining on the waterfront. There are a wide array of choices, and a delicious meal are just steps away from the shore. For a meal to remember, try one of these favored local establishments: The Spar, Katie Downs Waterfront Tavern, the Lobster Shop, or WildFin American Grill, just to name a few.
Lodging
Tacoma and Pierce County have plenty of memorable places to overnight. To be on the waterfront, try the Silver Cloud Inn . If you want an artistic feel, stay at Hotel Murano. For a quiet, community-style stay, try the Geiger Victorian Bed & Breakfast  has historic accommodations for families with children over 12.  Other waterfront lodging can be found in Gig Harbor at the Waterfront Inn or Maritime Inn.