Relaxation at Rainier
It's time to reset. To recharge, revitalize, renew, refresh, and rejoice. Plus all those other "re-" words that add up to the rejuvenation you need. And there's no better place to relax than in the shadow of Mount Rainier - an ideal destination for the kind of back-to-nature getaway you deserve.
There's no shortage of remarkable accommodations at the base of "The Mountain" (as the locals call it), ranging from the secluded yurt-style cabins with private hot tubs at Stormking Cabins, to the historic Alexander's Lodge and its quirky 1912 design, to the Hobo Inn where you'll sleep in actual freight train cabooses. Really.
For this trip, however, we're bedding down at Paradise Village, which combines modern convenience with quaint luxury - plus, one very, very cool extra. Read on.
Day One
First, you've got to get there. And lucky for you, this is truly one of those days where the journey is half the fun. Starting from Tacoma, your first stop is breakfast at
The Buttered Biscuit
in Sumner. The "Don't Be a Chicken" 12-oz. chicken fried steak is about the best we've ever had, but we recommend "The Chicken Little" for smaller appetites. While you're in town, drop by
A Good Book
pick up a good book on meditation or maybe the not-so-subtle book about the 
Subtle Art of Not Giving a F*ck
. The road to Zen is achieved with baby steps.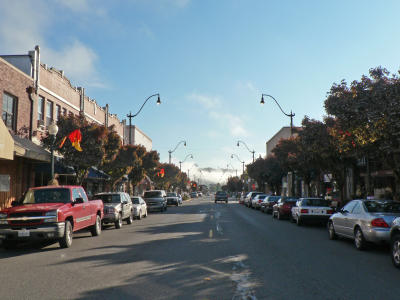 Sumner: Small-town Americana. Big-city-level eats and books.
You've got a fun and scenic drive ahead of you, so pick a good play list and drop in at Buckley's Blue Max Meats for some road trip snacks. A pound of the trail mix should do you, but grab some of the corned beef jerky just in case.
Now, you're on the road, heading south for Eatonville and
Northwest Trek
, a wildlife park with a 720-acre free roaming area where you'll come face-to-face with bears and bison, eagles and elk, and more in herds, packs, and flocks. Let the bison set the pace for this trip: Eat well, get plenty of fresh air, move slowly but deliberately, and don't sweat the petty stuff.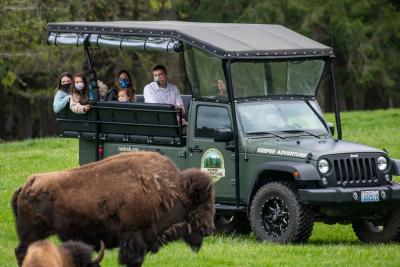 Greet the bison. Learn from them. Be them.
Back behind the wheel, Ashford is just a little over a half-hour away, as is your home for the weekend and the
Copper Creek Restaurant
, where you're going to want to try the Black & Bleu Flat Iron Steak. Save room for the famous blackberry pie with hand-rolled crust.

Make your way to Paradise Village, a Ukrainian village built into Ashford, with its own Ukrainian bakery and restaurant, authentic thatch-roofed cabins.
Day Two
Now that you've had a good night's sleep at
Paradise Village
, wander down to the bakery for a crepe and coffee before you head out for the day's adventure.
First on the agenda,
Paradise
- which is a name, a goal, and an absolutely-on-the-mark description. The one-mile paved
Nisqually Vista Trail
is wheelchair-friendly and overlooks the immense Nisqually Glacier, while the five-mile
Skyline Trail
will treat you to unbelievable waterfalls and mountain views during the fall. When the seasons decide to change, Paradise is the first place they call. As fall slips into winter, it's also the best place on
The Mountain for snow play
and if you're up to strapping on cross-country skis or snowshoes, you'll experience scenery that's straight off of a picture-perfect postcard.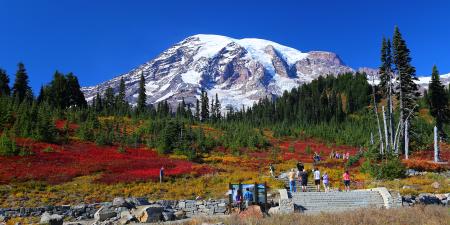 Paradise in the fall. See how it got the name?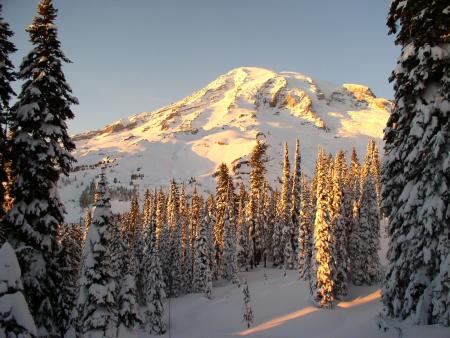 Paradise in the winter. Your mom reminds you to wear a sweater.
Achy after the hike? Well, sore no more. Treat yourself to the therapeutic treatments of Dr. Jillene Lund at
Mountain Time Wellness
, who blends western/eastern and indigenous/modern techniques to make you feel better than you thought you could. Among the services: high-touch Jin Shin, deep-tissue Lomi Lomi, biomagnetism, and Reiki.
Close out the day with dinner and drinks back at the lodge at the Paradise Village Restaurant. Pirogies and Ukrainian Galushki are among the specialties, and the Polish Dumplings Soup hits the spot on a chilly evening.
Day Three
Whittaker Cafe
 at Whittaker's Bunkhouse down the road serves breakfast all day, so feel free to sleep in. When you finally rise, grab a breakfast sandwich or bowl of the Salted Caramel Meltdown Oatmeal and don't be afraid to order a couple of scoops of the Huckleberry ice cream. You're on vacation after all, and you'll need the calories.
Today, let's let someone else do the walking - namely someone named Trigger or Silver. At
EZ Times Guided Trail Rides
you'll explore the Nisqually River Valley on horseback, with an experienced guide who'll show you how to handle your steed and lead you on a 1-, 2-, or 3-hour mountain-trail excursion.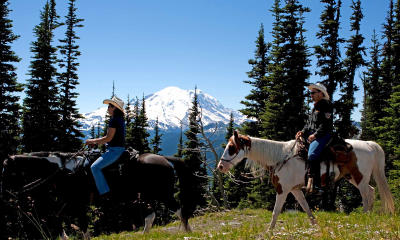 Joey, have you ever ridden a horse in the shadow of a glacial volcano?
Horseback makes you hungry, so trot up the road to Elbe and the
Mt. Rainier Railroad Dining Co.
Here, you'll hop aboard an authentic train dining car and dine in luxury with a menu that includes Salmon Fettucine and Hobo Stew (of course), but the in-house-smoked BBQ meats are the real stars of the show.
And remember that "very, very cool extra" we mentioned earlier? That's how you'll end your day - at the
Cannibal Hot Tub
back at the lodge. It's a 4,400-lb. wood-fired cauldron, heated slowly so you can adjust to the rising temperature. It's the kind of invigorating, one-of-a-kind experience that'll make you want to revel at Rainier again and again. If you don't sleep well after an experience like that, can you really say you were awake to begin with?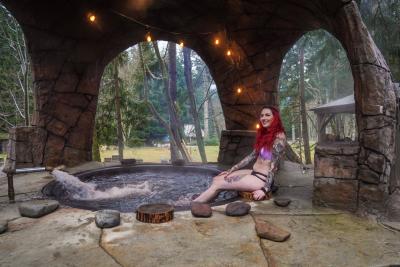 The "heating element" on the Cannibal Hot Tub is a roaring wood fire. Enjoy/bon appétit!