Mountain City Sea Eco-Adventure
Pierce County is one of only a handful of places in the world where you can truly experience the Mountain, City, and Sea in one trip. We're talking a national-park level glacial volcano, a metropolitan art-first city, and a saltwater shoreline opening out onto a spectacular sea.
In partnership with Port of Seattle, Travel Tacoma introduces the Mountain City Sea Eco Adventure, combining adventure, conservation, and education in a three-day, "Best Of" itinerary that will leave you with a memory full of experiences and a memory card full of photos. On top of that, travel writer and content creator
Le Wild Explorer
 graciously agreed to be the first to take on the new itinerary. Check out her adventure, and then book your own.
Day 0: Early arrival
Arrive the night before, and stay over at
Paradise Village
, to get an early start on your eco-adventure.
Paradise Village is a Ukrainian village right outside the gate to the Nisqually Entrance to Mount Rainier National Park.
How deep does the authenticity go here? The rustic lodge and cottages feature roof thatching imported from Ukraine, and their Cannibal Hot Tub (an iron cauldron filled with water and heated by wood fire) is another cultural import that you won't find anywhere else.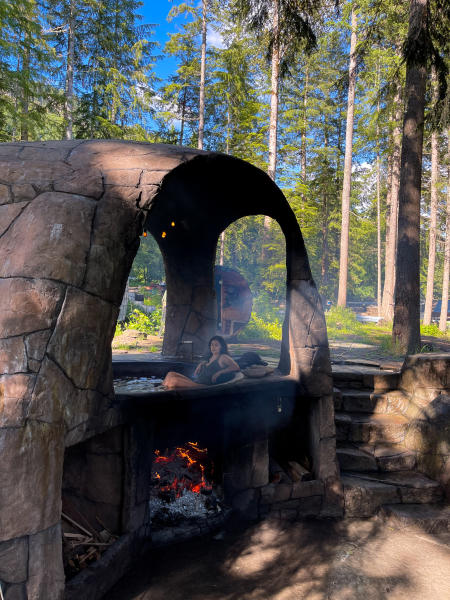 Yes, the Cannibal Hot Tub is both very, very cool and very, very hot. 
Day 1: Mountain
In your Mountain – City – Sea Eco Adventure, Day 1 is your time to explore iconic
Mount Rainier
. 

Stop 1: Breakfast
Grab a cup of coffee and
breakfast from the Paradise Village Bakery
. Just like the restaurant, there's a mixture of traditional Ukrainian pastries, and American favorites, but no matter what you choose, you can slather it in organic honey produced on site.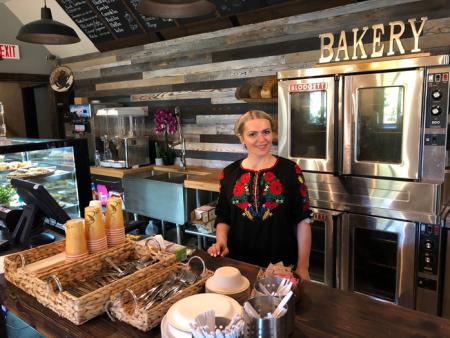 At the Paradise Village Bakery, breakfast is served!
On the way toward the Nisqually entrance to Mount Rainier National Park, pick up lunch to-go at
Copper Creek Inn & Restaurant
, making sure to get a piece of their world-famous blackberry pie to go with it. You'll thank us later.
Stop 2: Longmire
Sunlight trickling through the old-growth forest canopy gives you a warm welcome as you drive under the Nisqually Entrance gateway into Mount Rainier National Park toward Longmire, the first recreation area you'll come to upon entering the park.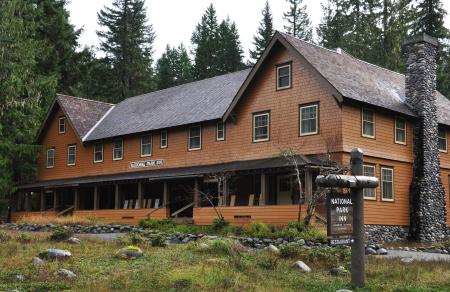 Longmire is the jumping-off point for the historic, family-friendly
Trail of the Shadows
. It's only 0.8 relatively flat miles, but it's packed with history, an abandoned hot spring, the Longmire family cabin, and usually some deer or elk along the way.
The expansive views from Trail of the Shadows are a hint at what's to come.
Stop 3: Paradise
To make a visit to Mount Rainier complete, it should include a hike, a waterfall, and meal at the mountain.
On the winding road to Paradise from
Longmire
, you'll pass two waterfall viewpoints: Christine Falls, sitting behind a picturesque bridge; and Narada Falls, where a short, 10-minute hike will put you near the base for epic photos all year, and possibly a light shower in the spring and summer.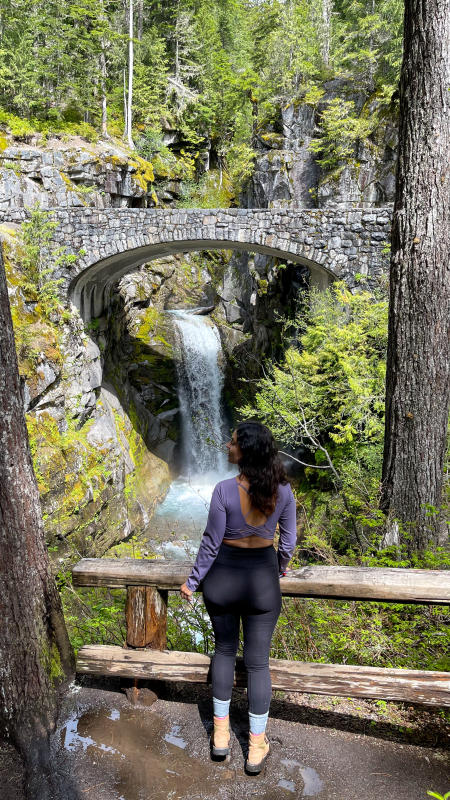 The Christine Falls viewpoint is a standard jaw-dropper for photo hounds.
Paradise
is the place through which most of those hoping to summit the mountain will pass, but it's also a haven for snowshoers in the winter, spring and early summer, wildflower fanatics in the late summer and early fall, and those waiting to be enchanted by seasonal colors in transition during the spring and fall. In any season, the Skyline Trail at Paradise offers skyline views that stretch to the horizon through crystalline air.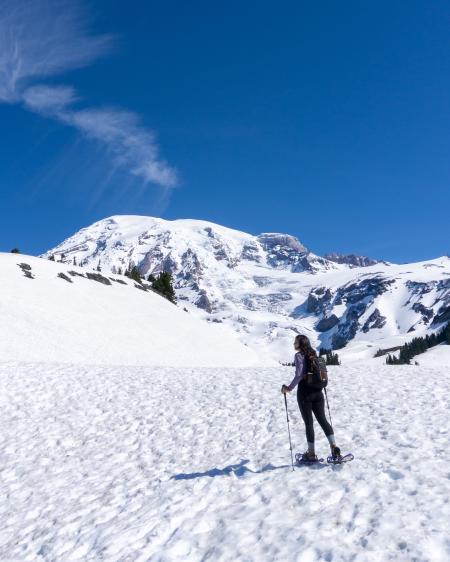 Even in early Summer, a layer of snow blankets the ground, creating a surreal snowshoeing experience. Later in the summer, the snow melts and the wildflowers take over.
Paradise is the perfect place for the picnic lunch you picked up earlier.
Stop 3: Recycled Sprits of Iron
Once your eyes and camera have had their fill of the natural beauty of Mount Rainier National Park, head back down the mountain, stopping at
Recycled Spirits of Iron
sculpture park in Ashford. Acres and acres of imaginative, larger-than-life sculpture are on display, all created with reclaimed materials like driftwood and recycled iron.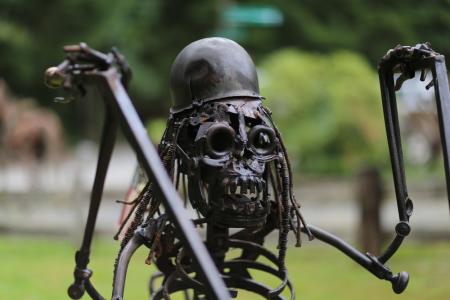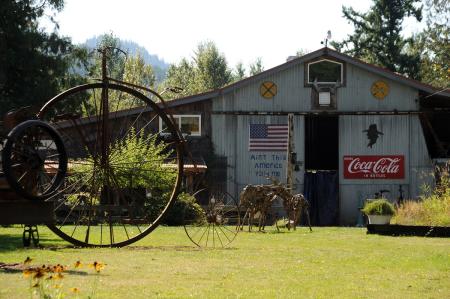 Phantasmagorical artwork covers the grounds at Recycled Spirits of Iron.
Stop 4: Northwest Trek Wildlife Park
Any way you can visit it,
Northwest Trek Wildlife Park
is a worthwhile stop, featuring not only the animal exhibits and keeper talks, but a 435-acre free-roaming area where you can see bison, elk, caribou, moose and big-horn sheep grazing, lazing and playing. But as part of a
Keeper Adventure Tour
, you'll be taken off-road in a specially outfitted Jeep and into the corners of the park where few have gone before. You'll be so close you can smell the bison, and hear the moose munching. Led by experienced - and often hilarious - Northwest Trek keepers, every Keeper Adventure Tour doubles as a lesson in environmental stewardship.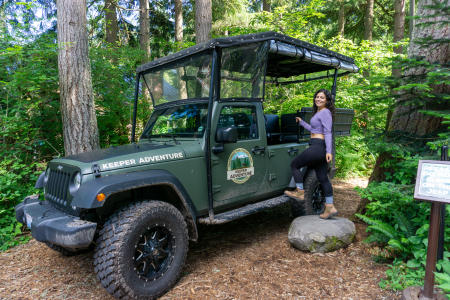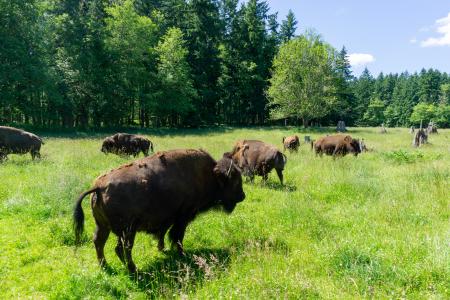 You've seen bison. Maybe you've heard bison. But you probably haven't smelled bison...yet.
Overnight
Head back to Tacoma in the evening, prepared to check into your
Tacoma hotel
and get an early start to enjoy a full day of exploring the city. We recommend staying downtown at the Marriott Tacoma Downtown, Hotel Murano, Holiday Inn Express & Suites, or McMenamins Elks Temple, or on the waterfront at Silver Cloud Inn Tacoma Waterfront or Silver Cloud Tacoma at Point Ruston Waterfront.
Day 2: City
Tacoma is an art-forward, waterfront metropolis in the Pacific Northwest, which means you'll encounter all the museums, coffee shops, breweries, and other attractions you'd hope for. 
Stop 1: Breakfast
Tibbitts at Fern Hill
was named one of Yelp's 50 Places You Have to Eat, and there's a good reason for it. The tiny, minimalist restaurant uses all locally grown fresh produce, cooked on two propane gas burners. Yet somehow, they're able to come out with dishes like the champagne-soaked lobster bomb, which is exactly as good as it sounds.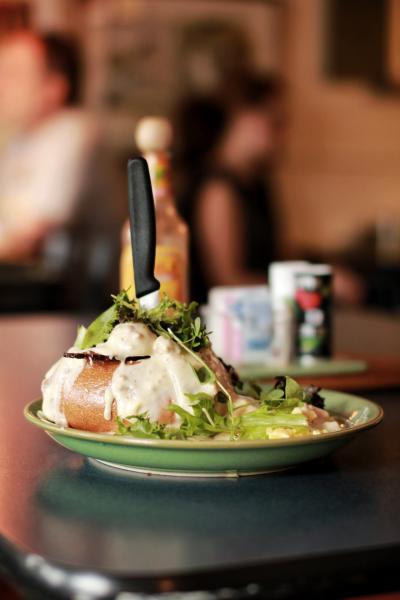 This is the one and only Lobster Bomb, sourced from local ingredients that Chef Tibbitts gathers at farms every day. 
Stop 2: LeMay – America's Car Museum
The largest car museum in North America,
America's Car Museum
has a rotating collection with more than 300 vintage, collectable, or otherwise unique vehicles on display at any given time.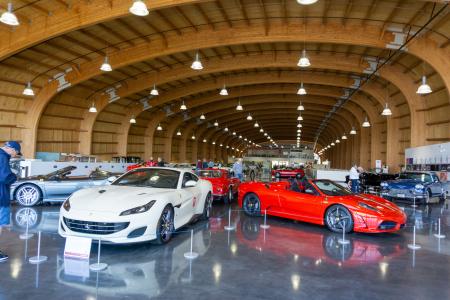 Stop 3: Museum of Glass
As the hometown of the most famous glass artist in the world – Dale Chihuly – you'd expect glass art to be a major theme in Tacoma, and it is. This dedicated museum showcases not just groundbreaking work by Chihuly and several other of the biggest names in the industry, but also has a fully functional hot shop amphitheater, where you can watch professionals and students working in real time, with an emcee narrating the experience.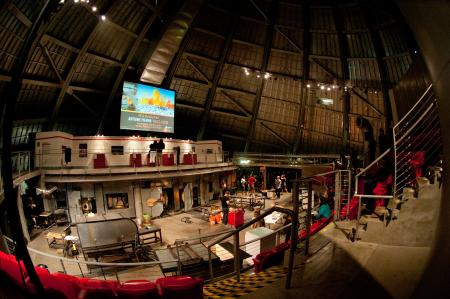 Stop 4: Lunch
TheKoi
in downtown Tacoma is as close to the heart of the Museum District as you're likely to get, and with their creative mixology and fresh sushi, sashimi and Bento boxes, you'll find the nourishment your body needs as you continue an afternoon of nourishing your artistic side.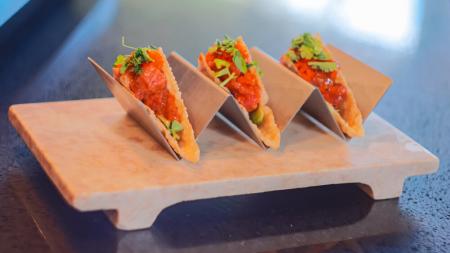 Stop 5: Glass Art Workshop
The team at
Tacoma Glassblowing Studio
throws their creative power into helping students create their own masterpieces of glass art. In just an hour, you'll learn how to gather the glass, blow it into the right shape, and then form it. When you leave the workshop, you'll have a glass bowl or ornament, created by your own hands (with the artist's guidance, of course).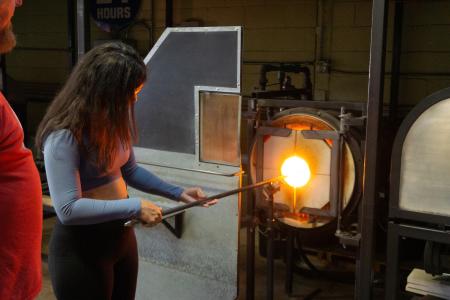 It's one thing to see glass art behind glass, but another thing entirely to make your own!
Stop 6: Point Ruston
Point Ruston is a seaside shopping, dining, recreation, and entertainment area, where you can rent a bicycle surrey to explore the famous Ruston Way Waterfront and its parks, beaches and scenery. Or walk the other direction to Tacoma's new Dune Peninsula and Point Defiance Park, with some of the best views anywhere in Western Washington.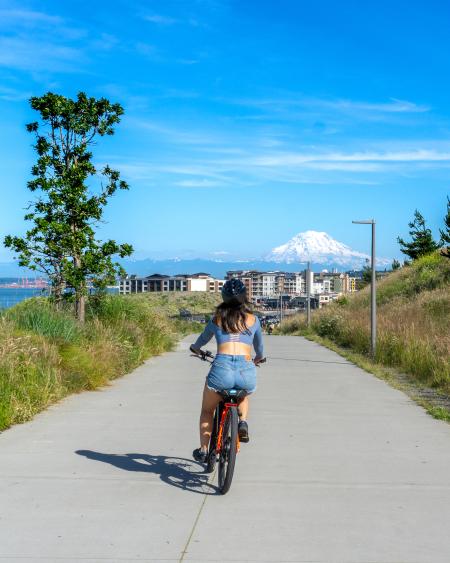 Renting a bike and riding it along Ruston Way and through Dune Peninsula is a new Tacoma pasttime.
Stop 7: Dinner
6th Avenue
is Tacoma's youngest, coolest neighborhood, full of thrift stores, art galleries, record shops, and most importantly, diners and dives made famous by Guy Fieri. He particularly loves The Red Hot, a gourmet hot dog restaurant with combinations that you won't find anywhere else (peanut butter + bacon = The Hound Dog), and Southern Kitchen, which is soul food bliss.
Overnight
Head across the Tacoma Narrows Bridge into Gig Harbor, and get ready for a full day of exploring the Salish Sea and its waterfront tomorrow.
Day 3: Sea
Gig Harbor
is a sleepy waterfront village that, while it feels like it's a coastal town, it's actually just a 15-minute drive from downtown Tacoma.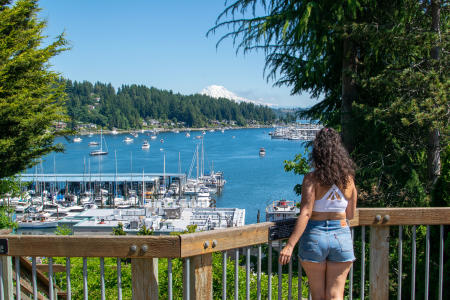 Gig Harbor is gorgeous from a distance, but even better up close.
Stop 1: Gig Harbor Gondola and Breakfast
The
Gig Harbor Gondola
is the only Venetian Gondolier in the Pacific Northwest, and to call him a gondolier is to do him a disservice. He sings in Italian. He's a tour guide, storyteller, and sometimes, a relationship consultant.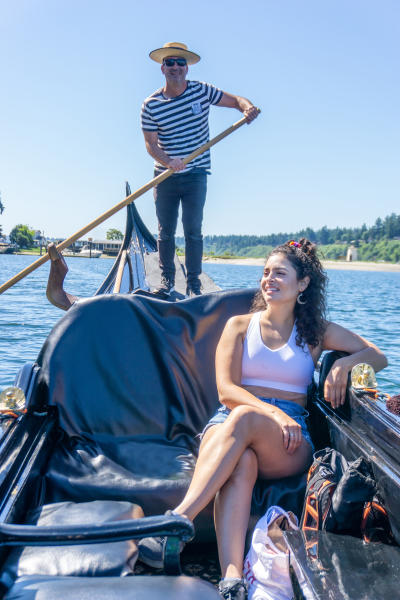 The Gig Harbor Gondola is the only Venetian gondola in the Pacific Northwest.
As he rows, guides, and tells you stories about the history of the area, you'll already be on your way to breakfast at
Netshed No. 9
.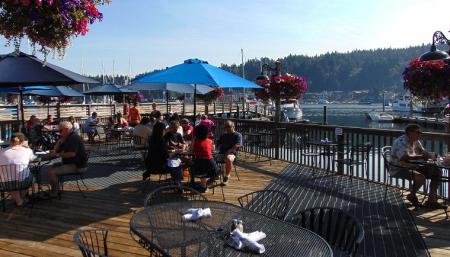 Stop 2: Harbor History Museum
With such a strong international history in Gig Harbor, the Harbor History Museum is a must. Artifacts tell the maritime (and logging, farming, fishing, and boat-building) history of the region, and a boat restoration in progress is more than worth a look, but the collection of the roundest rocks in the world is the big jaw-dropper.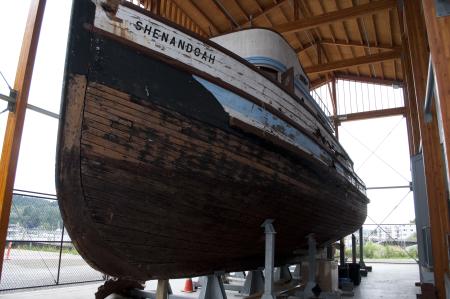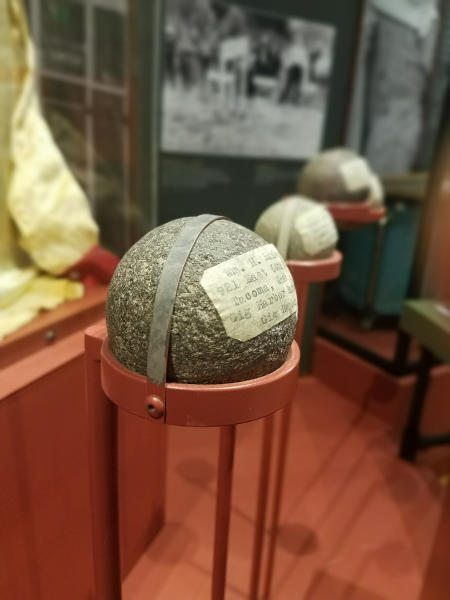 Stop 3: Lunch
Fondi Pizzeria
serves up some of the crispiest, artisan brick oven-fired pizza this side of the Atlantic Ocean.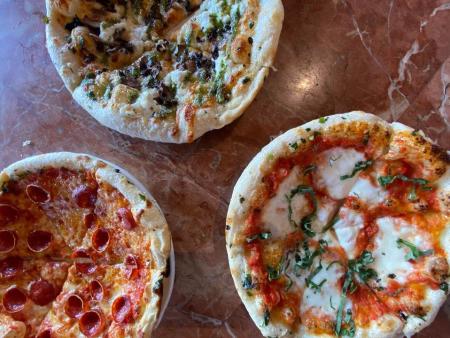 Stop 4: Kayak or paddleboard rentals
The best way to get to know a harbor town is out on the water, and fortunately, there are several kayak and paddleboard rental companies who have set up shop on the waterfront, including
Lee's SUP
. You can even rent an electric boat to swing around the harbor from Gig Harbor Yachts with no boater's license required.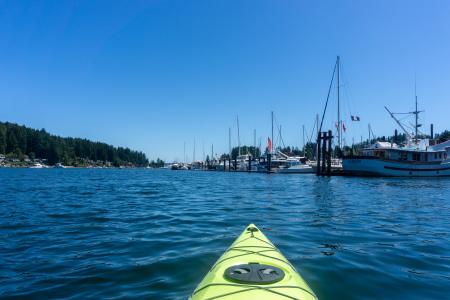 Stop 5: Heritage Distilling Tasting Room and waterfront exploration
Heritage Distilling
is the most decorated craft distiller in the country, seven years running, and their Brown Sugar Bourbon has been named the best flavored whiskey in the world at the World Whiskey Awards in London for two years. The in-person tasting experience at their waterfront tasting room in Gig Harbor is not to be missed.
Stop 6 Dinner
Tides Tavern
receives a barrage of awards for their outstanding seafood and views, and all are well earned. Located directly on the waterfront.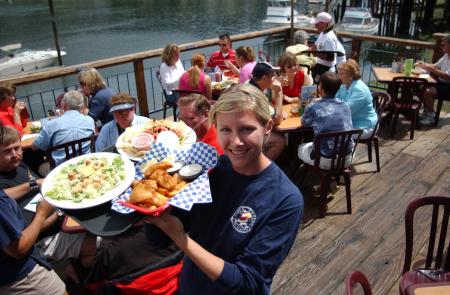 Overnight