A Retro Road Trip with Rhubarb
Turns out, you don't need a DeLorean to go back in time. In fact, all you need is pretty much any car, a map of Pierce County (see below) and this itinerary.
The small town of Sumner might just be irrigated with the fountain of youth because it has hardly changed since it was founded in 1853. Today it still offers the same warm welcome, friendly downtown shopping, and of course the town's true hero rhubarb. Want to leave your driveway and arrive at a simpler time, well take the exit at Sumner.
Day 1: Sumner
You should create your own basecamp in Sumner. Find a local hotel and get ready to visit Mount Rainier and all the small towns that the river of time has passed over. Sumner makes a great home base because of its proximity to the mountain but also because it is the home of an eastern European crop that saved this region in the 1880s: rhubarb. For decades, hops were king of the Puyallup River Valley. They made kings and queens of local farmers (see Meeker Mansion in Puyallup) until a hops blight destroyed the local economy and left a new generation in need of innovation. Their response was to quickly give a sweet stalk a new lease on life in America. Rhubarb not only saved generations of farmers in the PNW but enshrined a simpler and sweeter way of life that prevented these small towns from evaporating in the fires of industry.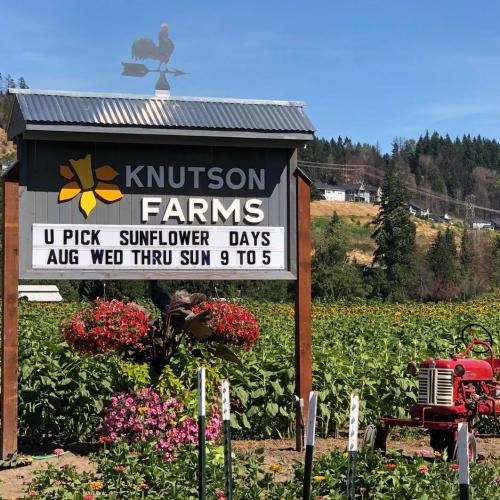 Knutson Farms in Sumner has the photogenic-farm thing down to a science.
Sumner's Rhubarb Days – the festival marking the town's claim to the title Rhubarb Pie Capital of the World - takes place in late June and is the crown jewel of small-town America. That's not just talk either, this town produces about 27% of the nation's rhubarb with the largest amount of acreage in the country producing rhubarb for fresh markets. A lot of these farms are fifth-generation farmers not messing with perfection.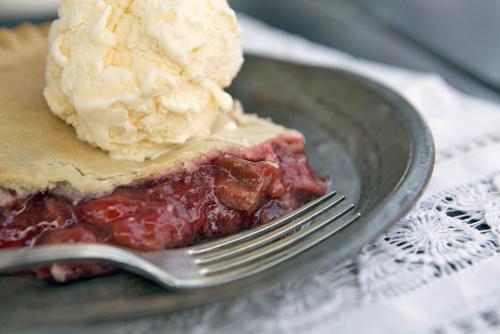 If you want to taste rhubarb pie how it was meant to be tried then this is the best spot in the country. The rhubarb festival began as a community gathering but quickly developed into a weekend party full of beer gardens, vintage markets, classic cars, local vendors, and of course the finest rhubarb pie in the world. On non-rhubarb-festival days, Hometown Charm Café is the place to be.
There's no end to dining options in the Sumner area, especially during the rhubarb festival, but for a retro treat you have to get a burger and shake at the 1950s themed Main Street Dairy Freeze. Some restaurants would throw on a motif for marketing value, but not Dairy Freeze. This is the real deal. Slinging burgers and shakes to the cool cats and daddy-os of the region since the 1950s, and yes, of course they have rhubarb shakes.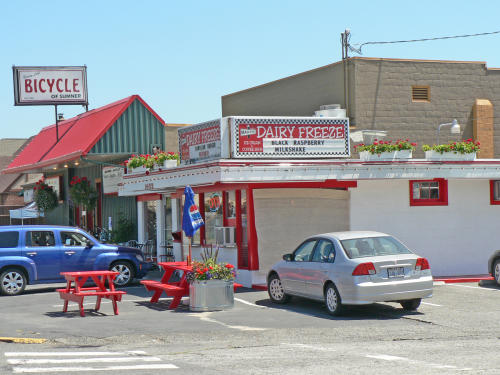 Main Street Dairy Freeze: a cute shake shop since before cute cake shops had to come with a sense of irony
Set up shop here in Sumner and then you can strike out on day trips to the mountain.
Day 2: Sumner, Spanaway, Elbe, Ashford
Give yourself a chance to sink into the vintage theme today by picking up a trackside coffee at the Electric Coffee House or the Buttered Biscuit before heading out.
There's really now better way to walk through the halls of time than by visiting the LeMay Collections at Marymount. This massive complex is a sprawling campus that began the collection at America's Car Museum. You will find almost endless buildings each containing treasure troves of vintage collections. Want to explore a room of vintage radios? They've got that. Want to walk down aisles of retro motorcycles? They've got that too. Still hung up on that DeLorean we mentioned, well you can see one at the LeMay Collections at Marymount (flux capacitor not included). Of course they have one. It is truly one of the coolest spots in all of the Pacific Northwest, the LeMay Collections give the closing scene from Raiders of the Lost Ark. It's a cool warehouse of the nation's most secret gems.
You'll no doubt have worked up a hunger at this point but you may have gone too deep into your retro adventure to return to any normal restaurant. You need a place like the Mill Haus Cider Company in Eatonville. This local eatery is named after the lumber mill from Eatonville's boom town days and still is framed by a waterwheel and the sultry scent of local pines. It's a quick 30-minute hop over from the LeMay Collections and you can dine at a truly small town cider house that has committed itself to the traditions of community, smooth flavors, and hard cider. If you want to try something equally traditional and very local then head over to Stringtown Cellars and Lavender Farm. This quaint lavender far allows you to indulge in wine tasting, picking lavender, and perfectly situated picnic tables. The lavender field is typically in bloom during the months of July and August. You will be able to buy scones, honey, teas, and fudge.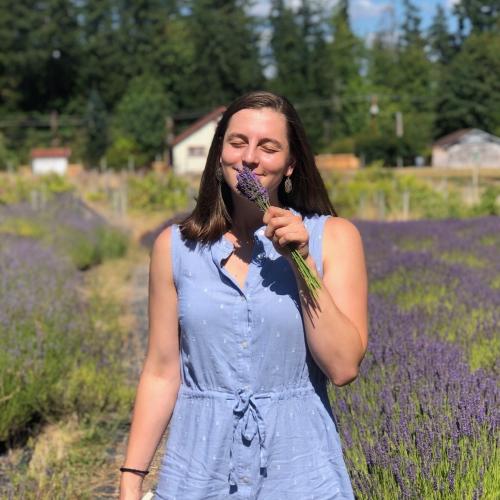 What did you do last weekend? Me? Just spent aromatic time at a lavender farm in the shadow of Mount Rainier. You?
Now that you're all full and happy again, why not meander a bit farther down the local road and make your way to Mount Rainier. You can take your time though and enjoy the trip. As you drive down be sure to stop into the Western Forest Industries Museum. This junction was once one of the most important spots for the train in Washington. Visitors would arrive from all over the world by ship in Tacoma and take the train to Mount Rainier. You can feel that rush again by going to the vintage depot and the best way to arrive is by a rail car you pedal. RailCycle is like a go-cart that you pedal on the historic rail line. This gives you a chance to explore the scenic logging railroad and drink in those forest views. It departs from Eatonville and travels 3 miles through the forest to a scenic turnaround spot with a 35 minute layover at the historic museum.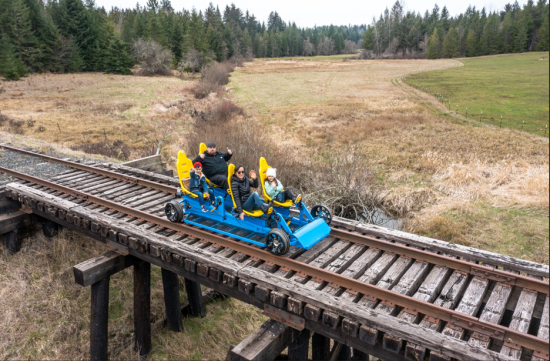 You say you're a train enthusiast and a bicyclist? Well let us bend your ear for a minute...
If the pedal train inspires you to journey back to another century, why not give the
Pioneer Farm Museum and Ohop Indian Village
a visit. Without a doubt one of the most raved about locations in Western WA. This interpretive outdoor museum and living history site allows you to travel back to the 1880's without the use of a time machine. They have an expert staff of dedicated reactors and interpreters that will guide you through what it was like to homestead in Washington territory and beyond. You can see what traditional life in this valley was like with the seasonal Ohop village.
If you're the type that loves options you can even look at a stop in Ashford, while those less informed just pass through. This logging town now serves as a gateway into Mount Rainier National Park and has enough dining options to satisfy a Paul Bunyan-sized appetite. Rainier Basecamp Grill is known throughout these parts as a small-town charming location for climbers and hikers of all types. Equally beloved is the award-winning Copper Creek Restaurant that specializes in trout, salmon, and blackberry pie, all hyper-local treats.
From either location it's a quick drive up to Mount Rainier National Park. There, you'll find the National Park Inn at Longmire, open year round, and with the attached National Park Inn Restaurant, and a patio with views that are among the best in the Pacific Northwest. Further up the road, you'll find the aptly named Paradise Inn at the Paradise Recreation Area. This was a small coffee stop built in 1895 that later blossomed into the jaw-droppingly beautiful lodge that we have today. Tucked away on the southern slopes of the active volcano we know as Mount Rainier, and sitting at an elevation of 5,400 it offers views of the summit, wildflower meadows, and the beauty of the national park all around.
Day 3: Sumner, Wilkeson, Mount Rainier
Start your day off right at the Hometown Charm Cafe. Then consider stopping in at any of the iconic farmers markets this region has on display. The valley has been studded with farming communities for generations now and they have always come together to celebrate community and quality goods. From fresh flowers to local berries, if it grows here, you can find it at a local farmers market like the Puyallup Farmers Market. 
Head the other direction towards Rainier today and make tracks for Bonney Lake. This gorgeous town sits right at about 600 ft above sea level but is in the perfect location to offer views of the river valley below and to look longingly up at the summit of the mountain above.
Continue down the road to the lovely town of Buckley and check out Maris Farms. This is a true dairy farm that made the savvy decision to switch to seasonal events. Their Halloween and fall farm is one of the finest in the state but they also offer sunflowers, tulips, mazes, duck races, and barnyard shenanigans. There are some great things to do here and then you can continue onto the amazing towns of Carbonado and Wilkeson.
Wilkeson and Carbonado both began their existences as small mining communities that have flourished as refuges of small town living and vintage charm. Be sure to drop into Simple Goodness Sisters Soda Shop. This retro retreat is run by two sisters that produce all their own herbs and infuse them into a variety of authentic soda shop delights, both for kids and adults. If you get into town in time, you can even grab a pizza at the Carlson Block Pizzeria. Ever since they were named the best pizza in Washington state, they sell out every day though because it is one of the finest wood-fired pizzas you can possibly get and they eschew the big-city lifestyle. Once they run out of dough, well, that's it for the day.
Amble down the road and you can see the historic coke ovens that turned raw coal into usable fuel for the railroad. All of the downtown strip in these towns has remained blissfully untouched by the modernization of time and will lull you into a simple moment of life.
As the sunsets over the majesty of Mount Rainier you can turn around and make your way to the comfort of any of our local inns and take one more opportunity to just take it easy.