A Children's Storybook Getaway
As your child drifts off toward the Land of Nod, and you're left holding the book that transported them there, an idea strikes: What if you could bring the world in this book to life for them? What if you could – with a little imagination, and a little help from Travel Tacoma – give them a taste of Thomas? A sliver of Seuss? A does of Dahl. You'd be like a tree that just keeps giving!
Do the thing. Make it happen. Or do the thing backward, and look at the stops and books below, and start building your kids up for their upcoming adventure.
Start your family storybook getaway by staying overnight in a hotel in Sumner or Puyallup, to put you right next to the starting line.
Day 1: Sumner and Puyallup
Breakfast: The Very Hungry Caterpillar / The Rose Restaurant in Puyallup
The Very Hungry Caterpillar had quite the varied diet, but he definitely chowed down on cheese, salami, and sausage, all of which are part of the breakfast-first menu at the Rose Restaurant in Puyallup.
Charlotte's Web / Puyallup Farms
Wilbur was certainly "some pig." You won't find any animals as verbose as he at the local farms in Puyallup – Sidhu's Farm, Spooner Farms, Wild Hare Farms, Maris Farms and Picha Farms come to mind as the ideal places to start - but the little ones will love exploring and seeing Wilbur's porcine brethren.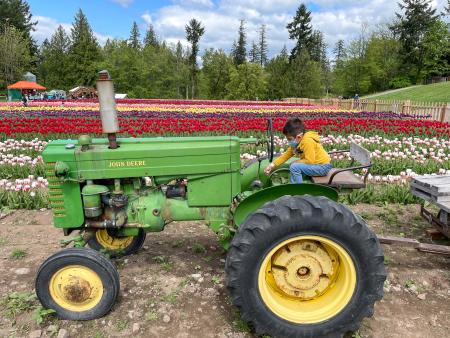 Kids will love the interactive farm experience at the farms of Puyallup, Sumner, and Buckley.
Lunch: If You Give a Mouse a Cookie / Crockett's (fudge brownie waffle)
The lobster mac 'n' cheese at Crockett's in Puyallup is a winner with the kids, but it's the fudge brownie waffle that will have them acting like the mouse and asking for a glass of milk.
Activity: A Good Book in Sumner
If the first part of this itinerary is challenging your recollection of children's literature, A Good Book in Sumner is where you'll find what you need to recharge your memory. A small, family-owned bookseller, they'll have all the classics you need to get through the rest of the recommendations.
Dinner: Dragons Love Tacos / El Charro Grill in Sumner
If your own bunch of taco-hungry dragons needs sustenance, they'll be well served at El Charro Grill in Sumner. No little dragon in his or her right mind can turn down a delicious quesadilla. That's just science.
Activity: The Lion, the Witch, and the Wardrobe / The Old Cannery Furniture Warehouse
Model trains whirring and whooing overhead, a built-in fudge shop selling something even sweeter than Turkish Delight, a 1940s kitchen photo op, and more wardrobes than you can shake a stick at. It's all here at The Old Cannery Furniture Warehouse, which – like the wardrobe in C.S. Lewis's masterpiece – is much larger and contains much more magic than you'd think on first glance.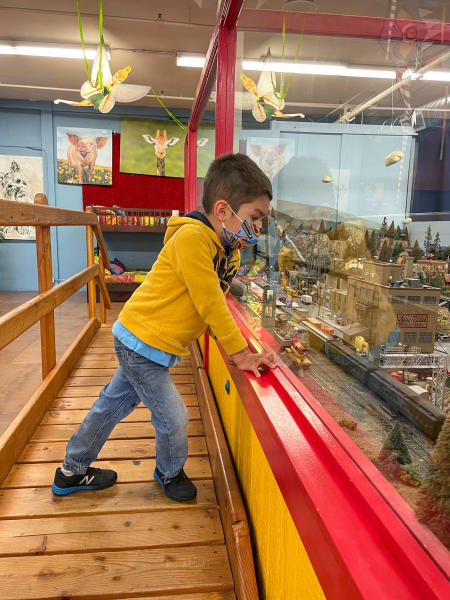 Overnight: Good Night Moon/A Puyallup or Sumner hotel
You have a family worth of heads yearning for beds, and Puyallup and Sumner hotels will happily oblige you with comfortable rooms and personal service on a family budget. Sweet dreams!
Day 2: Elbe/Eatonville/Ashford
Early morning, wake up refreshed and make the drive through a forested wonderland to the Mount Rainier area. Pull up first in Eatonville.
Breakfast: Green Eggs and Ham / Cruiser Café in Eatonville
Spoiler alert: Neither the eggs nor the ham will be green at the Cruiser Café, but it's a day to try new things! The ham and egg on their kids' menu is ready to pull you the storybook. For the grown-ups, their Cruiser Scramble is savory perfection, while the French toast satisfies any sweet tooth.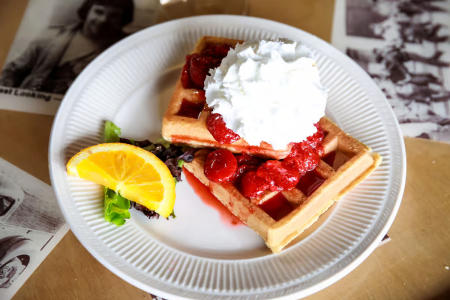 This is what a non-green-eggs-and-ham breakfast might look like at the Cruiser Cafe in Eatonville.
Activity: Where the Wild Things Are / Northwest Trek Wildlife Park
Big animals, when seen up close, lose their scariness and encourage kids to explore their imagination. That's the lesson behind both Maurice Sendak's masterpiece, and the idea behind Northwest Trek Wildlife Park. American Bison, bighorn sheep, moose, deer and more are just a few feet away in the free-roaming area, delighting the young ones and parents. While you're there, don't miss Kids' Trek, the sprawling nature-inspired playground right at the park!
Northwest Trek Wildlife Park is where the wild things are.
Lunch: Peppa's Pizza Party / Varsity Pizza
While Peppa and her family had to make their own pizzas, you and your family can just enjoy the eating part at Varsity Pizza in Eatonville.
Activity: Anne of Green Gables / EZ Times Trail Rides
Trail rides are a magical experience out of time, as is Anne of Green Gables. At EZ Times Trail Rides, you and the family can take a few minutes to explore another century. Is it Avonlea? Better. It's Elbe.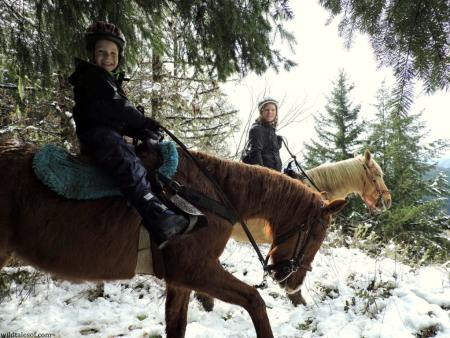 Activity: The Wizard of Oz / Recycled Spirits of Iron
If not from the book then from the movie, many a well-raised kid can recite the major lines from the Wizard of Oz. And the Tin Man in particular, in need of a heart, can be the inspiration for your visit to Recycled Spirits of Iron, an outdoor sculpture garden built from found and repurposed metals and woods. With metal motorcycles, driftwood Sasquatch, and acres of creative use of alloy, you'll find connections to your favorite characters, and inspiration to imagine your own.
Dinner: Jamberry / Copper Creek Restaurant
The niche children's book Jamberry is an ode to the magic of berries and jams, and it could have no more perfect pairing than the locally famous blackberry pie (made fresh every 45 minutes, and a la mode it, if you please) at Copper Creek Restaurant.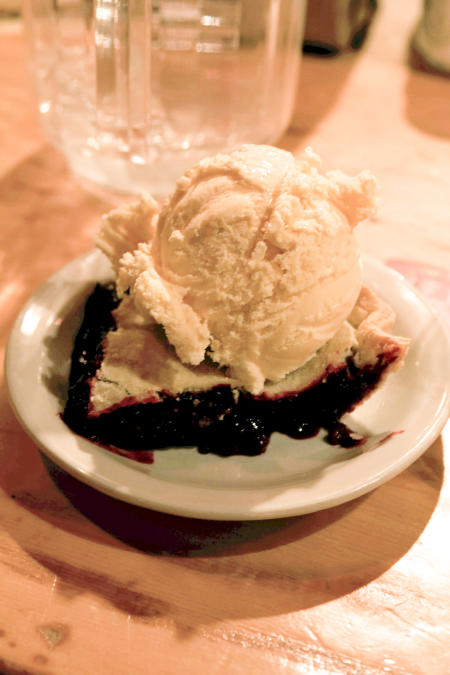 This is the pie you've heard so much about at Copper Creek Inn and Restaurant. 
Activity: Sloppy Takes the Plunge / Hot Tub
While Sloppy the Tree Dragon is slightly bath-averse, your family will not regret looking for bucolic lodging with a heated pool or hot tub. You could try the Cannibal Hot Tub at Paradise Village, or any of the cabins and lodges (see below) on the forested outskirts of Ashford that come equipped with warm, watery relaxation.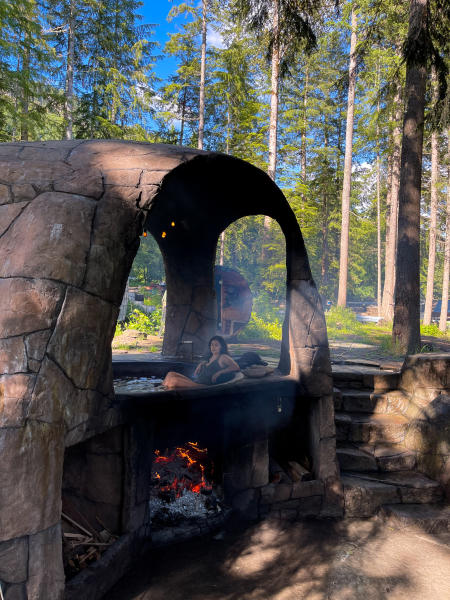 That's one way to hot tub... (Cannibal Hot Tub at Paradise Village Inn)
Overnight: Diary of a Wimpy Kid Cabin Fever / Cabin overnight
As Greg laments his fate trapped inside with his family in Diary of A Wimpy Kid Cabin Fever, your children would never consider that a lamentable fate. Your family will enjoy the solitude of a rustic cabin in the forests around Ashford, just minutes away from your big finale day at Mount Rainier National Park tomorrow.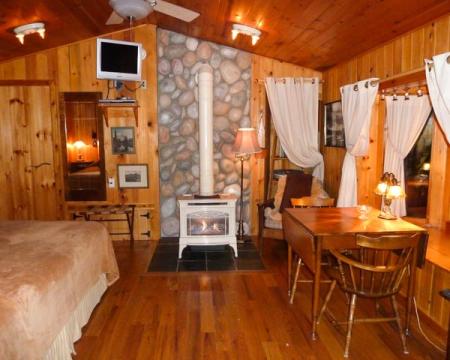 If you can't feel the homey warmth from this photo, we don't know what to tell you.
Day 3: Mount Rainier
Breakfast: Fortunately, the Milk / Whittaker's Cafe
If there are two things that can prepare you for a day of adventuring, it's 1) a hot breakfast at Whittaker's Café (the oatmeal is a surprise favorite) and 2) a story about a breakfast gone sideways that turns into a saga involving a stegosaurus, space aliens, a volcano god, pirates, and piranhas.
Activity: Curious George Goes Hiking / Longmire
What trouble with that curious monkey get into this time? Unsupervised hiking is the trouble du jour, which will not be your family's trouble at the Trail of the Shadows at Longmire. A simple, flat, 0.7-mile loop trail with historical markers, giant native plants, the ruins of an abandoned hot springs, and a restoration of the original Longmire log cabin, it's impossible to get lost or bored. Keep an eye out for the deer that graze in the meadow in the center of the loop!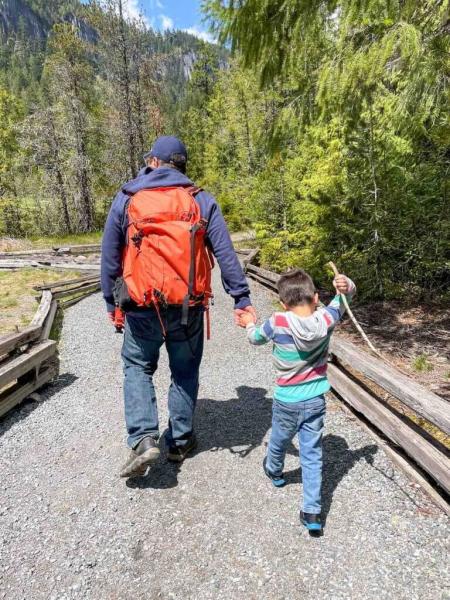 The Trail of the Shadows at Longmire in Mount Rainier National Park
Lunch: Junior Ranger Activity Book (National Geographic) / National Park Inn Dining Room at Longmire
As you sit down to lunch at the National Park Inn Dining Room, take inspiration from the experts in national parks: National Geographic, and their Junior Ranger Activity Book, filled with fun facts, trivia, games, and quizzes about America's national parks.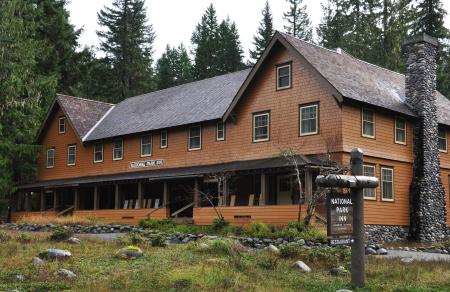 The view from the porch right there is much better than the view of the porch right there. Trust us.
Pro tip: While you're at Longmire, if you've got older kids who might be in the mood for a snowshoe adventure, you can rent snowshoes for a reasonable rate at the store at the Longmire General Store.
Activity: Curious George in the Snow / Paradise at Mount Rainier
You didn't think Curious George was done with his hijinks, did you? This time, he's donning a scarf and heading to the slopes with the man in the yellow hat. When you and the family approach Paradise (sometimes known as the snowiest place on earth where snowfall is regularly measured) in your scarves (late spring will still see plenty of snow), you'll be prepared for snowplay as well. If you rented or brought your snowshoes, tromp around the Skyline Trail. Throw snowballs. Explore. Enjoy.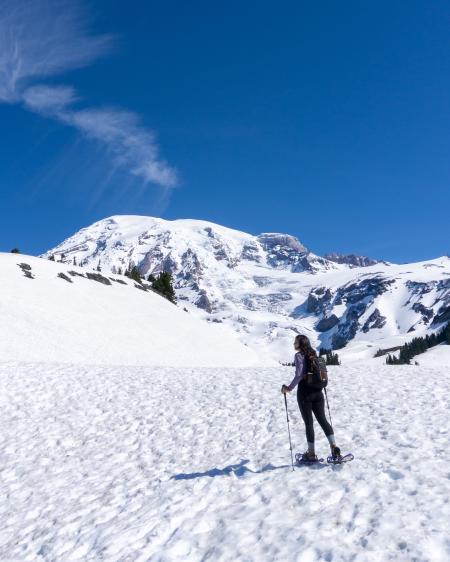 There's still some snow in the early spring, up at Paradise. Come prepared, and enjoy!
Dinner: Thomas the Tank Engine / Mt. Rainier Railroad Restaurant (closed Monday – Wednesday)
As the sun starts tumbling and stomachs start rumbling from a full day of exploits, fill up for the drive (or flight) home at Mt. Rainier Railroad Restaurant. Seated in an authentic railroad dining car, enjoy Thomas-approved fare. The railroad car may be stationary, but the experience will transport you to the Island of Sodor.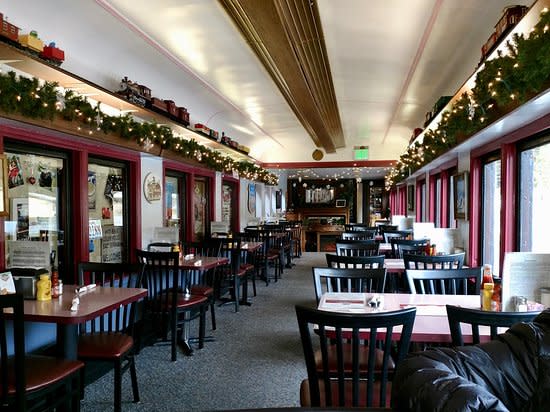 And all the way home, the children will dream about the stories they created on this magical, storybook trip.