Tacoma Night Market: Make It Your Own
Itinerary Suggested Season: Year Round
Tacoma Night Markets are events in downtown Tacoma and Gig Harbor where Tacomans and visitors gather to listen to music, tell stories, and find that one new piece of art that really ties the room together. When you visit, make the most of your trip by seeing the Northwest art that's already on display in Tacoma, seeing what's available at the Tacoma Night Market, and then make a masterpiece of your own.
Day 1: Museums and the Night Market
Tacoma's Museum District is a must see for anyone with an appreciation (or ambitions of appreciation) of art.
Start the day by seeing Tacoma Art Museum and the Museum of Glass, both with world-class glass art collections and rotating exhibitions. At Tacoma Art Museum, make sure and see the Benaroya Wing, opened in 2019 to house the Benaroya Collection. This collection focuses on the glass art coming out of the legendary Pilchuck Glass School, and is one of the most impressive glass art collections in the country.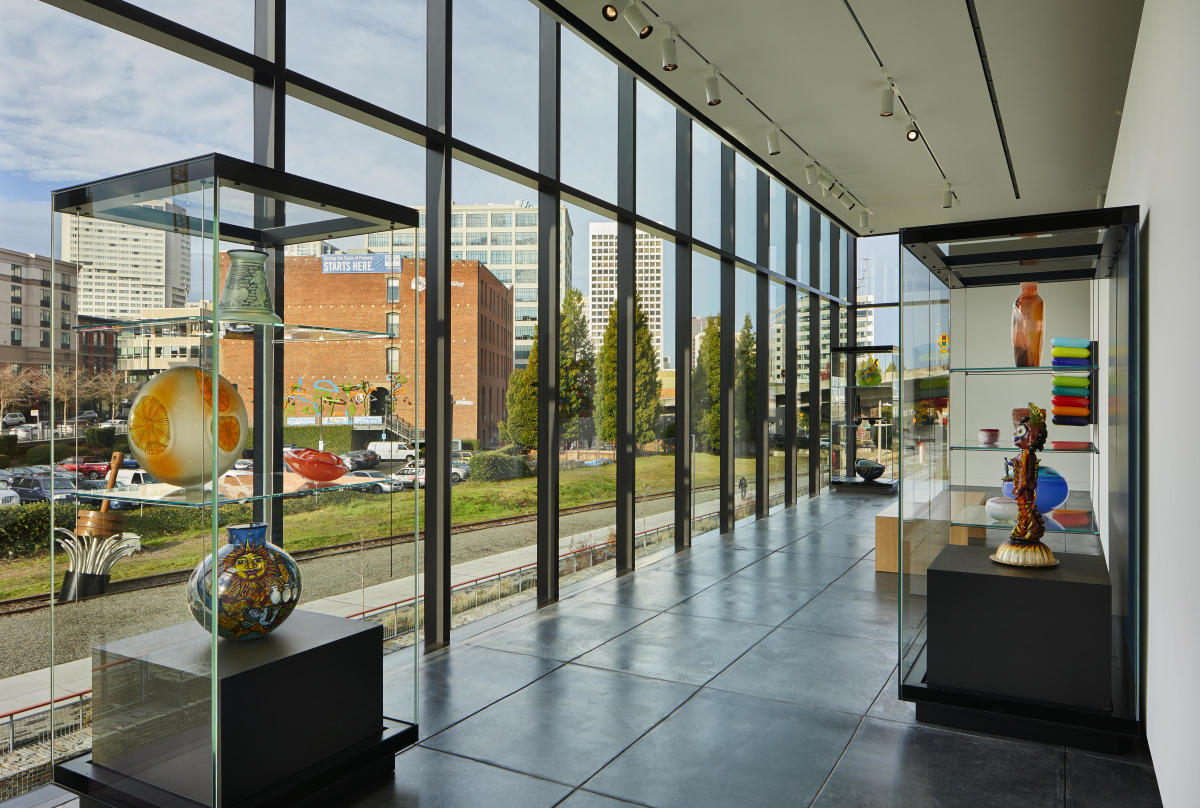 The Benaroya Wing opened in 2019, making Tacoma Art Museum one of the most important museums for studio glass art in the world
At the Museum of Glass, don't miss the hot shop amphitheater, where you can watch glass artists ply their trade, with the helpful narration of an emcee. You'll leave with a much deeper appreciation for the work, strength, and sweat that goes into creating such delicate, intricate objects. 
The museums are connected by the magnificent (and photogenic!) Bridge of Glass, which itself contains more than 2,500 pieces of original Dale Chihuly glass art.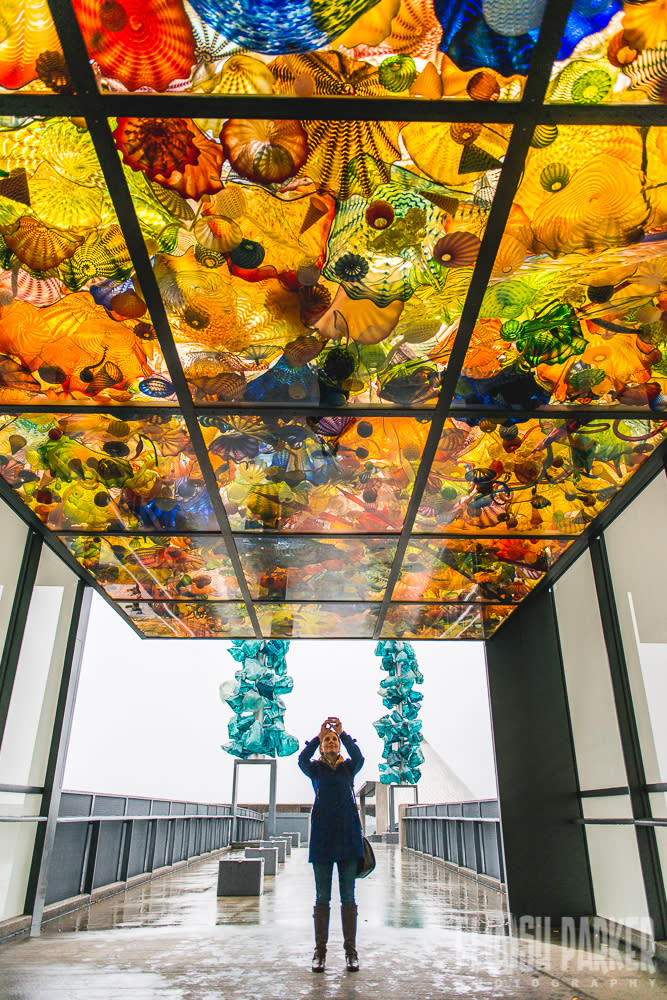 The Chihuly Bridge of Glass is one of the most photogenic wonders in Tacoma
As you wander the museums and get your fill of art appreciation, stop for a bite in the Museum District at Indochine on Pacific Avenue, or The Social just outside of the Museum of Glass. 
In the evening, explore the Tacoma Night Market in downtown Tacoma (third Saturday of the month) or on the waterfront at the Museum of Glass (last Saturday of the month). Grab a glass of wine, beer or a mixed drink and wander the aisles of photographers, painters, poets, jewelry designers, and herbalists. Find that perfect souvenir for your trip, then introduce yourself to the person who made it and shake the hand that crafted it.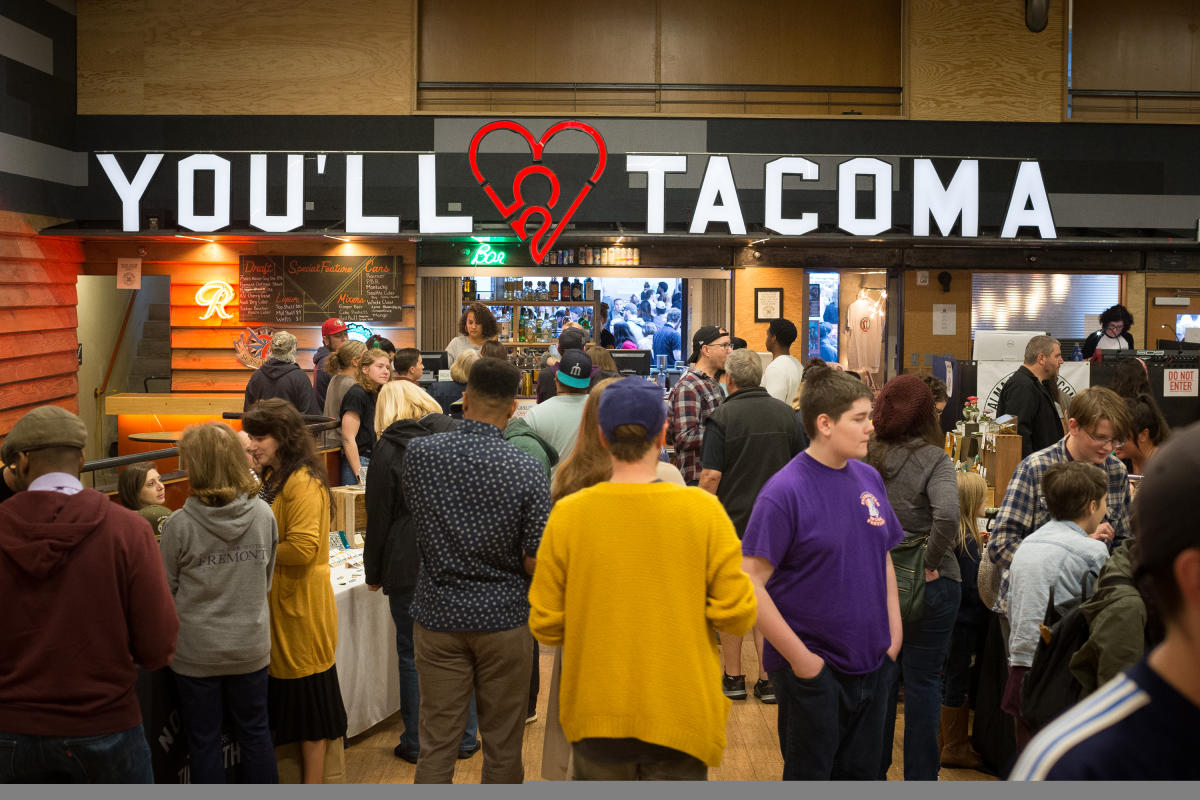 The Tacoma Night Market is a big draw for locals and visitors, with a highly curated list of local vendors offering unique pieces for sale.
Afterward, stay overnight in one of the downtown Tacoma hotels, just a short walk from the museums. Hotels such as glass-art boutique Hotel Murano, the Holiday Inn Express and Suites Downtown Tacoma, or the Courtyard Marriott are excellent choices.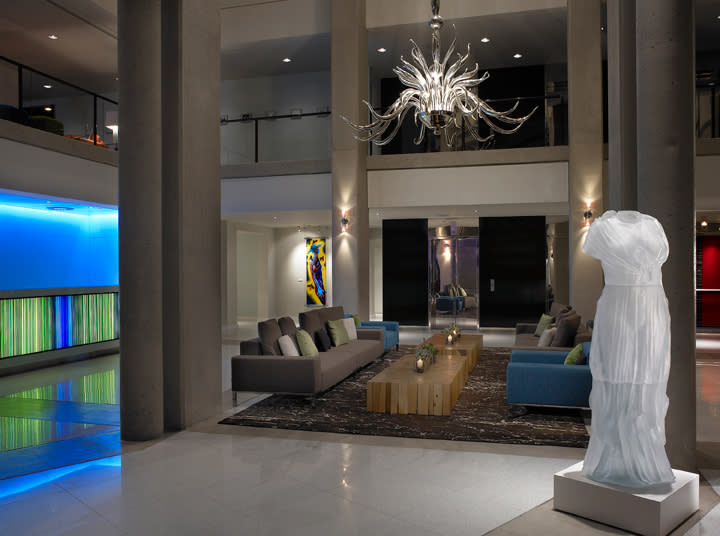 Hotel Murano in downtown Tacoma is filled with glass art. They have a unique piece by a world-renowned artist on each of the hotel's 25 floors. 
Day 2: Make Your Mark on the Art World
If blown glass art caught your eye at the market, this is your chance to shine. Area 253 Glassblowing and Tacoma Glassblowing Studio both offer one-hour and half-day sessions where you'll receive instruction and work with a gifted glass artist to create a piece that's unique to you.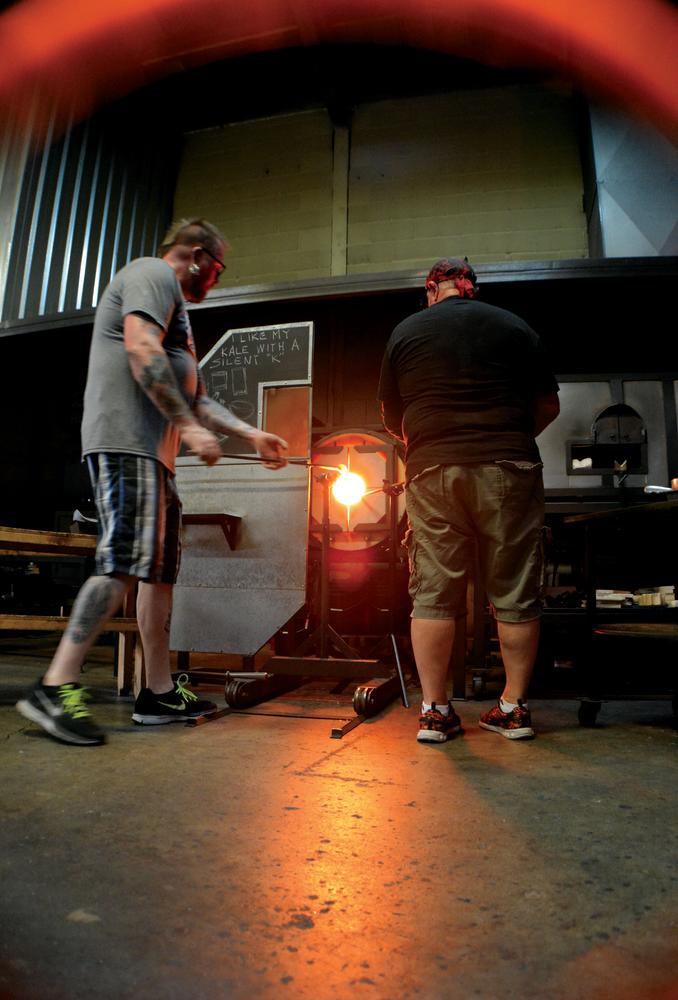 Patrick Cahill of Area 253 Glassblowing works with students to create their own unique piece of art glass art as a souvenir from a trip to Tacoma
Is painting more your medium? The sip-and-paint gurus at Uncorked Canvas and Open Arts Studio can help you find the balance between spirits and your creative spirits.
If your artistic heart tells you that mediums are unnecessary limitations on your creativity, Tacoma has choices for you. The imaginative geniuses at Tinkertopia offer classes where you can scour the store for odd and ends and trinkets that can be repurposed into something amazing. Likewise, The Makery offers general crafting workshops for all ages. Or at Dazed & Reused, they'll guide you through workshops where you'll apply acrylics or mixed media to everything from jewelry to rocks, walking sticks, canvas, and more.