Hit the Road for Rainier
Your ticket to Paradise awaits
"... a garden filled knee-deep with fresh, lovely flowers of every hue, the most luxuriant and the most extravagantly beautiful of all the alpine gardens I ever beheld in all my mountain-top wanderings."
         - John Muir, author and naturalist
Mr. Muir knew of what he wrote... Paradise at Mount Rainier is the aptly named destination you've been looking for. That's why we've crafted this pre-planned road trip itinerary that takes you from a peaceful walk at sea level to the wildflower meadows of what the locals simply call "The Mountain." You'll find it simply sublime.
Day 1: DuPont - Steilacoom - Tacoma - Elbe
Stop 1: DuPont's Sequalitchew Trail
Start your adventure in DuPont, having
stayed overnight
so you can get an early start on your morning hike and road trip. Park at the trailhead and walk the secluded Sequalitchew Trail down to a remote shoreline with views of the islands of the Salish Sea. It's a picturesque three-mile round-trip to a quiet beach where you'll have privacy to take in the beauty of your surroundings.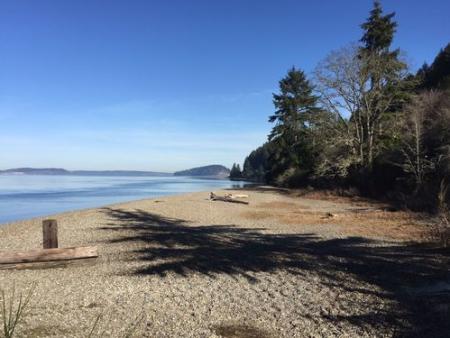 Directions: Drive from DuPont to Steilacoom along DuPont-Steilacoom Road.
Stop 2: Lunch in Steilacoom
The tiny town of Steilacoom – the first incorporated city in Washington state - could not be more charming. After a short drive through the heart of town, have lunch at the
Topside Bar and Grill
, and enjoy views from their dining room or outdoor patio overlooking the town and the waterfront.
As you browse the menu, the Maple Pecan Wild Sockeye Salmon and the Coffee Chili Rubbed Flat Iron Steak will probably catch your eye. You won't regret it.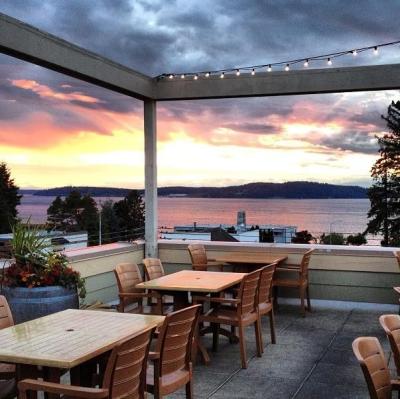 Directions: From Steilacoom, Lafayette Street becomes Chambers Creek Road, following the Salish Sea waterfront and then Chambers Creek. Just 8 minutes/3.5 miles later, you'll arrive in University Place at the trailhead for Chambers Bay Loop
Stop 3: Chambers Bay Loop Trail in University Place
Chambers Bay
is more than a championship-caliber golf course (where Jordan Spieth won his first U.S. Open); it's home to one of the most beautiful trails in Washington. As your path winds past the famous "Lone Pine" toward the waterfront beach, you'll cross the Chambers Creek Bridge, where revel in an unmatched view of the islands and the Olympic Mountains.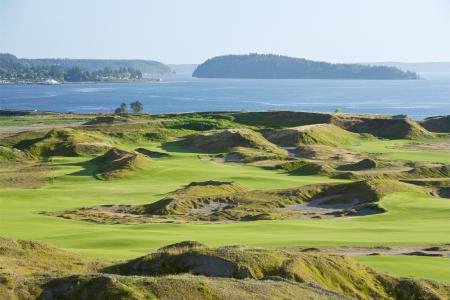 Directions: Follow Grandview Drive north along the water, and then East on South 19th Street to Highway 16, which leads to I-5 North, and then to I-705 North. The 10-mile trip should take about 20 minutes.
Stop 4: Tacoma's Museum District
There aren't too many places where you can find five world-class museums all within walking distance of each other. Tacoma's Museum District is a rarity, with major museums encompassing art, history, maritime, and automotive collections (and if you choose to make Tacoma your home base for the weekend, there are some spectacular
hotels
to choose from). Indulge in a bit of culture before heading south: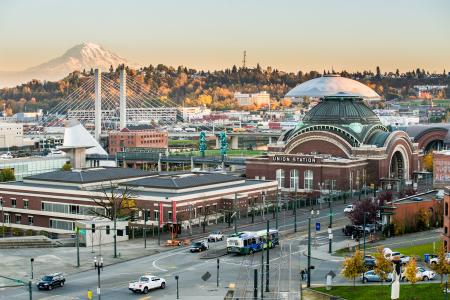 Directions: From Tacoma's Museum District, it's time to head to the Mount Rainier area! Just follow Highway 7, and it'll become Highway 706/National Park Highway, take you through Elbe and to…
Stop 5: EZ Times Sunset Horse Trail Ride
Ever watched the sun go down while astride a horse in the shadow of Mount Rainier? Here's your chance. Your experienced guide will give you sage instruction on handling the horse, and then lead you and yours on an adventure through the forested trails and scenic outcroppings of the foothills of the Nisqually River valley.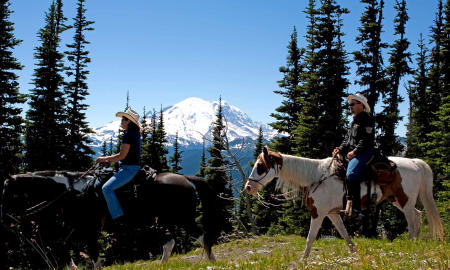 Directions: Continue up Highway 706/National Park Highway toward the mountain gateway town of Ashford. Just after you pass the main part of town, you'll be at…
Stop 6: Cannibal Hot Tub at Paradise Village Lodge
You know what they say: The couple that cooks together…
Jump into an iron cauldron filled with mountain-fresh water that's heated by a wood fire underneath at
Paradise Village Lodge
. There's something about the combination of woodsmoke and water that's heated to just the right temperature that is a glorious mix of primitive and luxurious.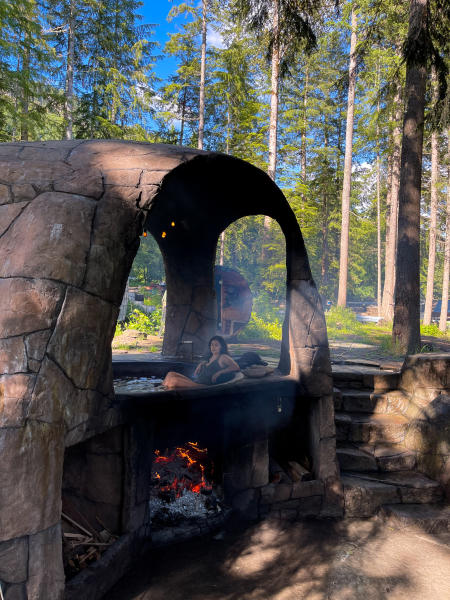 Directions: Just continue on National Park Highway toward Mount Rainier National Park, and in less than five minutes, you'll arrive at your overnight spot.
Stop 7: Overnight at Stormking Cabins and Spa
The private luxury cabins at
Stormking Cabins and Spa
create the right romantic environment, with vaulted ceilings, personal hot tubs, and stone-tiled, two-person showers. Revel in the feeling of seclusion without sacrificing extravagant amenities just minutes from the Nisqually Entrance to Mount Rainier National Park.
Day 2: Mount Rainier
Stop 1: Breakfast at Paradise Village Bakery
The same
Ukrainian village lodge
where you relaxed in the Cannibal Hot Tub also makes an incredible breakfast. Fresh-made sweet and savory crepes are favorites, but the Belgian waffle with honey harvested from on-site beehives is what'll give you the energy you need to explore Mount Rainier today. While you're there, pick up some Ukrainian pastries to go for extra energy on the trails!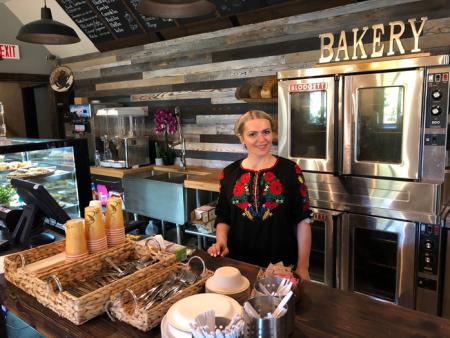 Directions: From Paradise Village, follow National Park Highway into Mount Rainier National Park through the Nisqually gateway. Stay on the road for about 20 minutes/11 miles to get there.
Stop 2: Longmire Recreation Area and the Trail of the Shadows
The first of two recreation areas inside Mount Rainier National Park on your Road Trip to Paradise is historic
Longmire
, complete with a general store for provisions, as well as a full-service restaurant and the National Park Inn that's open year-round.
Nestled among the cedars and firs are several historic buildings from when Longmire was the headquarters of the park, but now it's a beautiful recreation area, and serves as a trailhead for the Trail of the Shadows. An easy, scenic, meandering 0.8-mile hike, the Trail of the Shadows is filled with historical markers, preserved ruins, wildlife-spotting viewpoints, and the remains of a defunct mineral spring that brought those in search of rejuvenation to the Mount Rainier area 130 years ago.
Directions: Continue on Paradise Valley Road (formerly National Park Highway, but the same road) for 8 minutes/4 miles and find parking at the viewpoint. Be careful when parking and crossing the road; there's limited visibility for vehicles heading up the road.
Stop 3: Christine Falls
As the amazement-to-effort ratio here is just about the highest in the park, make sure and take a few minutes to enjoy this
iconic view
, and take a selfie to memorialize the moment. As you head up toward Paradise, the viewpoint is on the right side of the road and only a few yards away, so park and follow the signs. In just seconds, you'll be facing an elegant stone bridge that's part of the road you were just on, with a delicate waterfall flowing behind and beneath the bridge's span.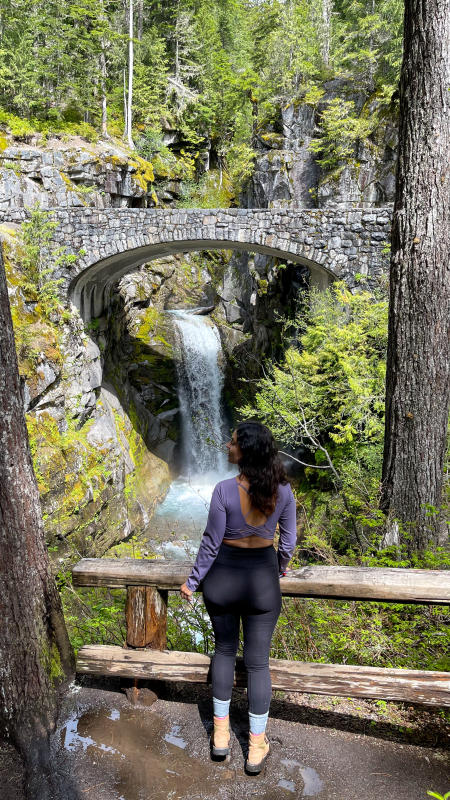 Directions: Back on the same Paradise Valley Road again, heading upwards, you aren't done with waterfalls yet. Another 8 minutes/4 miles later, you'll see a pull-off parking area on the right with signs for Narada Falls.
Stop 4: Narada Falls
This is what waterfall aficionados would call an interactive waterfall experience, so bring a jacket, a camera, and something with which to wipe your glasses and camera lens. With a good gust of wind carrying the off-spray, a bracing jolt of mountain-fresh mist from
Narada Falls
is more awakening than a cup of coffee in the morning, and more refreshing than a kombucha in the afternoon.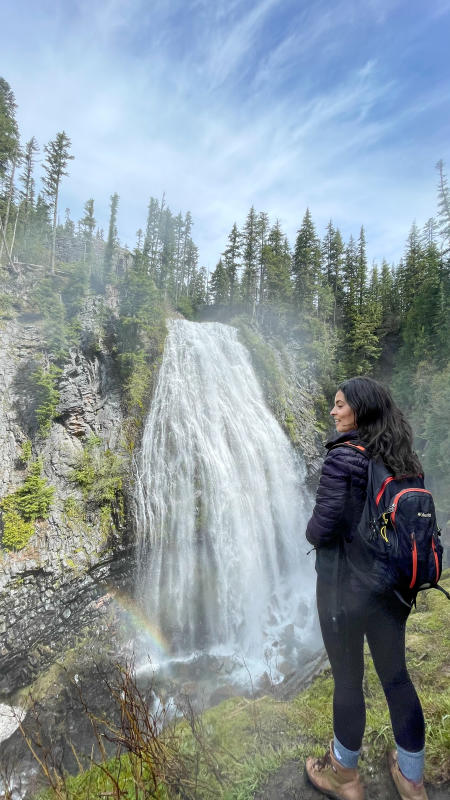 Stop 5: Paradise
Endless fields of purple, red, and yellow wildflowers explode across the valleys and hillsides that lay in the shadow of the summit at the Paradise area. The Skyline Trail is your easy-to-follow guide to some of the most incredible views the mountain has to offer; views both of the towering peak of Rainier itself, and across the top of the foothills to other faraway peaks like Mount Saint Helens and Mount Adams.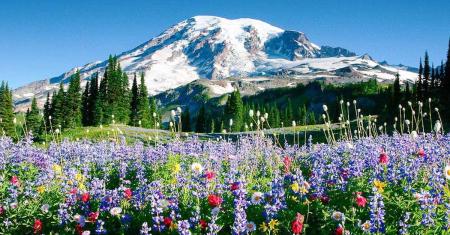 Directions: Once you've had your fill of concepts like "beauty," "nature's fireworks," and "ethereal wonderland," fortunately, you're already walking distance to your overnight spot at Paradise Inn.
Stop 6: Overnight: Paradise Inn
Paradise
is one of the few places on earth where a lack of modern amenities is an amenity in itself. The rooms are small, and it's the place people go when they want to connect with one another and nature, and not necessarily the internet.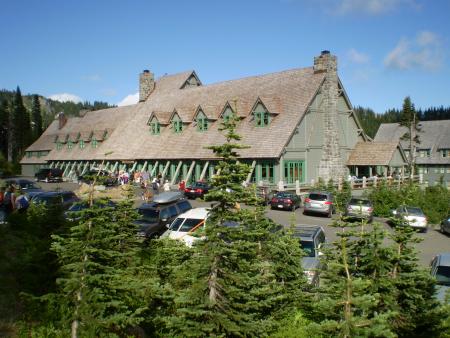 Directions: Once you've awakened refreshed and rekindled, you'll be ready to say goodbye to Mount Rainier and put this trip in the space its earned in your bank of treasured memories. Head down the mountain the way you came and (as an insider tip) stop off one more time at Longmire for a breakfast or a cup of coffee from the porch, with a view of the top.