Gardens of Tacoma + Pierce County
Itinerary Suggested Season: Spring-Summer
Mount Rainier is world-famous as one of the best places in the world to see wildflowers. Its alpine meadows can not be beat. But if you want to avoid the crowds and get just as wonderful an experience, expand your Northwest garden tour with this spring floral exploration.
While Paradise is the most well-known wildflower spot, it can become congested during the summer. The lesser-known, Sunrise location is also brimming with wildflowers and can be visited June through October, when it is not covered in snow. At 6,400 feet it is also the highest point of the mountain that can be reached by car. 
Down the Mountain
Grab a bite to eat in Sumner and dine at Windmill Bistro. Tucked into a large garden shop and nursery, Windmill Bistro offers a unique culinary experience in a relaxing and beautiful setting. Try the Northwest Clam Chowder or the Dungeness Crab Melt for a taste of true Northwest cuisine.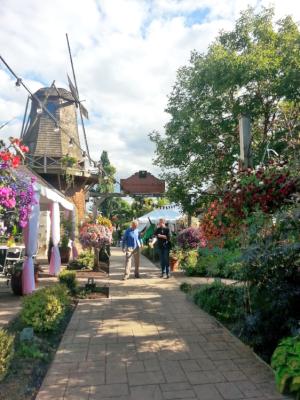 Spend your afternoon strolling charming Main Street Sumner and grab a coffee and a slice of pie at a local cafe or hunt for treasures at any of the boutiques or antique shops. Sumner is known as the "Rhubarb Pie Capital" and they live up to the name. Stop in the Sumner Cafe and make sure to try a slice of their homemade rhubarb pie or a rhubarb shake at Main Street Dairy Freeze!
No Pierce County garden adventure is complete without a stop at Lakewold Gardens located on beautiful Gravelly Lake in Lakewood, Wash. This 10-acre garden is a charm and boasts nearly 900 rhododendrons each year in addition to 30 Japanese maples and a variety of Champion trees, which signify they are the largest known species of tree.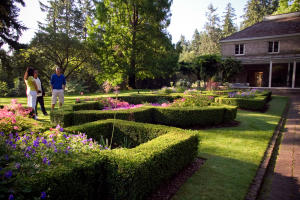 If you are looking to enjoy a warm tropical garden and escape from some spring rain, be sure to visit Tacoma's Stadium District and the W.W. Seymour Botanical Conservatory located in Wright Park. The conservatory has more than 250 individual plant species, including more than 200 orchids and between 300-500 blooming plants during all four seasons. It's easy to see why the conservatory was voted "Best Place to Relax" in Tacoma by readers of the Tacoma Weekly.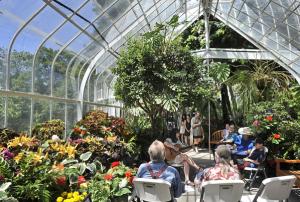 Point Defiance Park is a 760-acre old growth forest located in the heart of Tacoma. In addition to the zoo, aquarium and historic Fort Nisqually, the park has variety of gardens. There are three gardens to visit at Point Defiance Park including a Japanese Garden, a Rose Garden and a Northwest Native Garden to offer visitors a wide variety of garden experiences.