You Absolutely Must Gogh 
Itinerary Season: Spring 2022
Come for The Starry Night, but stay the night to explore Tacoma's extraordinary art scene. Just minutes from Imagine Van Gogh: The Immersive Exhibition, you'll find endless opportunities to explore your artistic side.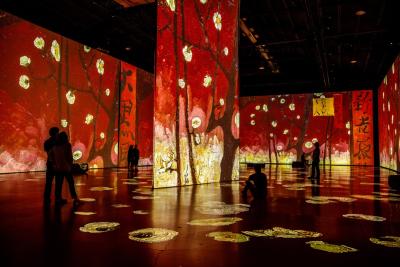 Morning: Wake up refreshed at Hotel Murano, a glass-art inspired boutique hotel located in downtown Tacoma. Enjoy a Pacific Northwest breakfast such as pacific frittata at BITE Restaurant located on the fourth floor of Hotel Murano.
Then make your way down to the Tacoma Armory and Imagine Van Gogh, the original and most extraordinary Van Gogh exhibit. Here, you can admire The Starry Night, Irises, and Sunflowers, or be drawn into the intimacy of the Dutch master's bedroom in Arles. The exhibit is accompanied by the music of great composers including Mozart, Bach, Delibes, and Satie. It's magical, mesmerizing, and larger than life. 
Afternoon: Grab some brick-fired pizza among the local art of the Art House Cafe, then head toward the waterfront and take in the paintings of Renoir and Degas at Tacoma Art Museum and browse the wonders of the furnace at The Museum of Glass. You can even fuel your own creative muscles at Area 23 Glassblowing and The Painting Panda Pottery Studio at Freighthouse Square. 
Evening: End the day some culinary art at TheKoi Japanese Cuisine. The Volcano Lobster Roll goes down especially good with a flight of Morimoto, Black Dragon, and Momokawa Diamond sake.