Victorian Country Christmas
Morning: Enjoy the  charm and history at two of Pierce County's oldest homes, The Ryan House in Sumner and Meeker Mansion in Puyallup.
Afternoon:  After you finish your holiday shopping, stop for lunch at The Rock Wood Fired Pizza + Spirits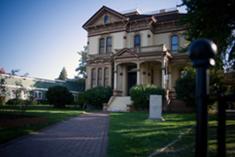 in Puyallup. Share a pizza or two and sample their homemade brews before heading over to the festival.
Plan your day accordingly at A Victorian Country Christmas Festival located at the Washington State Fairgrounds. This festival has been going strong since 1988 and offers visitors a truly 1800's Victorian Village experience filled with live music, dancers, acrobats, ethnic foods and more. Pick up the daily schedule to find out about their musical lineup and vendors to ensure you don't miss out on anything you wanted to see.
Evening: For dinner, head over to Crockett's Public House in downtown Puyallup. Visited by Food Network's "Diners Drive-ins and Dives," Crockett's Public House has quickly become a local favorite.