You're just getting started
Pamper and party to your hearts content
Day 1: Upon arriving in Tacoma check in to your room at Hotel Murano. After admiring the artwork around the hotel head to Savi Day Spa  to treat yourself before the big show. Once feeling refreshed from a neckwrap and footsoak you're bound to be feeling some hunger pains.

Make your way to The Table on 6th Ave in Tacoma for mouthwatering local food. Not only do they source their food locally but they even grow their own fresh herbs.  With their crafted drinks and fresh menu you're sure to be satisfied after this meal.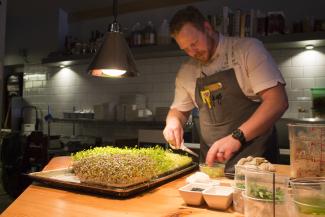 Once dinner is over it's time to get ready for the show at the Tacoma Dome. Head back to Hotel Murano get dressed and hop on the Link Light Rail to take you down to the Tacoma Dome.

After the show the party is just starting. Ride the train to the Theater District where you can jump off and walk to the vibrant bar, The Mix. The Mix was named #1 in 2014 for the best Gay and Lesbian bar in Western Washington. When you finally need to get some sleep ride the light rail to take you safely back to Hotel Murano to crash for the night.

Day 2: Sleep in and enjoy the comfy beds at Hotel Murano. When you roll out of bed hop on the train to Union Station. From there you have a short walk to Savor Creperie to treat yourself to a delicious breakfast. Enjoy their vast menu of crepes and be sure to try a sweet AND a savory crepe.
Finish off your short stay in Tacoma by taking a walk over the Bridge of Glass and down to the waterfront.