Mt. Rainier Adventure
Itinerary Suggested Season: Summer
 
Morning: Wake up inspired over 4,000 feet above sea level, at Crystal Mountain Hotels. You will want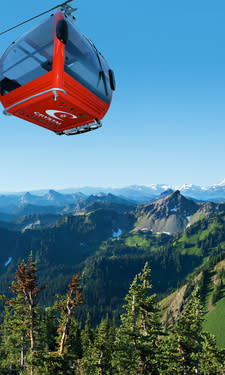 to get up early to catch a magnificent sunrise over Mount Rainier, only 25 miles from Crystal Mountain. Sneak in to the Alpine Inn to power up on their continental breakfast for your adventure-packed day.
Absorb the gorgeous scenery and fresh air around you or hike some of the trails at the base of Crystal Mountain. For lunch, ride the Mount Rainier Gondola and take in the fields of wildflowers and mountain streams to the summit.
Afternoon: Dine at Washington State's highest elevation restaurant, Summit House for an authentic Pacific Northwest culinary experience. Perched at an altitude of 6,872 feet, Summit House provides you with unobstructed views of Mount Rainier and the Cascade Range. This is a dining experience unlike any other.
It's now time to burn off some of your lunch calories. Choose from several trails on Crystal Mountain and hike your way back down to the base. Work your way to the Snorting Elk Cellar, a traditional Bavarian Rathskeller [German for bar], for a local microbrew or a glass of wine to quench your thirst.
Evening: Hang out at the Snorting Elk and enjoy a nice dinner and conversation around the roaring fire. Talk about the highlights of your day and head back to your room for a well-deserved rest.