Experience Living History
Itinerary Suggested Season: Spring-Summer-Fall
Morning: After a good night's sleep at the new Hampton Inn + Suites in DuPont, make sure to load up on their complimentary breakfast. Get ready to experience the life of early settlers and pioneers of the Pacific Northwest.
The day will begin with a drive out to the Pioneer Farm Museum + Ohop Indian Village in Eatonville. Experience pioneer living at this hands-on 1887 homestead with over 100 activities to do. Check out the Native American Seasons Tour to experience what life was like year-round. The spring and summer village will allow you to test your target skills with bow and arrow shooting and then walk on over to the fall fishing village to make a slate arrowhead and more. 
Afternoon:  Unwind for a bit at The Table on Tacoma's hip 6th Ave. Sip a cocktail while enjoying their handcrafted food.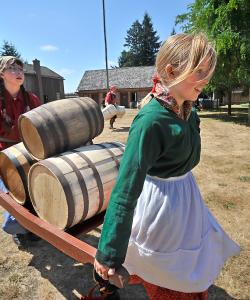 After filling up on lunch, head over to the Fort Nisqually Living History Museum in Point Defiance Park. Experience what daily living was like at Fort Nisqually in the 1850s. Volunteers and staff dress in the clothing of the time and partake in 19th century crafts and dialogue. Feel free to experience 19th century games and every day living prior to electricity. The fort was moved to Point Defiance Park from its original location in DuPont. Visit its original site at the DuPont Historical Museum, and learn about DuPont's roots as a dynamite town. 
Other great history finds include the Job Carr Cabin Museum, right in the heart of Old Town Tacoma. This cabin recreates the first home that settled in the city. For stories of Tacoma's days from Western Frontier town to its ties to railroad history, the Tacoma Historical Society is just a few minutes drive along the water 
Evening: Make your way back to the Hampton Inn + Suites in DuPont after a long day of early settler living. Explore the variety of restaurants at DuPont Landing, just one mile south of the Hampton Inn + Suites for a relaxing dinner.