Alexis Devine
Squirrel vs. Coyote
Alexis Devine is a self-taught armorer. Until the 1300s, her chainmaille creations would have protected the soft bits of wealthy bodies from literal arrows. Now, she says Squirrel vs. Coyote's metalwork and chainmaille-based jewelry, accessories, and garments are painstakingly put together to "provide an internal strength through external protection." 
Her two collections are like yin and yang. Her Squirrel collection is the yin - the inner-facing energy; subtle, subversive pieces that you could wear to the office for years without anyone noticing that the fine print on those earrings tells them exactly where they can shove it. And someone would have to be almost nose-to-chest to read the minuscule type that says "TOO CLOSE" on a silver slab pendant.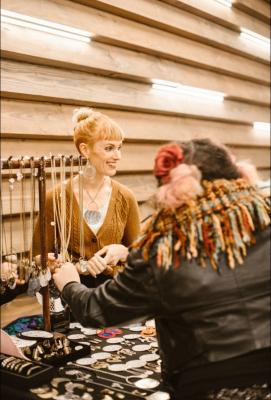 Alexis Devine shows off her Squirrel collection subtlety at the Tacoma Night Market
The yang - the outward facing energy - is her Coyote collection, which is as subtle as a brick through a window. Custom-built chainmaille bodices, veils, and harnesses are the kind of shoot-first-ask-questions-later clothing pieces and accessories you'd expect from fashion magazines, runways, and festivals. It's the expansive, aggressive side of Squirrel vs. Coyote.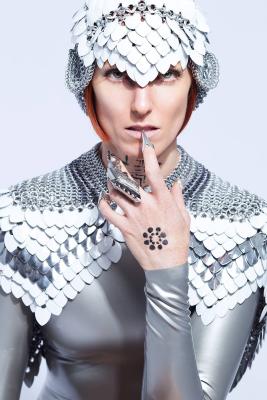 Alexis shows off some Coyote collection energy, not at the Tacoma Night Market
Alexis sells at the Tacoma Night Market partially because of the interaction she gets with her customers. She wants to be sure they're feeling the strength she builds into her work. "My creative practice is about fostering connection, making statements, feeling strong while being vulnerable," she said. "Selling face to face allows me receive the real life feedback that lets me know it's working. If people are moved, or inspired by what I do, or if it makes them laugh, that in turn moves me to create more. That face-to-face feedback loop keeps small businesses owners like me motivated. It's everything really."
But it's the community atmosphere that keeps her coming back to the Tacoma Night Market week after week, month after month. "Many of my favorite people are other vendors at the night market. People that I wouldn't have met otherwise. It really feels like a family to me," she said. "I love getting all set up, then wandering around to say hello to all my friends, catch up, buy some local art, or food, and wish everyone success before the market opens."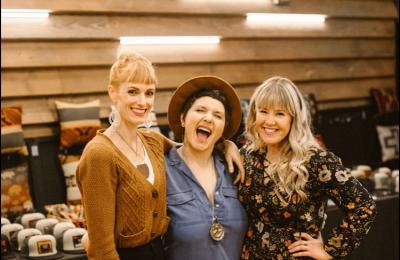 Alexis pals around with other Tacoma Night Market vendors and market founder Leah Morgan (middle)
She recommends that visitors to Tacoma who are really looking to engage the artistic culture here visit Tacoma Art Museum and Museum of Glass. "But truthfully, I feel like the night market is the most authentic art experience that Tacoma offers. The face-to-face interaction with artists in so many different genres, and at so many different places in their careers is unparalleled. In an increasingly homogenized world, supporting small businesses keeps the economy and culture alive."
Find Squirrel vs. Coyote in person at: