What's Open in Pierce County
Phase 2
With Pierce County in Phase 2 of the Safe Start Washington phased reopening plan, restaurants are starting to open their dining rooms and some attractions are reopening.
Attractions
Museums are expecting to open during Phase 3, and most performing arts venues during Phase 4. However, these Pierce County attractions are currently open:
Outdoors
Waves or glaciers? Afternoon hikes, or climbing with top-ropes? With an accessible saltwater shoreline, the top-ranked park system in the country, and Mount Rainier National Park in our backyard, Pierce County has long been synonymous with outdoor recreation. Here's what's open right now:
Hotels
Most Pierce County hotels have remained open, and you can search here for the perfect lodging for your getaway, whether it's a mountain cabin in the shadow of Mount Rainier, a waterfront hotel with a view of the Salish Sea, or a great find in one of the communities between the two.
Shopping
In addition to major shopping outlets, many family-owned businesses in communities like Fife, Lakewood, Sumner, Puyallup, DuPont, and Gig Harbor have also opened.
Events
Many events have gone virtual, but there are several drive-in, drive-thru, walk-thru, and physically distanced events still going on in Tacoma and Pierce County.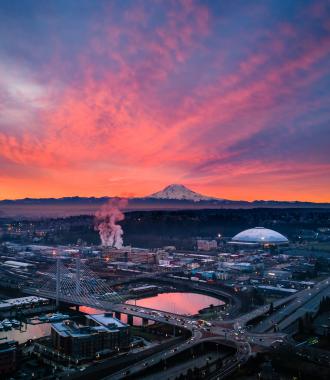 We'll Take a Raincheck
We want you to visit Pierce County sometime in the future, but for now, we'll take a… // More