Promote 253 Partnerships
---
Introducing the Promote 253 Partnership
The best way to connect with your tourism offices.
After a thoughtful visitor study, partner interviews and surveys, internal review and discussions with our Board, Travel Tacoma is rolling out the best solution for a visitor-first approach to tourism partnership.
This new program is the best solution for businesses, because it can be tailored and scalable, for individual business goals; and it is the best solution for Pierce County visitors, keeping Travel Tacoma visitor-first and unbiased in its recommendations. 
Partnership with Travel Tacoma will now be known as Promote 253. This new model truly represents what we as an organization have always endeavored: To use our partnerships to help businesses succeed in the tourism market; and to have businesses committed to elevating Pierce County tourism overall, as well as helping share the story of all Pierce County assets.
As a Promote 253 partner you will receive:
Qualified leads to vetted event and meeting planners for venue and room block requests [where applicable]
Enhanced Listing: dedicated page on Travel Tacoma's website which reaches 1 million visitors per year, and has more than 150,000 business referrals to local businesses. Enhanced listing includes multiple images, social media links, and ability to add coupons. Business listings sort to the top of the list when visitors are planning their trip.
Image on screen display in the Visitor Information Center on the first floor of the Greater Tacoma Convention Center
Access to Travel Tacoma's Valuable Co-Op Marketing Opportunities and reduced advertising rates.
Access to our Partner Extranet tools and calendar
Training and Networking Opportunities to enhance business prospects
To better meet the needs of our Promote 253 businesses, we are providing "a la cart" options, so partners gain additional exposure opportunities for their businesses or events. Special placements are available on our website, in our newsletters and our events calendars, as well as other key visitor connections.
How do I become a Promote 253 partner?
Chances are, you already are one. All quality, tourism-facing businesses are eligible for our partnership. You can see your listing on traveltacoma.com, and contact April Selby for information on how to leverage our partnership and promote tourism in Pierce County. 
Promote 253 partnership has no out-of-pocket costs. And is free to you, the visitor-facing business owner.
How does this impact paying members?
Paid partnership models expire this month. This includes paid lodging partners, paid event partners and paid tourism partners. These partnership categories will be retired, and all current paid partners will automatically be enrolled into the Promote 253 partnership. As a Promote 253 partner, you will receive many of the benefits from Travel Tacoma – Mt. Rainier Tourism and Sports as you always have.
Promote 253 partnership does not, however, guarantee a listing in the Visitor Guide or the Meeting Planner Guide. Advertising space is available, and Travel Tacoma will continue to refer to our tourism businesses in the guide and list them in the Go Section as editorial space allows.
Update and enhance your listing information
Add more photos to your website listing
View and respond to leads we send you
Post events to our calendar
View Upcoming Conventions
Review advertising opportunities in our Media Kit
To check account status, access the extranet and get assistance in enhancing your business listing, contact: 
Jaime Vogt, Vice President of Marketing at jaime@traveltacoma.com, or call (253) 284-3268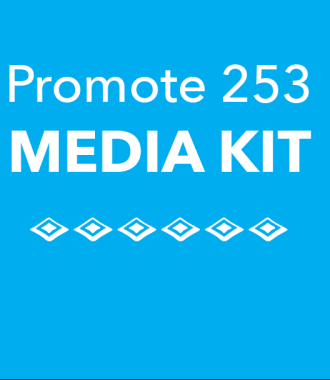 Reach more visitors now
More website exposure, direct email and more options available through your tourism office. // More