Mountain – City – Sea
With your feet in the saltwater of Tacoma's Commencement Bay, the 14,411-foot summit of Mount Rainier is only 42 miles away. That 42 miles is packed with art museums, pristine parks, meticulously preserved history, stadium-sized entertainment, hiking, biking, paddling and swimming.
Mountain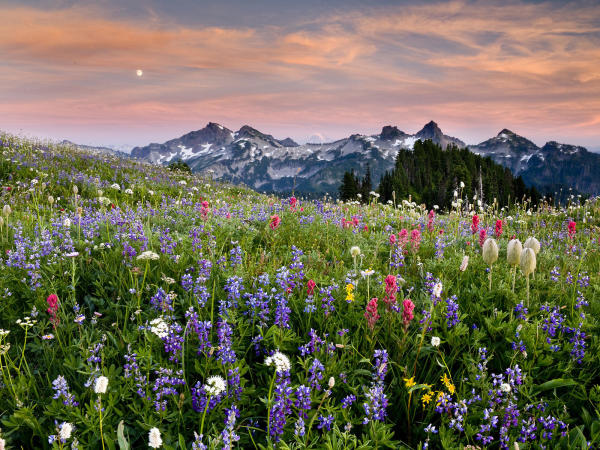 Mount Rainier is a landscape masterpiece; nature's magnum opus that paints itself twice a day, at dawn and dusk. It's Pierce County's 14,411-foot backdrop, and you don't have to try for the summit to benefit from its grandeur. Leisurely day hikes take families through old-growth forest, and even from the road, you can enjoy sweeping views around every bend on the way up to Paradise. At Paradise and Longmire, the two full-service recreation areas, you're more likely to find families on a picnic than adventurers scaling boulders. Whether you're hoping for a summer walk through the wildflowers or a winter snowshoe trek up at Paradise (or anything in between), the Mountain is calling.
City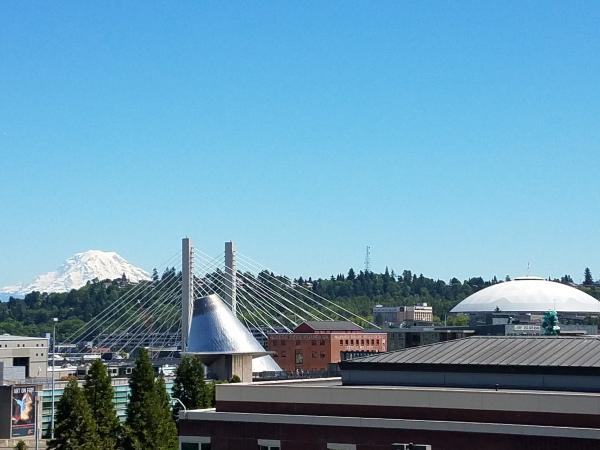 Still, just minutes beyond Tacoma's borders lie the smaller communities that offer unique history, Americana, golf and nature experiences.
The cities of
Puyallup
and
Sumner
give you a glimpse back in time with an unparalleled ambiance of Americana: Cozy shops along Main Street, bakeries with local specialties and sprawling parks in the middle of downtown.
Fife
is the entertainment hub of the area, with entertainment venues such as the Emerald Queen Hotel and Casino, and just up the street from the Tacoma Dome.
Gig Harbor
is a relaxed waterfront village abounding with recreational boating opportunities. The gardens and nature trails of
DuPont
,
Lakewood
and
University Place
pair well with the championship golf located there with Chambers Bay Golf Course and The Home Course. And iconic
Mount Rainier
 towers over it all; a paradise for outdoor enthusiasts seeking an easy hike through the wildflowers, a picnic lunch spot or an adventurous afternoon or weekend of bouldering and climbing.
Sea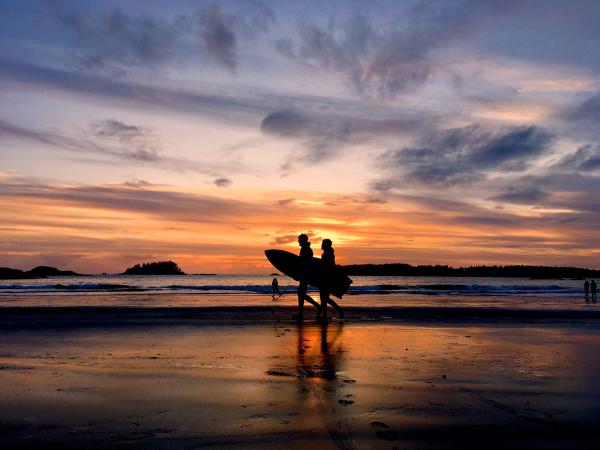 Shoreline has exerted a primal magnetic influence on humanity since we walked upright, and it remains so in Pierce County, drawing visitors and residents with equal force. Pierce County's 1,100 miles of saltwater shoreline (13 miles in the city of Tacoma) afford kayakers, paddlers and swimmers an extraordinary and unique vantage point to experience the region. Possible encounters with Commencement Bay's Orca and humpback whales, as well as harbor seals and birds of prey make every outing at sea an adventure, but one that's accessible to those of all skill levels.
The trails along the waterfront are purpose-built for those who just want to enjoy a scenic walk with waves of nature's finest soundtrack. Tacoma's Ruston Way Waterfront in particular showcases a two-mile pedestrian path interspersed with parks, docks, restaurants, shopping and museums.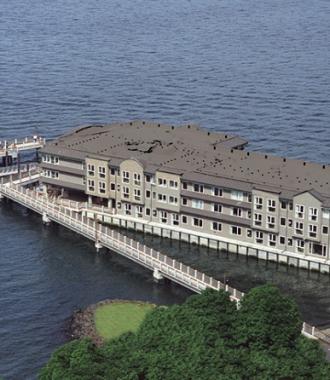 Compare Prices and Find a Room
Compare prices and book a hotel room for your getaway to Tacoma and Pierce County // More