4th of July Fireworks and Celebrations in Tacoma and Pierce County in 2022
Where to get your fireworks and celebration fix on the Fourth (and the Third)
The Fourth of July is a big deal in Tacoma and the communities around Pierce County. There are fireworks displays, celebrations, parades, festivities, concerts, markets, and community get-togethers in Tacoma, Puyallup, DuPont, and Joint Base Lewis-McChord. Here's your guide to it all.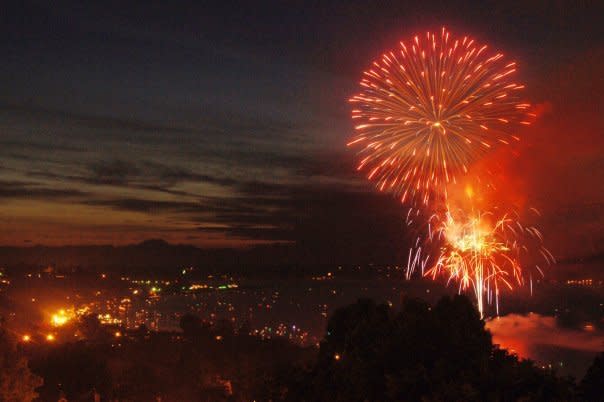 Tacoma's 4th of July Summer Blast 
Where: Tacoma Waterfront (Cummings Park and Dune Peninsula)
When: Sunday, July 4, 2022; Music begins at noon, fireworks begin approx. 10 p.m.
Details: Music, vendors, kids' zone, and more!
Cheney Stadium Annual 3rd of July Fireworks Extravaganza 
Where: Cheney Stadium (Tacoma)
When: Sunday, July 3, 2022; First pitch is 6:05 p.m.
Details: Tacoma Rainiers take on the Salt Lake Bees.
Red, White & Varoom!
Where: Pioneer Park (Puyallup)
When: Monday, July 4, 2022; noon - 6 p.m.
Details: An all-ages event with food trucks, a night market, and a classic car show
More information: RED WHITE & VAROOM — Puyallup Sumner Chamber of Commerce
 
JBLM's Food Trucks & Fireworks
4th of July Hometown Celebration
Where
: Various venues in DuPont, WA
When
: Monday, July 4, 2022 -
8 a.m., Historical Society Pancake Breakfast at Clocktower Park;
10 a.m., Independence Day Parade;
11 a.m. - 2 p.m., Clocktower Park Celebration, featuring music by Platinum Soul, food, games, vendor and more;
Dusk, Fireworks at Patriot's Landing
More
information
: 
Fourth of July Hometown Celebration - Monday, Jul 4, 2022 8:00am - Dupont, WA (americantowns.com)
Point Ruston Independence Day 5K Run
Firecracker 5K and Sparkler Dash
Where: Foothills Trail (Puyallup)
When: Monday, July 4, 2022; Kids' dash begins at 9:15 a.m., 5K begins at 9:30 a.m.
Details: Enjoy an old-fashioned photo stand along with smiles and laughter.