FAMILY ADVENTURE IN TACOMA AND PIERCE COUNTY
PLAN YOUR FALL AND WINTER VACATION
Searching for a family-friendly destination for your fall and winter vacation? Look no further than Tacoma and Pierce County, Washington. With a wide variety of dining, free, discounted and low-cost attractions, exciting events and unique lodging possibilities, Pierce County's distinct regions will delight even the pickiest family members.
Explore America's Car Museum, where you can see rare vehicles and rotating exhibits, race in a simulator, and learn about the automobile's effect on American society. Next, head over to the 760-acre Point Defiance Park to enjoy Puget Sound saltwater beaches and kayak rentals, hikes through stunning, manicured gardens and natural forests, in addition to the only zoo/aquarium combination in the Pacific Northwest. Then, play together in the Children's Museum of Tacoma and marvel at the artistic feats on the Chihuly Bridge of Glass.
Seeking a snowy adventure outside the city? Take the family on a ski vacation to the largest ski area in Washington State, Crystal Mountain, where the Mount Rainier Gondola whisks you to some of the best views of the Cascade Mountains while you dine on fresh, local cuisine at Summit House. Take a customized, guided tour of Mount Rainier from an experienced local guide. Or go snowshoeing at Paradise, which was once the snowiest place on earth.
How about a more accessible adventure, closer to sea level? Take a long walk or mild hike that'll make you feel like you're in the middle of the wilderness, when you're still inside a city. Walk the historic, beautiful Sequalitchew Creek Trail in DuPont. Circle Waughop Lake in Fort Steilacoom Park in Lakewood. Or meander through Chambers Bay Loop Trail in University Place, with its incredible views of the Olympic Mountains and islands of the Salish Sea. You might have to bring your rain gear, but it's a small price to pay to beat the crowds.
OTHER WAYS TO ENJOY TACOMA AND PIERCE COUNTY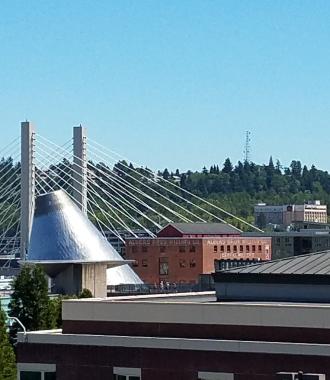 Sign up for our e-newsletter
Sign up to receive the latest news, deals, events and visitor information from Tacoma +… // More