Although the weather lately has been sending us some mixed signals, it seems that spring is indeed finally here. This year, Easter decided to compete for attention with April Fool's Day on April 1, so remember to remain alert while trying to enjoy your brunch. Whether you celebrate Easter as religious rebirth, the rebirth of everything that grows, or the rebirth of a full plate of food, we've got you covered! (Disclaimer: Travel Tacoma is not responsible for potential pranks performed by family members or friends…)
Nestled on the edge of Browns Point, The Cliff House has been serving guests it's delicious food and fine dining experience since the 20s. After being shown your seats, you will find yourself perched above the Commencement Bay, with a nearly 360-degree view of Mount Rainier and the Tacoma Skyline. On Easter Sunday, the Cliff House is offering an all-day Easter service, starting with a brunch buffet (10am-3pm) complete with breakfast, pasta, seafood, prime rib, salad, and of course a chocolate fountain. Although the Cliff House does land on the pricier side; the friendly staff, amazing food, and scenic view earn it a spot on the list. If you're looking for something a little more formal, The Cliff House offers the ultimate Puget Sound dining experience.
Feeling especially fancy this year? Stanley & Seafort's offers a view of the historic downtown Tacoma. This elegant setting will have you feeling as if you're on top of the city, while being treated to a nearly 5-star quality service.
Expert Tip: As Stanley's is already pretty booked for the holiday, this is the perfect spot for a smaller group of about 4 or less, so if you still want that intimate fine dining experience, Stanley's is for you!
Looking for something a little lower key? Don't fear! The Green Turtle in Gig Harbor will offer as a less hectic spot, while still seating you with a mountain view. Yay for more outdoor seating! Although
here, you will literally be on the water. So, if you want to go for an easy, breezy, nautical vibe this Easter, Green Turtle is your spot!
Not quite satisfied? All right, all right, I know that Easter brunch on the water is a classic, but if that just seems to be history repeating itself, might I suggest an alternate route: The HG Bistro in Puyallup is the perfect middle ground, as the atmosphere evokes a sense of modernism while also remaining somewhat casual. On Easter Sunday, HG will be presenting a buffet-style brunch, complete with outdoor seating, and not to mention, if you have little ones, children under 7 eat free on Easter! (But you didn't hear that from me)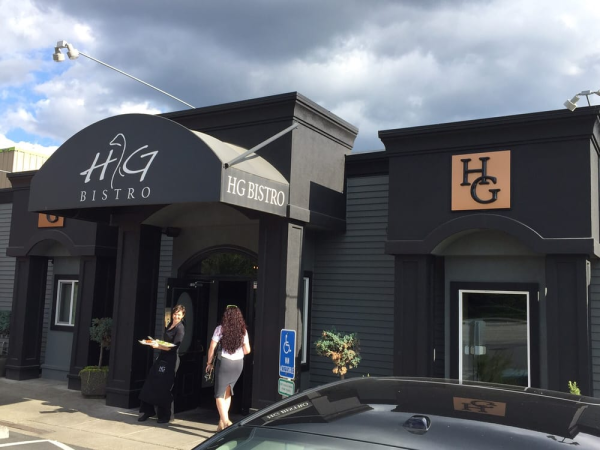 If you're looking to get away from all the hustle and bustle or are considering a visit to Mount Rainier to ring in the season of spring, start your day with a hearty breakfast at Copper Creek Inn, a homey café posted in the woods along Mountain highway, near the Nisqually entrance to Mount Rainier. Travel back to the Fifties while enjoying the most delicious blackberry pie you will ever eat, (I'm not joking) and hearing the soft hum of celebration among locals and travelers alike!