In Pierce County, it's not about whether to see live music, but about what kind of show to see and in what kind of venue. From intimate house concerts to arena-rocking spectacles, every music-listening experience a fan could dream up is available, plus a few that might never come to mind.
There are a few independent places that have found out how to put on shows that are a little different, giving people unique opportunities to see music in a really different way.
The Broadway Center for the Performing Arts leads the way in creative programming, booking contemporary pop and folk artists, as well as jazz, rock, R+B and classical acts in its own grand space in downtown Tacoma. There have also been an increasing number of concerts by the Northwest's best folk and rock groups in houses, warehouse spaces [thewarehousetacoma.com] and small bars around Tacoma. These nontraditional shows might be intimidating at first - and hard to find - but they are open to the public and filled with friendly fans as interested in discovering a new building as the music. Find the pop-up after-parties by eavesdropping outside the bar at 2 a.m. or connecting with @thewarehouse253 on Twitter.
---
Independent Streak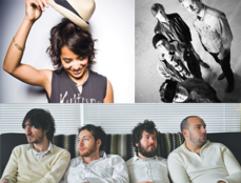 Seattle is considered by many to be the center of the Pacific Northwest's most inventive bands, but the true source of the area's rock sound is a little further south.
It was in the music halls of Pierce County that a unique brand of gritty garage rock was born in the '60s. It was here that The Ventures wrote the experimental surf rock that made them the best-selling instrumental rock group of all time. The Wailers from Tacoma, gained international attention for their nerve-rattling recording of "Louie, Louie," while The Sonics made a noise that would reverberate through the decades, influencing innumerable bands, from the punks of the '70s to the grunge artists that put the region back on the map in the '90s.
There is a lot more than garage rock happening in Pierce County now. Tacoma, in particular, continues to be fertile ground for independent and innovative musicians of all stripes. Soulful singer-songwriter Vicci Martinez is currently the most well-known export after her popular run on televised singing competition The Voice. A resurgent folk movement is being led by the harmony-rich duo Elk and Boar introspective outfit Goldfinch and gritty Americana group Canon Canyon. The most exciting development in the city has come from its hip-hop scene, where standout acts like Fice and City Hall rep the 253 area code in style. Those in search of a sweaty dance party can find it with electro-pop band The Nightgowns.