Happy Friday, Pierce County!
This time of year one of my favorite things to do is try something new and creative. The cloudy skies make being inside so appealing, but I don't want to just sit around indoors all weekend! Luckily, scattered throughout Pierce County there are plenty of creative enterprises who can help artistically challenged individuals like myself create something to display in my home, drink my morning coffee out of, or even give as a gift to a friend with an upcoming birthday!
So, my top five picks for things to do this weekend are designed to get you trying something new, and to get inspired in Pierce County. Many of these studios are family friendly, and offer some sort of option for kiddos to join in on the creative fun. They also cater towards a variety of skill levels, so whether you're a complete newbie or can throw a pot on the wheel with the best of them, you'll find an activity that matches every skill level so you can really get into that artistic flow. Have fun creating!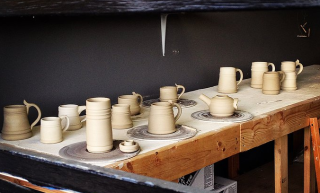 1307 M.L.K. Jr Way, Tacoma, WA 98405
Thursday and Friday: 5pm-8pm, Saturday: 10am-6pm, Sunday: 11am-3pm (free spin only)
(253) 347-3457 
This clay arts studio and gallery provides a patient, casual, creative environment for anyone who enjoys making pottery, or just likes to get messy. Spun is sort of like a "dive bar for artists," striving to make a comfortable and creative atmosphere, this is a great place to work with your hands and make a unique piece of ceramic artwork. They offer group classes, one on one instruction, or if you have pottery experience you can rent a wheel and do your own thing. Pro-tip: wear clothes you don't mind getting messy, and get ready for a ton of fun!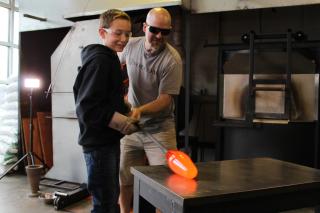 114 S. 23rd Street, Tacoma, WA 98402
Tuesday - Sunday: 9am-5pm, or later for private events
(253) 948-9699
If you haven't heard,
Tacoma is the city of glass art
. Home to world-renowned glass artist Dale Chihuly, it is a natural place to create your own glass masterpiece. This family run business offers a variety of classes for beginners, ranging from one day experiences to 6-week courses. If you aren't ready to create your own glass art quite yet, you can always stop in and watch the glassblowing process, or shop the onsite gallery. And if you're only in the area for a limited time, that doesn't mean you have to limit your creative endeavors. You can have your finished piece shipped to you!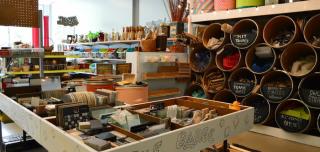 1914 Pacific Ave. Tacoma, WA 98402
Monday - Saturday: 10am-6pm, Sunday: 12pm-5pm
Truly a creators paradise. Walking into Tinkertopia is like walking into the worlds most interesting mashup of thrift store/art supply store/treasure trove. Tinkertopia collects safe, reuseable materials and turns them into unusual arts and craft supplies for kids, teachers, or anyone who likes to build and tinker! Hidden throughout the store are examples of old materials re-imagined as board games, science projects, or other artistic creations. Parts and pieces are organized into big tubs and sold by the bag full, so grab the size bag you'd like and load up! You can play around with your findings in the Tinkertopia makerspace, or take them home to tinker with later.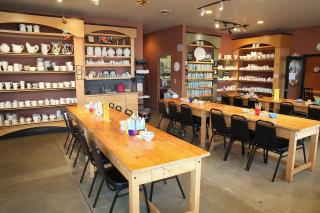 3210 Harborview Drive, Gig Harbor, WA 98335
Monday - Thursday: 8am-6pm, Friday - Saturday: 8am-7pm, Sunday: 8am-6pm
(253) 851-3277
Java and Clay Cafe is a great place to create a personalized ceramic for your home, or to give as a gift to friends or family. Select a project from a variety of blank pieces on the wall-to-wall shelves, ranging from coffee mugs, to ceramic figurines, to large bowls. After you've made your selection, mosey on over to the paint rack and find the perfect colors to bring your vision to life. Binders full of patterns and texture materials provide inspiration if you're like me and have no idea what to put on that coffee mug (hint- patterns usually turn out pretty good! The staff can help you create a chevron design, or get crazy with some polka dots). Pieces are usually ready for pick-up within five days, and can be shipped if you won't be in town that long. This studio is totally family friendly, and kids keep busy painting pottery or playing with the toys from the toy chest!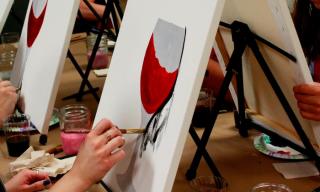 105 S Meridian, Ste A, Puyallup WA 98371
Hours vary day to day, but there is typically a class every weekend
Can you go wrong with a glass of wine, a group of friends, and a relaxing evening of painting? Arts + Corks Studio and Wine Bar is a charming Puyallup studio that offers guided "paint and sip" classes led by local artists. You can preview featured paintings on their website, and then sign up for the corresponding class. The best part: if the thought of a blank canvas terrifies you, put your worries to rest. Teaching artists cater to all skill levels, so you can create a painting you're proud of. And of course, the on-site beer and wine bar also helps get over those nerves.