With Valentine's Day right around the corner, let's just take a trip to an alternate universe where you haven't already diligently booked a cozy dining spot for you and your sweetie several months in advance. We'll join you in this insanely implausible alternate universe just long enough to make some real-universe suggestions on where you might want to book a table in Pierce County.
Tacoma
Pacific Grill
The intimate booths, extraordinary wine list, creative cocktails, Pacific Northwest fare, industrial-yet-still-insanely-romantic décor all combine to make Pacific Grill a hot spot for a hot date.
Pacific Grill in Tacoma, Washington offers excellent Pacific Northwest fare and a romantic atmosphere
Credit: Pacific Grill
An unassuming, yet historic brick exterior gives way to an elegant dining room that has massive undertones of a speak-easy where you and your date know the password. Classical piano, candlelight and table-side service are the mainstays of this anachronistic steakhouse.
Tableside flambe at El Gaucho Tacoma
Credit: El Gaucho Tacoma
The façade might not make it seem like you're in for a romantic dinner, but once you're inside, through the curtains, and sitting at a lamp-lit table on extra-comfortable seats, enjoying the best salmon dish of your life, you'll know you made the right choice.
Since they're only open for lunch, you might have to duck out of work for this one, but in the memories you'll create on Valentine's Day at the Olive Branch, atmosphere and ambiance will stand out. The simple elegance of floor-to-ceiling tasteful antique furnishings and live piano music make it almost more of an experience than a meal.
Puyallup
This is the place to get engaged in Puyallup, so it follows that it must also be the right place for a romantic Valentine's Day dinner too. Serving up super-local (in many cases, right from a farm down the road) ingredients in high-end pub fare, it's hard to find something on the menu you won't like, but you'll want to end the night on their signature s'mores dessert.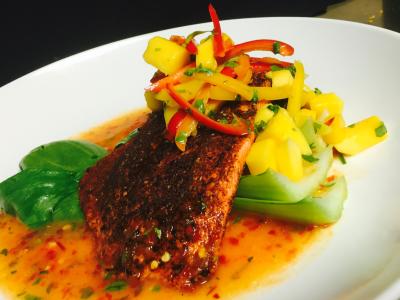 HG Bistro's blackened sockeye salmon is perfect fare for a romantic dinner for two.
Credit: HG Bistro
Sumner
The Windmill Bistro is set alongside Windmill Gardens, and provides one of the most idyllic, romantic atmospheres for lunch that you'd ever expect to see. The downside? It's currently only available for lunch. But maybe that gets you bonus points for thinking outside the box.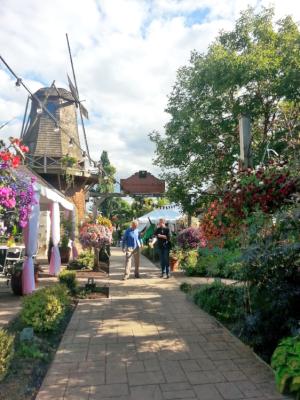 Set in an idyllic garden, Windmill Bistro is a romantic getaway in the middle of Sumner.
"Quaint" is the name of the game, and Sorci's pulls it off, with only 16 tables in an Italian-countryside themed café with dim lighting, candles and soft music. The butternut squash ravioli is delightful, and you'll have dozens upon dozens of wines to choose from for pairing.
Gig Harbor
An unassuming exterior belies the casual elegance of Brix's lamp-lit, exposed-brick, polished mahogany interior that's custom-made for romance. With a menu that's heavy on the quality proteins, don't ignore their Brix Signature Boeuf Bourguignon, filet mignon or teres major steak. Bon appetit!
If you have other recommendations for romantic restaurants in and around Tacoma, let us (and your fellow readers) know in the comments!