The three-o'clock slump hits. Your brain is on the skids and you're running on fumes. This is the situation coffee was made for, and lucky you: You're in the South Puget Sound! In addition to Tacoma being listed in the top 10 most caffeinated cities in the country, you're also in the middle of the Pacific Northwest, which means you have a number of options that most of the country would find absurd.
If you're looking to get the most bean for your buck and aren't into pristine white cups with green, circular logos, here's where you need to go:
Tacoma
Bluebeard Coffee (2201 6th Ave., Tacoma)
Bluebeard is a Tacoma mainstay for coffee, and this location is both where they roast and brew. There's plenty of seating in the warehouse-style building that's complete with a garage door that keeps the place cool in the summer. Their specialty beverage is La Pistola Mexican Mocha, which has a spicy chocolate sauce reminiscent of mole.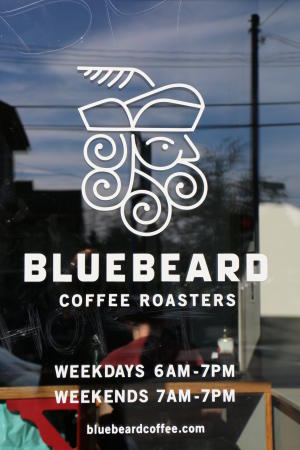 Bob's Java Jive
(2102 S Tacoma Way, Tacoma)
Currently, it's more bar than coffee shop, but the legacy is enough to make it worth a visit. If you've never had a cup of joe at a place that's listed on the National Historic Register, now's your chance! Aside from having been a fast-food drive thru, a speakeasy, a Polynesian-themed bar, a karaoke bar and a biker bar, Bob's also served as a set for films such as "I Love You To Death" and "Say Anything."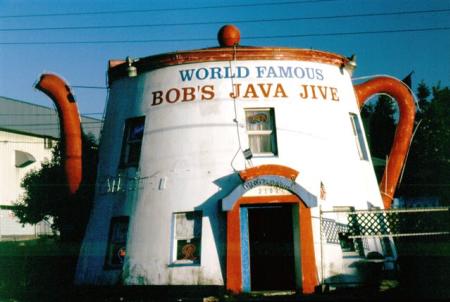 Cosmonaut Coffee
(817 Division Ave., Tacoma)
When you walk into Cosmonaut, you feel like you discovered it. It's a little hole-in-the-wall place with some of the most coffee-educated baristas around, and they'll happily share that knowledge with you. They're known for their hemp-milk macchiato, so try one while you enjoy the eclectic décor that skews heavily toward robots, aliens, comics and Soviet memorabilia.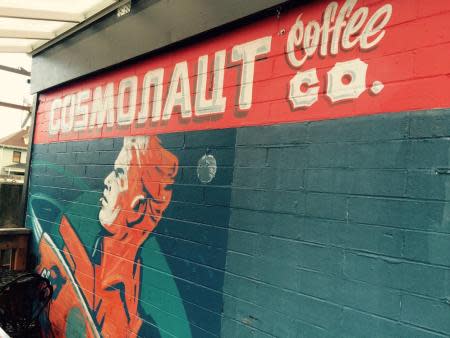 The most recent addition to Tacoma's coffee-roasting scene is Manifesto in the Hilltop neighborhood, with an absolutely minimalist vibe and outstanding roasts. It's a hangout for young creatives, and the space is a mixture of lowbrow (shelving made from scrap plywood) and highbrow (sleek, custom-built hardwood tables and countertops). The biggest complaint previously was that its popularity had overwhelmed their small space, but good news: They've expanded into the space next door. If you stop by and don't get a pour-over, that's on you.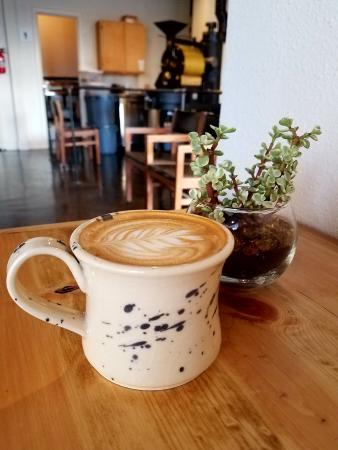 Metro Coffee
(1901 Jefferson Ave., Tacoma)
With bicycles adorning the walls, there's no question that this little coffeehouse caters to the students of the UW-Tacoma campus on which it sits. The small seating area is great for quiet conversations and there's a bench area for study groups.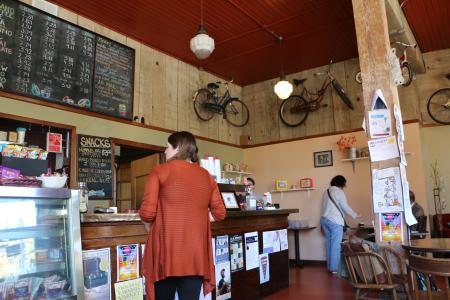 Valhalla Coffee
(3918 6th Ave., Tacoma)
Valhalla's location on Sixth Avenue does double duty as both a roaster that sells their beans to local restaurants, as well as a no-frills coffee shop. Judging by the enthusiasm with which people dedicate themselves to the Valhalla brand, more and more shops will be slinging those beans.

Real estate and coffee shops are all about location, location, location. And Anthem Coffee & Tea at Point Ruston is situated so you can grab your beverage, sandwich, and/or pastry of choice, and be walking along the Ruston Way Waterfront in about 15 seconds. Head north, and you'll be gazing out at the Salish Sea from the top of Dune Peninsula before your coffee is even cool enough to drink.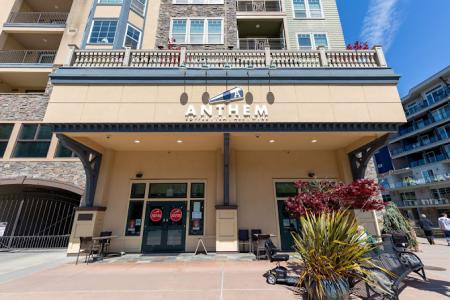 Puyallup
Anthem Coffee (210 W Pioneer Ave., Puyallup)
If you're planning on spending some time exploring downtown Puyallup's antique scene, this is your stop for a pick-me-up. Anthem makes a mean cup of Dillano's-roasted coffee and their tea selection is large and beautifully displayed. Their 16-ounce drinks come with a standard four shots of espresso, so be careful. It's not enough to kill you, but it's enough to change your perception of colors a little bit.
They also have a location in downtown Tacoma in the Museum District, so if you're looking for some caffeine to propel you between museum stops, drop by.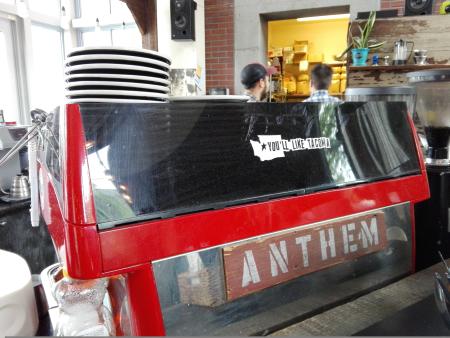 Lakewood
Coffee Kitchen (9115 S Tacoma Way, Tacoma)
Coffee Kitchen is the new kid on the block in Lakewood, but is already making a name for themselves by being one of the few in the South Sound serving up Victrola coffee pour-overs, totally local Mad Hat Tea, and they even give a nod to the area's Korean heritage with authentic Bingsoo shaved-ice treats.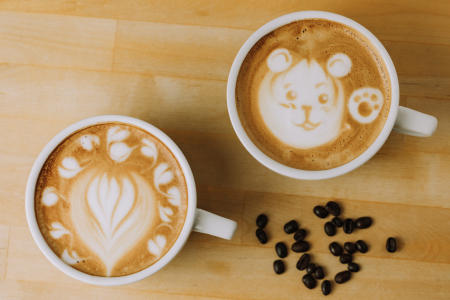 Gig Harbor
Cutters Point Coffee Co. (5500 Olympic Dr., Gig Harbor)
Cutters is a roaster based in Gig Harbor that also operates several shops in the South Puget Sound, and when they say they focus on service, they mean it. Starbucks-style friendly, but actually knowledgeable about coffee and happy to chat about it.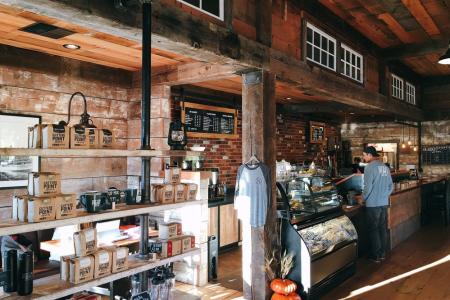 Sumner
Craft 19 (1201 Main St., Sumner)
Located smack-dab in the middle of picturesque downtown Sumner, is this gem of a coffee house that serves up Dillano's, roasted just a few blocks away. This ultra-modern, ultra-chic coffee spot is also a comfortable place to hang out for a couple hours, read a book and eat a crepe or three.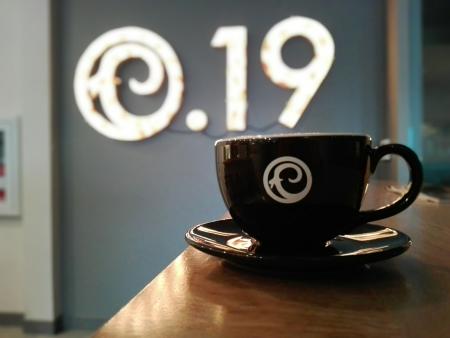 Electric Coffee House (905 Main St, Sumner)
"High design" applies to the drinks as well as the decor, but "minimalist" is just for the decor. Electric Coffee House slings cocktails, small bites, meals, and of course, a full menu of coffee drinks from Proud Mary Coffee. The spiced hot chocolate is a cut above the rest, and darn it, they folks that own the place - sisters Christina Chatha and Pawandeep - are just really cool.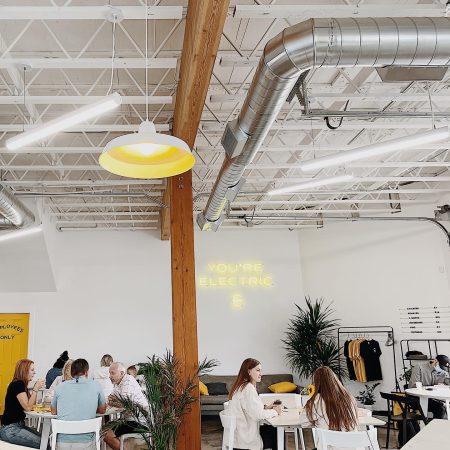 Smaller Communities
Nomad PNW
(529 Church St, Wilkeson, WA 98396)
Nomad would be the coolest coffee shop on the block in any Seattle or Portland neighborhood, but opening instead among the rustic storefronts in the Mount Rainier-gateway community of Wilkeson (population: 485), it sticks out like a sore thumb – in a good way. Their minimalist design and maximalist focus on serving up only the best Anchorhead Coffee Co. roasts and house-made, Argentine-inspired fare makes them a destination spot for coffee aficionados.