I'm the veteran of 29 Treehouse of Horror episodes, the first few of which, watched at a tender age, may have left one or two ghastly, permanent psychological scars. But for all that depth of Simpson knowledge, did I know that each of those 29 episodes – actually, each episode for the first 13 seasons of the show – consisted of about 24,000 individual animation cels (see image below) that, for the most part, were drawn, inked and painted by hand? Not a chance. There's more to The Simpsons, and to animation in general, than meets the eye.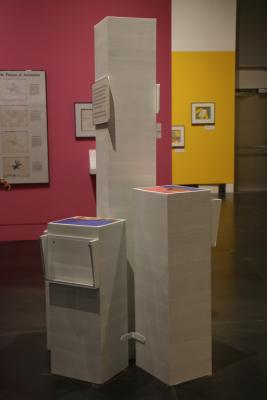 Through the lens of The Simpsons, the exhibition explores the teamwork and group effort involved in creating an animated world and characters that the real world can fall in love with.
Bart at TAM delves into the evolution of the Simpson family, from the wide-mouth, droopy-lipped characters of the Tracey Ullman show in 1987 to the family that still graces America's TV sets during prime time on Sundays.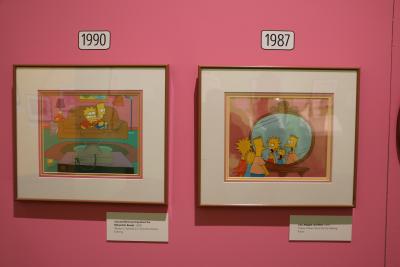 In 130 animation cels and more than 150 artifacts, the exhibition dissects the recurring gags, pratfalls, setups and punchlines that gave the show a unique place as one of the most beloved families in American TV history.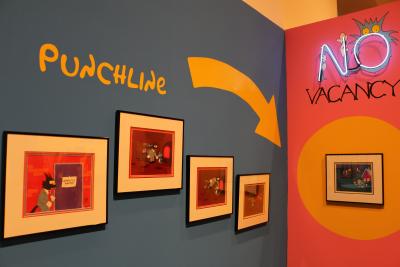 It goes into the intricacy of the art itself, showing the layers of artwork involved to make just one scene, as well as the person-high stacks of cels that go into creating just one episode.
And just like every Simpsons episode starts with a couch gag to draw you into the show, a real bench built into an animated Simpsons living room welcomes you to the exhibition.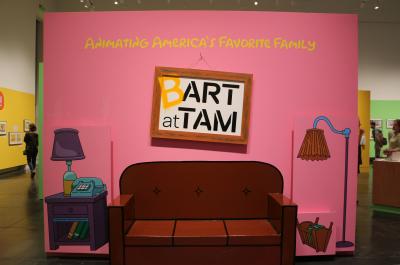 But the bigger picture, according to museum curator Margaret Bullock, is the way artists of all mediums – animators, painters, sketchers, and filmmakers – use images to tell stories and connect their audience to the characters they create. She believes visual storytelling bridges the gap between mediums and is the reason an exhibition like Bart at TAM is at home in an art museum, instead of a pop culture museum or the like.
The quality of that storytelling is also what has drawn audiences to The Simpsons for 30 years. What makes the Simpson family relatable are the "common experiences time and time again we find we have with the family on the screen," said museum Executive Director David Setford.
So whether Bart at TAM is a just your quick hit of nostalgia, or a vehicle for better understanding the work of artist-animators, or a study on how people can get to ourwhat's certain is that for days afterward, the theme music will be running through your head.
The exhibition is on view at Tacoma Art Museum until Oct. 27, 2019.