The following is a guest blog post by Dean Burke, Executive Director of the Tacoma South Sound Sports Commission.
I'm not one to wait for an excuse to have an experience. I don't need someone to schedule an event to make something happen. Weekends are too far apart to let so much time slip away. I get bored in the space between "events" and I am probably someone who can embrace the acronym "FOMO" (Fear of Missing Out). And rightly so. After all, I get to live in Tacoma. In some regards, I like to keep our best secrets tucked away. But what good is life if we don't share it?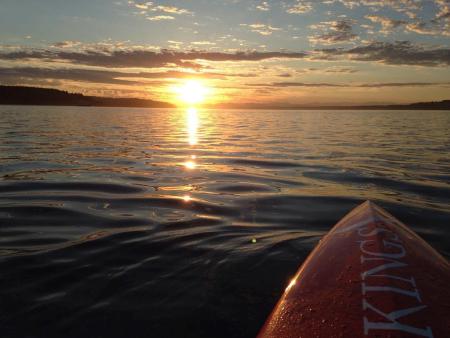 5 a.m. sunrise at Owen Beach in Tacoma, Washington. Credit: Dean Burke
June 27 was a Monday. Like most of us, I can be guilty of wanting to race through Monday like a check list item. It's a word that attracts negative attention on most calendars. The way I see it, Monday is just another opportunity. Sure, I have to go back to work. Kids back to school. Gears turning again. But that's no excuse to waste it.
On the 27th I kick-started the day at sunrise on my stand up paddle board, launching from Owen Beach at Point Defiance Park. These are our longest days of the year. By 5 a.m. there is ample sunlight across the bay. A check of the tides and I was off and cruising across Dalco Passage toward Vashon Island. My friend Melissa is a rare breed – an open water swimmer here in Puget Sound. She steps off the beach and into the water. Her tribe prefer to swim without wetsuits in the 53 degree water. Brrrr.
Bold. Impressive to see.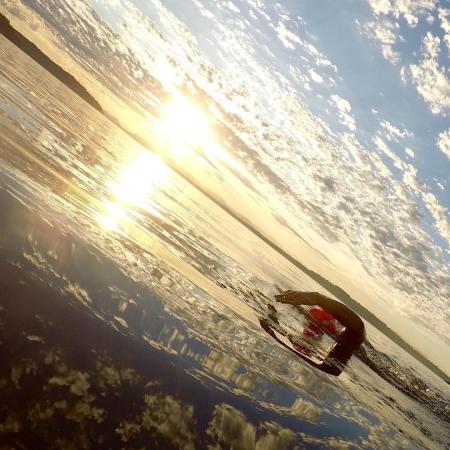 Open water swimming at Owen Beach in Tacoma, Washington. Credit: Dean Burke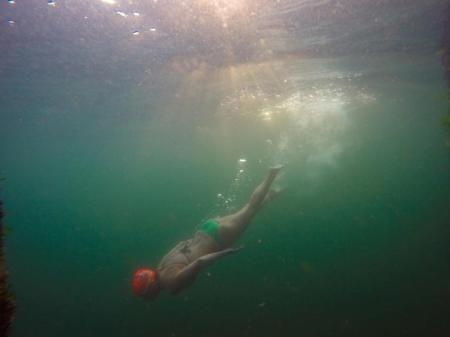 Open water swimming at Owen Beach in Tacoma, Washington. Credit: Dean Burke
Rolling into the office by 8 a.m., it's hard not to feel good after a start like that. It's like a dream out there. So much epic beauty right out our back door.
The day was so nice, I wanted to savor it. So after work my 11-year-old son and I loaded up our boards and went back to Owen Beach. We headed out mid channel into the deep water and were enjoying the view when he yelled, "Dad! Look!" He pointed over toward the Tacoma Yacht Club where we saw two massive black dorsal fins. It was two bull Orca whales, headed our way.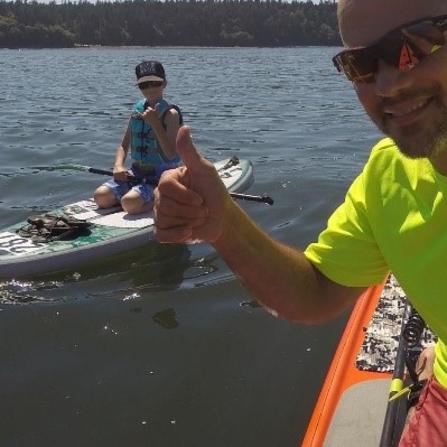 The author and his son on the water at Owen Beach in Tacoma, Washington. Credit: Dean Burke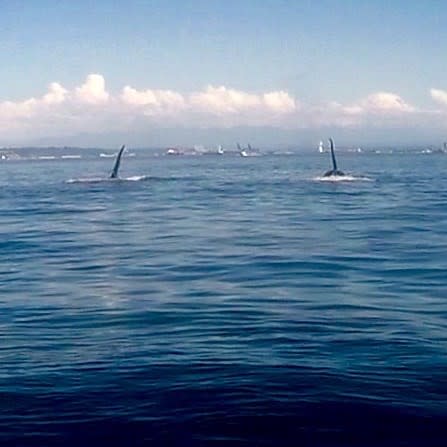 Orcas on a Monday morning. Credit: Dean Burke
We watched enthusiastically as the two gentle giants swam right toward us and then under our boards. They resurfaced behind us, let out a blast of air and carried on. A few hundred meters further, we watched as they hunted a seal before turning north to return to their pod further away in the Sound.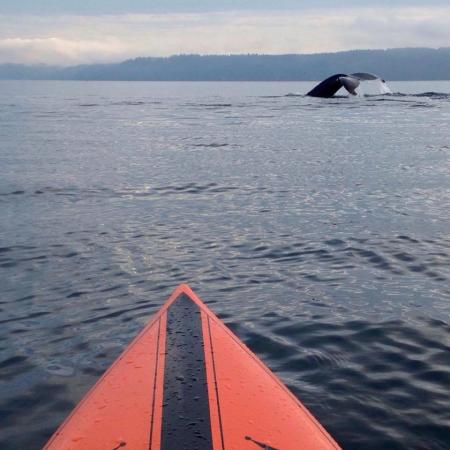 Visit with a Humpback Whale at Dalco Passage in October. Tacoma, Washington. Credit: Dean Burke
With days like this, I am motivated: Don't waste another Monday. Or any day for that matter. This is Tacoma. Few places exist like this, with such an Opportunity to Experience.
Dean Burke is the Executive Director for the Tacoma-Pierce County Sports Commission and has worked in sports related fields his entire life. A Tacoma resident of more than 20 years and avid outdoorsman, Dean spends a great deal of time in and around the waters of Commencement Bay and the South Sound and has developed a strong passion for the how these waters foster an identity around Tacoma. You can watch his TEDx Talk titled "Tacoma - The City and the Sea" here: https://youtu.be/7TKAmbq_Ci4