Sometimes the photography urge strikes when there's nobody around to snap a picture for you.  Sometimes you just want to document (for posterity and Instagram) a cool place you've discovered as you're passing by. Whatever the reason, some places seem custom-designed for a selfie, and those are the ones we've tracked down for you in Tacoma.
The Bridge of Glass – Approx. 1875 Pacific Ave.
This one may seem obvious (2,000+ pieces of Dale Chihuly glass, perfectly placed to capture and filter sunlight? Done.), but it'd be embarrassing if you left Tacoma without proof that you were at one of the coolest and most visually stunning structures in the Puget Sound.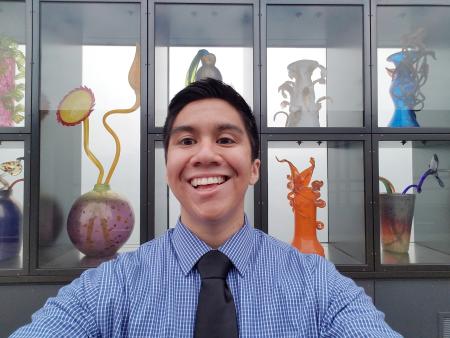 Clearing the Way at Fireman's Park - 801 A Street
There's something about street-level, life-sized statues that makes people instantly want to wrap their arms around them in a bro-hug and snap a selfie. Such is the case with Clearing the Way, a statue in Fireman's Park depicting a logger.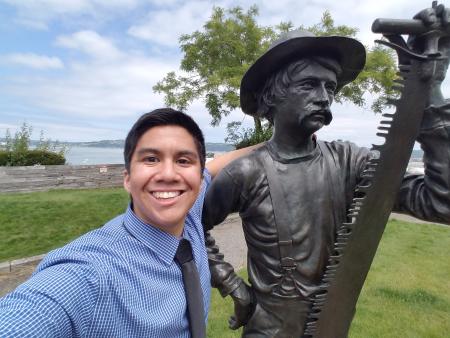 While you're in the park, make sure and take a picture of Mount Rainier framed by the Murray Morgan bridge. It's one of the best views of the Mountain you're likely to find in Tacoma.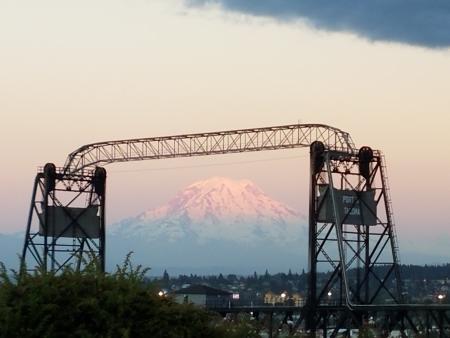 The Murray Morgan Bridge – South 11th Street, East of A Street
Tacoma is an industrial, blue-collar city at heart, and that heart is on full display in the steel workhorse that is the Murray Morgan Bridge. As an icon that serves as an unofficial emblem of the city to many locals, the bridge is still resilient after its 100+ years over the Thea Foss Waterway. The fact that it's not heavily used in recent years allows for some angles that you might not get on a more trafficked bridge.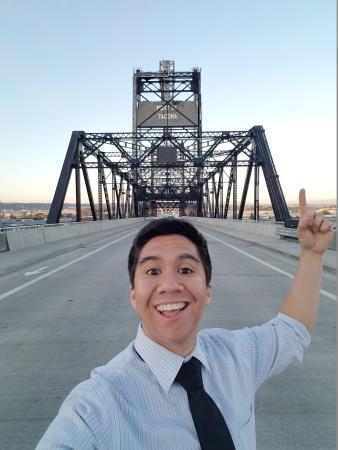 The Umbrella Wall - 216 Puyallup Ave.
Part of a public art project from the City of Tacoma, the Umbrella Wall has taken off as a backdrop for couples and family photography, but a little planning and trial-and-error can make it into a colorful, unique place for a selfie as well.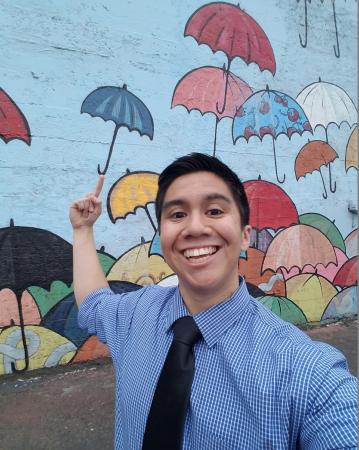 New Beginnings at Union Station - 1717 Pacific Ave.
What's now a federal courthouse was in the late 1800s a chaotically busy train station (hence the name Union Station), and the statue out front is a throwback to that era. Sculpted by the same artist at the Clearing the Way statue in Fireman's Park mentioned above, it depicts a diminutive, handlebar-mustachioed man waiting for a train to whisk him to a new life. When it's time to consider a new beginning of your own, you'll be in good company when you take a selfie with him.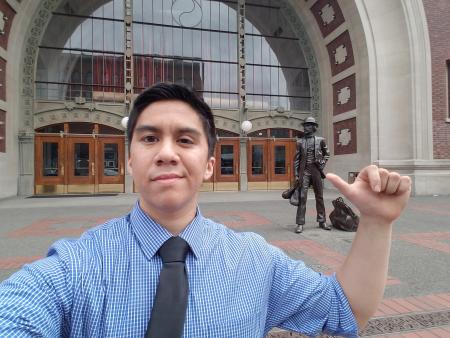 Special thanks goes to Travel Tacoma + Pierce County intern Alex Balansay, who braved the beautiful summer weather to snap these epic selfies.