Sunny days in the Pacific Northwest are best spent with a sea breeze on your face and a paddle in your hands. With miles of waterfront that stretch from Titlow Beach in the south to Dash Point Park in the north, Tacoma is truly a paddler's paradise. Here are some of our favorite paddling locations in the Tacoma area that are sure to have you catching the paddling bug.
1. Foss Waterway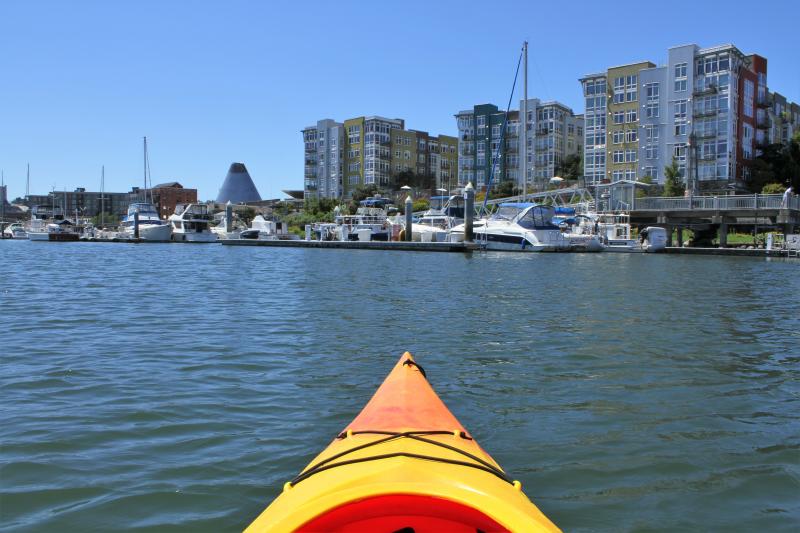 Foss Waterway  in Tacoma, Washington. Photo: Alex Balansay
Foss Waterway: For a perfect introduction to paddling in Tacoma, look no further than Thea Foss Waterway. The Waterway is a 1.5-mile-long inlet from Commencement Bay that offers glassy-still water and fantastic views of countless Tacoma landmarks including the Old City Hall, the Tacoma Dome, Union Station, and the iconic Museum of Glass. After an afternoon on the water, head back to the docks and catch a bite to eat at one of the many cafes and restaurants that line the waterfront.
Get on the water: Launch your kayak from either Thea's Park on the west end or Waterway Park on the east end, just under the 509 Bridge. Kayak and paddleboard rentals are available at Dock Street Marina and Foss Harbor Marina.
2. Owen Beach

Point Defiance  in Tacoma, Washington. Photo: Alex Balansay
Owen Beach: Popular with kayakers and sunbathers alike, Owen Beach is a perfect paddling spot located at the border between city life and outdoor wilderness. Experienced paddlers can head west around Point Defiance where they will be greeted with miles of natural coastline, featuring bald eagles in tall trees and seals on sandy beaches. If you're lucky, you may even manage to see the Orcas or humpback whales that have been known to frequent these waters.
Get on the water: Launch your kayak from Owen Beach in Point Defiance Park. Rentals are available for both single and tandem kayaks.
3. Ruston Waterfront

Mount Rainier and Ruston Waterfront as seen from kayak. Photo: Alex Balansay
Ruston Waterfront: Located right on Commencement Bay, the Ruston Waterfront is home to a host of fantastic restaurants and parks that grant it the unofficial title of Tacoma's playground. The next time you visit the area, trade your longboards and rollerblades for a kayak or paddleboard and opt for the water instead of the promenade. When you see the view of Mount Rainier peeking over the city, you'll be glad you did.
Get on the water: Several metro parks featuring water access line the waterfront. Among the most suitable for launching kayaks are Jack Hyde Park on the east end and Les Davis Pier on the west end. Paddleboard rentals are available at Big Bus Paddle Sports, most often next to Jack Hyde Park or elsewhere along the Point Ruston Waterfront.
4. Titlow Beach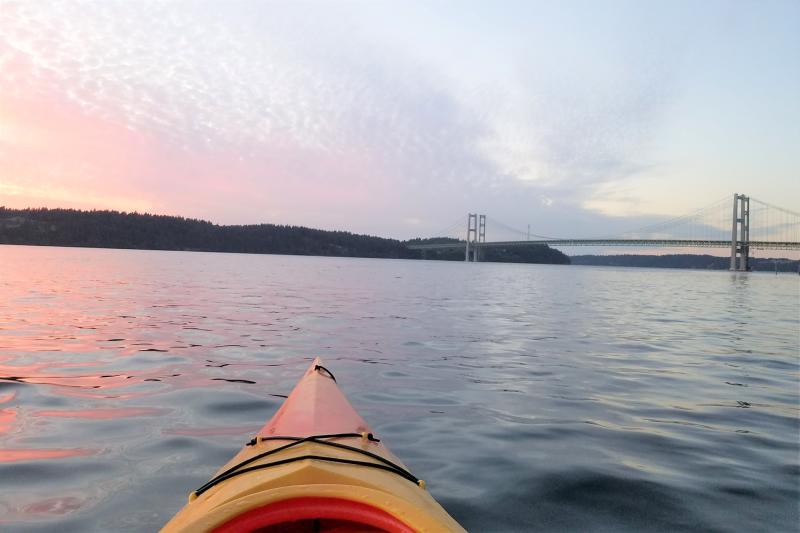 Tacoma Narrows Bridge seen from Titlow Beach in Tacoma, Washington. Photo: Alex Balansay
Titlow Beach: Just south of the Tacoma Narrows Bridge, Titlow Beach is home to sandy shoreline and great views of both the Narrows Bridge and the Olympic Peninsula. Split your day between paddling on the water and relaxing on the beach.
Get on the water: Take 6th Ave past Titlow Park where you will find a small boat launch across from Steamer's Seafood Cafe.
5. American Lake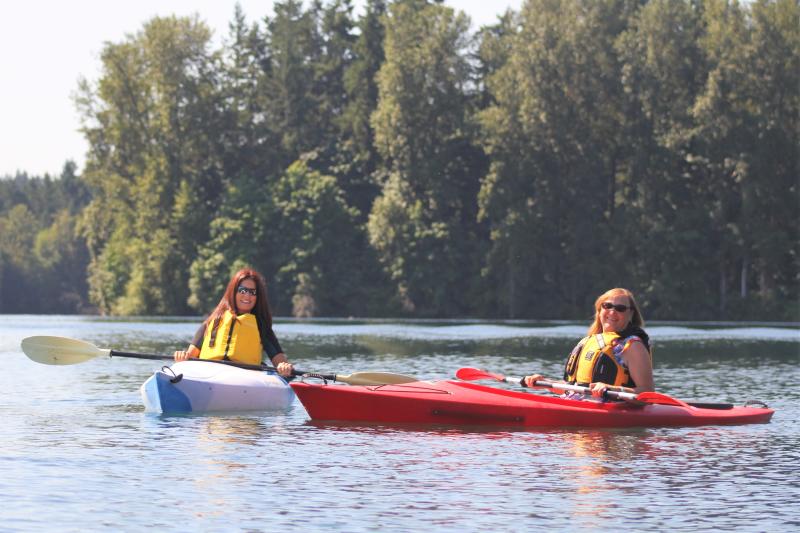 Kayakers on American Lake in Lakewood, Washington. Photo: Alex Balansay
American Lake: Located just south of the city limits in Lakewood, American Lake lives up to its patriotic name -- spend five minutes here and you're sure to see a bald eagle soaring overhead. The lake offers miles of peaceful paddling and areas of tall trees and wilderness. Visit the lake on a morning or afternoon and you're likely to see one of the many rowing crews that call this lake home as they blaze by at 40 strokes per minute.
Get on the water: Launch your kayak from either American Lake Park on the north side or Harry Todd Park on the south side. Rentals are available at Russell Landing Marina.
6. Dash Point Park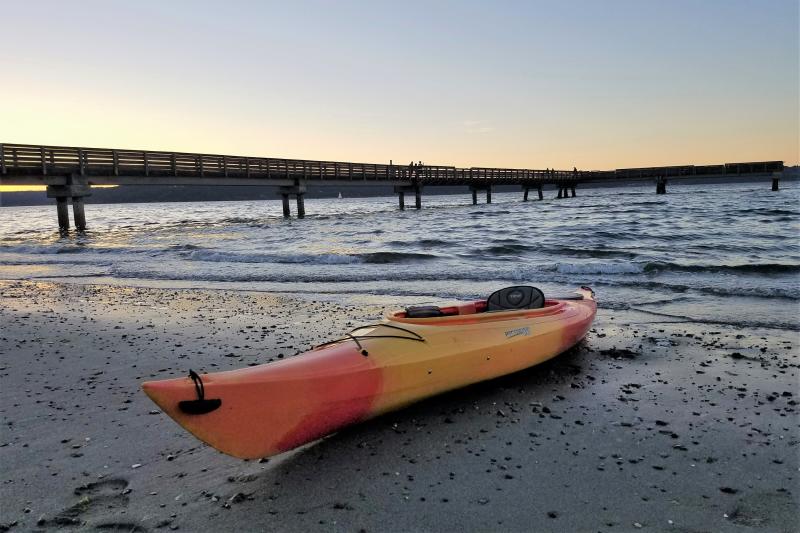 Dash Point Park in Tacoma, Washington. Photo: Alex Balansay
Dash Point Park: With a long pier and sandy shore, Dash Point Park is one of the nicest and most accessible paddling locations in Tacoma. From the park you can paddle south to see the Browns Point Lighthouse and Commencement Bay, or north to see the wildlife that call Dash Point State Park home. With a west-facing shoreline, the area also offers some of the best sunset views in the city.
Get on the water: Launch your kayak from the sandy beaches at Dash Point Park, located north of Browns Point and south of Dash Point State Park.
7. Commencement Bay Marinas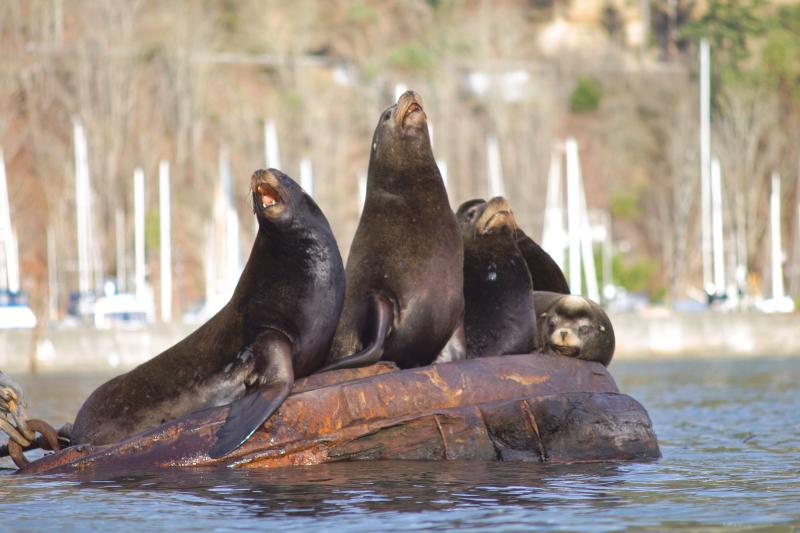 California sea lions at Tyee Marina in Tacoma, Washington. Photo: Alex Balansay
Commencement Bay Marinas: Located just past the Port of Tacoma and south of Browns Point, the marinas along Marine View Drive are fantastic for calm paddling and seal-watching -- not to mention the breath-taking views of Mount Rainier that even California sea lions travel thousands of miles to see. 
Get on the water: Launch your kayak from the Dick Gilmur Shoreline Restoration and Kayak Launch, located along Marine View Drive.
Enjoy the Water!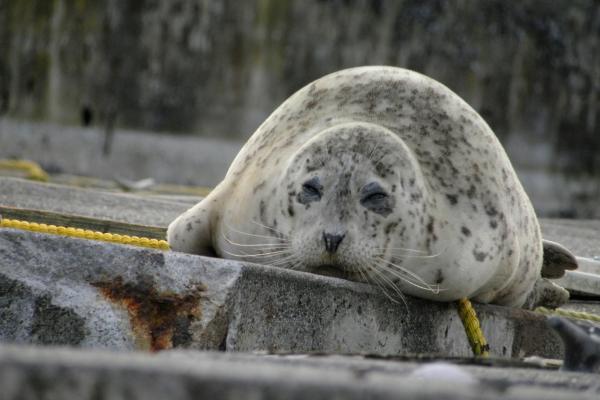 Harbor seal at Tyee Marina in Tacoma, Washington. Photo: Alex Balansay
With wildlife, mountains, and the amenities of city life, Tacoma has no shortage of great spots to kayak. Wherever you go, remember to respect the wildlife, wear a PFD, and give motorized boats ample distance.
Stay tuned for our Part II post on even more great paddling spots in the South Sound.

Have any favorite spots of your own? Leave them in the comments below.
Now get out and paddle!