We've all found that one Wikipedia page that leads to another, that leads to another, and pretty soon you've learned that some plants can do math and you hate that you know that. 
Try a more local digital rabbit hole. There are some organizations and businesses around Pierce County where you can get your mindless clicking fix, and maybe get some culture or history at the same time. Surf local. 
Browsing for the Sake of Browsing 
Browsing for Projects 
For some reason, parents seem to have a healthy respect for the zookeeper profession, and animals are an easy win for maximizing attention spans. So while they're currently closed to the public, both Point Defiance Zoo & Aquarium and Northwest Trek Wildlife Park have come up with indoor scavenger hunts, activity sheets, and tons of resources to help parents navigate the line between entertainment and education. 

The Museum of Glass: Icon of the Tacoma cityscape; world-class museum for studio glass art; functioning (not now, of course, but in the future) amphitheater hot shop; Hub for all things crafty and creative. Check out their projects on everything from making bird feeders out of oranges to tie-dying with Sharpies and reverse painting on glass.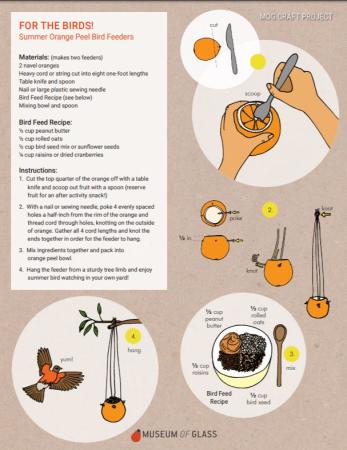 Got a sports-obsessed kid climbing the walls? The Tacoma Rainiers have set up an activities page with an online Rainiers storybook, downloadable/printable coloring book, and word games.  
If the younger folks under your roof are more inspired by things that go fast and take corners hard, LeMay – America's Car Museum's Fuel From Home resources will keep the accelerator going on both sides of the brain. Designing automotive ads, or just coloring in Corvettes will keep the right hemisphere engaged, while looking to the fuels of the future, and seeing friction, drag, drifting, and aerodynamics applied to driving will enchant the left. 
Think you've got it rough? The Job Carr Cabin Museum is a replica of the cabin where the first Tacoman set down roots in the 1860s, when electricity and indoor plumbing were decades away. Now they're offering a full suite of activities from weekly online art contests for kids (cool!) to homemade butter instructions (yikes!). It's the perfect remedy for (ready for it?) cabin fever (groan).  
Vegging Out with Videos 
One of the questions visitors ask us the most is what's inside Old City Hall, and if they can go see it. Well the answer is a resounding no, unless you're Pretty Gritty Tours, a local tour company whose owners also happen to be professional videographers. The result is Pretty Gritty Tours' Old City Hall Tour video (and the rest of their virtual tours). You're welcome. 
Mount Rainier is a natural distillery for tranquility, and you can pour yourself a glass of the hard stuff with a three-hour-long, 4K video of wildflowers, narrated by birds and insects. 
Watching glassblowers in action is mesmerizing, and the more skilled the artist, the more their creations just seem to take shape in front of them. The Museum of Glass has hosted the biggest names in glass art in their hot shop, and their YouTube channel has video of them all. Start with Lino Tagliapietra and go from there.