Conventional wisdom says dining with a view in Tacoma means heading to the Ruston Way Waterfront. Convention wisdom needs an update.
Stanley & Seafort's
jaw-dropping views of Tacoma's skyline and Foss Waterway add eye candy to a menu that's already flush with a massive fresh-list, seafood and steaks.

Stanley's, with its glowing red sign visible from the entire downtown area, is an icon in Tacoma, known to locals for the past 37 years as a place to celebrate special occasions. However, we recommend it as the perfect place for visitors to get acquainted with Tacoma and oriented to the layout of the city. The servers there are well-equipped to answer questions that inevitably crop up about the city's history, distinctive bridges and notable buildings, and it seems like there's nothing they haven't heard before. (Our server recommended we find a reason to stay until sunset, and she was right.)
While the view is the first thing that greets diners, it's the menu that carries the day.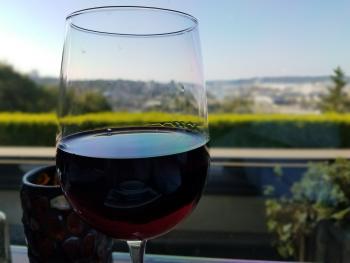 Start with a drink. Regardless of whether you dive into a glass of wine (the pinot noirs are excellent, and the Erath Resplendent offers up a black-cherry nose and flavors of blackberry and raspberry) or one of their signature cocktails (a Cucumber-Ginger Martini will cleanse your palate, but two will cleanse it better), it's nearly impossible to dine while overlooking the sparkling lights of the city without raising a glass or two.
The appetizer menu is extensive, but you can go directly to the warm brie with macadamia nut crust. It's served with apple slices and fig jam for a juxtaposition of flavors and textures that doesn't seem intuitive, but works to perfection. The sour notes from the apple, and the sweet notes of the jam offset the creamy saltiness of the brie and the crunch of its crust.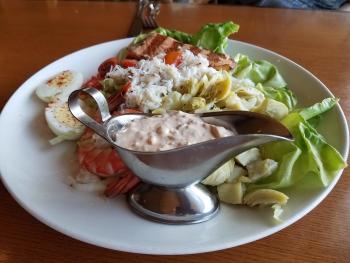 The Seafood Louie Salad has massive, meaty prawns and come topped with one of the most tender salmon fillets I'd ever seen. The Dungeness crab combines with the house-made Thousand Island dressing for just the right amount of salty goodness.
My seven-ounce filet mignon was cooked perfectly to order (medium – with the my apologies to steak aficionados everywhere) and served with green-onion potato cakes that were crispy outside and smooth to the point of being creamy inside. When you're offered the three potato options, of course go with your preference, but don't blame me if you choose anything other than the potato cakes.
Since the restaurant predictably fills up quickly during the dinner rush, even mid-week, Stanley's has come up with some innovative ways to make sure locals and visitors have a chance to sample their wares. They've just introduced an early-dining menu, that includes an appetizer, and entrée and a dessert for $29 – just a hint here that one of the entrée options is an American Wagyu Sirloin that comes with those potato cakes I mentioned above.
And since Tacoma is more than a little bit breakfast/brunch-obsessed, they're serving brunch every Saturday and Sunday from 10:30 a.m. to 3 p.m., giving foodies the chance to try a whole variety of classics made to perfection, like the locally-sourced eggs benedict and prime rib hash. An insider note is that kids eat free on Sundays.
If you're dining at Stanley's while the weather is nice and skies are clear, there's a small outdoor dining patio accessible from the bar area. I recommend getting there early, grabbing a table and not letting go until the sun sets and you have your keepsake photos to remember the scenery and the meal.