As winter slowly fades away and the earth comes alive with the colors and fragrances of spring, there is no better way to celebrate this beautiful season than by exploring some of the most breathtaking gardens in Pierce County. From the lush, expansive grounds of the Point Defiance Park Botanical Gardens to the tranquil elegance of Lakewold Gardens, these landscapes offer visitors a chance to connect with nature and witness the spectacular transformation of flora in the Pacific Northwest. 
Knutson Farms in Sumner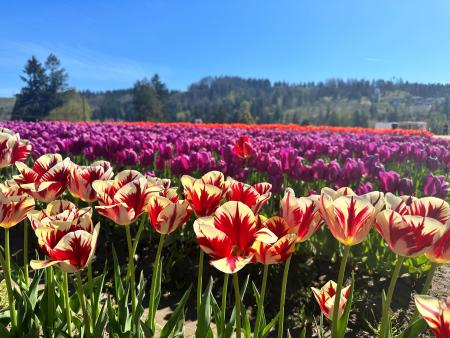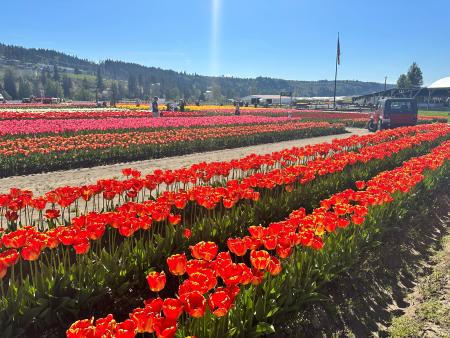 Is that…
The Netherlands? More like Noperlands.
Skagit Valley? How about Nope Valley.
That's Knutson Farms in Sumner. Smaller, quieter, and no plane ticket required. Rows and rows of tulips so bright and saturated you'll need to wear your shades. 
Point Defiance Park Botanical Gardens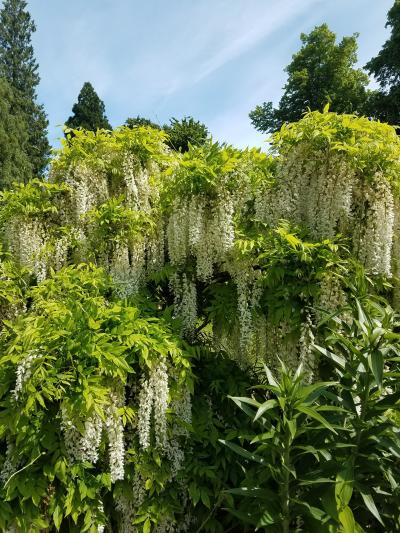 Located within the 760-acre
Point Defiance Park
in Tacoma, the Point Defiance Park Botanical Gardens offer a diverse range of floral displays that will leave you in awe. The 5-acre display garden boasts a splendid variety of rhododendrons, azaleas, hydrangeas, roses, and more. Spring is the perfect time to visit as the park's Japanese Garden comes alive with cherry blossoms and the fuchsia garden creates a vibrant, colorful display. Don't miss the beautiful daffodil hill, which transforms into a sea of yellow blooms during the spring months.
Mount Rainier National Park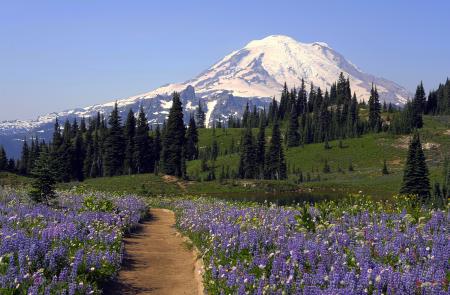 Just an hour and a half driving from Tacoma,
Mount Rainier National Park
offers a spectacular opportunity to witness the beauty of wildflowers in their natural habitat. During the spring and summer months, the park's subalpine meadows burst into color as an array of wildflowers, including lupines, Indian paintbrush, and avalanche lilies, blanket the landscape. The park's numerous trails, such as the Skyline Trail and the Naches Peak Loop, provide visitors with stunning views of the vibrant wildflower displays and the breathtaking backdrop of Mount Rainier itself. Pro tip: the Nisqually Entrance past Ashford is open year-round, and has seasonal access to Paradise daily (weather permitting), as of April 15, 2023. The Sunrise Entrance and the Carbon River Entrance will open this summer.
Lakewold Gardens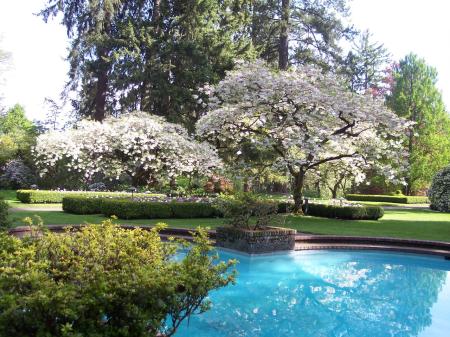 Nestled on the shores of Gravelly Lake,
Lakewold Gardens
is a 10-acre garden estate featuring beautifully landscaped grounds, historical structures, and stunning views of Mount Rainier. Visit during the spring months to enjoy the spectacular display of rhododendrons, camellias, magnolias, and other blossoming trees and shrubs. The garden's wooded paths provide a serene atmosphere perfect for birdwatching and quiet contemplation.
WW Seymour Botanical Conservatory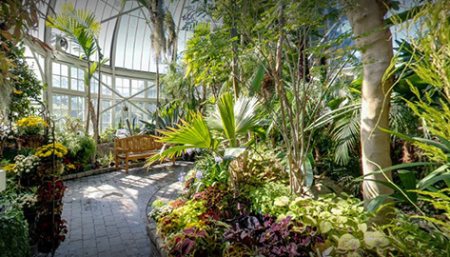 The
WW Seymour Botanical Conservatory
, situated within Wright Park in Tacoma, is an enchanting glass-domed Victorian-style conservatory that houses a lush, tropical oasis. Although the conservatory is worth visiting year-round, spring is an especially magical time as the annual spring floral show displays a stunning array of seasonal blooms, including tulips, daffodils, hyacinths, and many other vibrant flowers. Don't forget to marvel at the conservatory's impressive collection of exotic orchids and tropical plants as well!
Van Lierop Park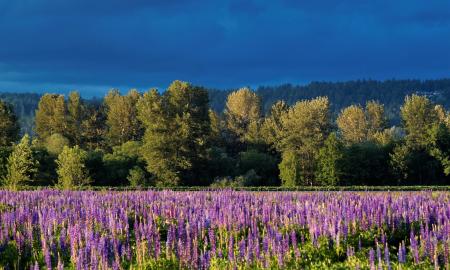 Van Lierop Park
, located in the charming town of
Puyallup
, is home to a 4-acre garden and park space dedicated to showcasing the beauty of nature. In spring, the park comes alive with a dazzling display of tulips, daffodils, and other spring bulbs. The park also features a sensory garden, where visitors can explore various plants through touch and smell, as well as a peaceful meditation garden. With its tranquil atmosphere and striking floral displays, Van Lierop Park is an ideal spot for a leisurely springtime stroll.
Curran Apple Orchard Park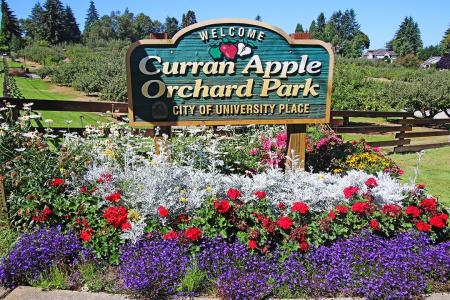 Curran Apple Orchard Park
, situated in University Place, is a 7.33-acre park that showcases more than 250 apple trees. While this park may not have the diverse range of flowers like other gardens, its blossoming apple trees in the spring create a picturesque landscape. The park also hosts family-friendly events such as summer concerts and an annual cider squeeze that celebrates the beauty of each season at the orchard.
Tacoma Nature Center
The
Tacoma Nature Center
is a 71-acre nature preserve that features several small gardens, nature trails, and wetlands. It's not a flower garden in particular, but flowers it has, along with native plants and flowers that bloom during the spring season. The nature center's Discovery Pond area, in particular, showcases a variety of plants that are native to the Pacific Northwest.
Pierce County's gardens are a true testament to the region's natural beauty and the incredible power of spring's transformation. As you explore these gardens, take the time to appreciate the intricate details of each bloom and the artistry involved in creating such picturesque landscapes. From the vibrant displays at Point Defiance Park Botanical Gardens and the serenity of Lakewold Gardens to the charming Curran Apple Orchard Park and the native flora at the Tacoma Nature Center, there is something for everyone to enjoy. And don't forget to venture out to Mount Rainier National Park for a stunning wildflower experience in a majestic mountain setting. Visiting the gardens of Pierce County and its surroundings in the spring is a rejuvenating experience that will leave you feeling inspired and refreshed.