This year, while the Ranger-led snowshoe tours at Paradise are on a COVID-required hiatus, you can rent snowshoes the National Park Inn General Store at Longmire ($14.50 for adults, $10.50 for children for a full day). Then, revel in a day of hiking around Longmire (the Trail of the Shadows is a great short hike), or road-conditions permitting, take them up to Paradise for wide-open snowfields and views that will stop you in your tracks. Whenever you're heading to the mountain, plan ahead.
Morning: Wake up in your rustic cabin for the weekend at the Copper Creek Inn located a few minutes from the entrance to Mount Rainier National Park. Before the snowshoe adventure, stop by the Copper Creek Inn Restaurant for an excellent take-out breakfast that you can enjoy at your leisure in your room or cabin.
Mid-morning: Depart to Mount Rainier National Park for a snowshoe hike. You can rent snowshoes at the gift shop in Longmire (inside the park's Nisqually entrance) and choose a trail of any experience level: Trail of the Shadows at Longmire is great for new snowshoers and families. Branching off from the Trail of the Shadows is the Rampart Ridge Loop trail, perfect for more experienced snowshoers. Or go big and drive up to Paradise, where the experience is mostly backcountry this year (no marked trails, due to COVID restrictions), so it's best for experienced snowshoers with all the right equipment, including avalanche beacon, probe and shovel.
Want to take your mountain snowshoeing experience to the next level, hire a guide from Discover Nature. Your guide will find the perfect trail for you and your group, while you take in the gorgeous scenery of the snowcapped mountain ranges surrounding you, and the forest flora and fauna at your feet. And they'll even bring the snowshoes and microspikes!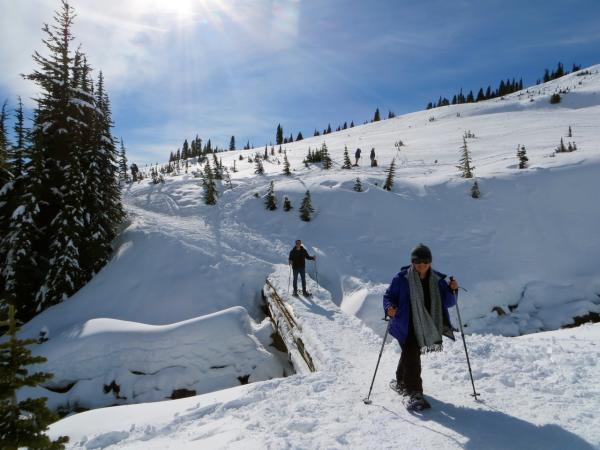 Discover Nature's Diann Sheldon guiding a snowshoe hike at Mount Rainier.
Lunch: For lunch, recharge at the National Park Inn at Longmire, located within Mount Rainier National Park for a truly Pacific Northwest inspired meal! Make your take-out order reservation ahead of time and then take some time after lunch to sit on their front porch to take in breathtaking views of Mount Rainier!
Afternoon: Make your way back to your cabin for a little rest or soak in the hot tub before dinner this evening at the Copper Creek Inn Restaurant. Make sure to save room at the end for their award-winning blackberry pie!