The Tacoma Narrows Bridge. Galloping Gertie. To many people outside the city, Tacoma is perhaps best known as the city where the ill-fated bridge spent five months bucking in high winds in 1940 before collapsing and finding a new career as a SCUBA diving site.
Replaced by a new, more stable bridge – nicknamed Sturdy Gertie – in 1950 and supplemented by a second span in 2007, the original bridge retains some of its mystery, lore and interest.
There's a legend that a mythical octopus lives in the ruins of the bridge. There's a band out of New York City named after the bridge.
There are places around the South Puget Sound where you can see either pieces of the original Galloping Gertie, or exhibitions related to the bridge.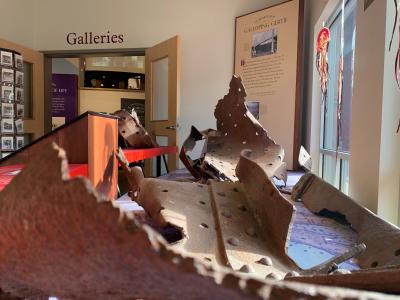 The Harbor History Museum has an excellent exhibition about Galloping Gertie.
Got Gertie fever? Here are some suggestions:
Try out our Tacoma Narrows Bridge itinerary.
Have a beer at Narrows Brewing – perhaps their Galloping Gertie Golden Ale.
Drive through Five-Mile Drive at Point Defiance Park, which has marked viewpoints from which you can get a stunning view of the Tacoma Narrows Bridge.
Stay overnight in downtown Tacoma, to see everything in one stay.