From the mountain to the sea, many (but not all) restaurants around Pierce County have started reopening their dining rooms as part of Phase 2 of Governor Inslee's Safe Start Washington phased reopening plan.
Want to eat your pho while it's still hot enough to burn off your eyebrows? Dive into some Himalayan food with a Sherpa family? Enjoy some award-winning clam chowder out over the water? Watch a server set fire to your Niman Ranch steaks, without disappointing your homeowners insurance company? It's all on the menu.
But before you jump in your car and smoke your tires heading to your favorite BBQ joint, put on the brakes, and make sure their dining room is open:
And when you get there, know that things might not look like they always did. Part of reopening safely includes restrictions such as maximum guest occupancy of 50% (not including outdoor dining areas), and a six-foot distance between seated guests, and others. 
What does Phase 2 look like? That depends where you go, but Camp Bar in Tacoma has a good take on it: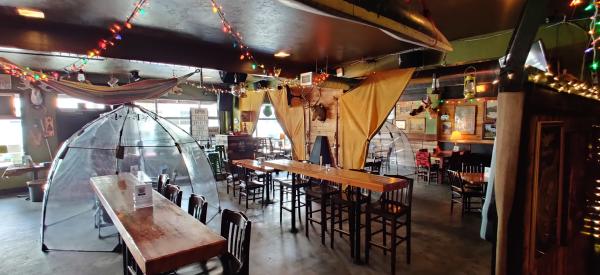 Photo courtesy of Camp Bar in Tacoma, allowing customers an amount of distance that many would consider "in-tents"