This April, Pierce County dressed itself in 80-degree weather and put on a smile for its introduction to some major international markets. In partnership with BrandUSA and Visit Rainier, Travel Tacoma + Pierce County, worked with four travel hosts to produce engaging, and culturally tailored travel video shorts for markets in Germany, South Korea, China and the United Kingdom.
These two- to three-minute videos take visitors from summit to sea, visiting Mt. Rainier National Park, and Tacoma's waterfront, showcasing culture, food and outdoor beauty.
Even the filming of the videos became the focus of some media attention, with the Tacoma News Tribune writing a front-page story under the headline "Hello world, City of Destiny is calling." The article focused on the experience of the videos' foreign-born hosts and their impressions of Tacoma and Mt. Rainier.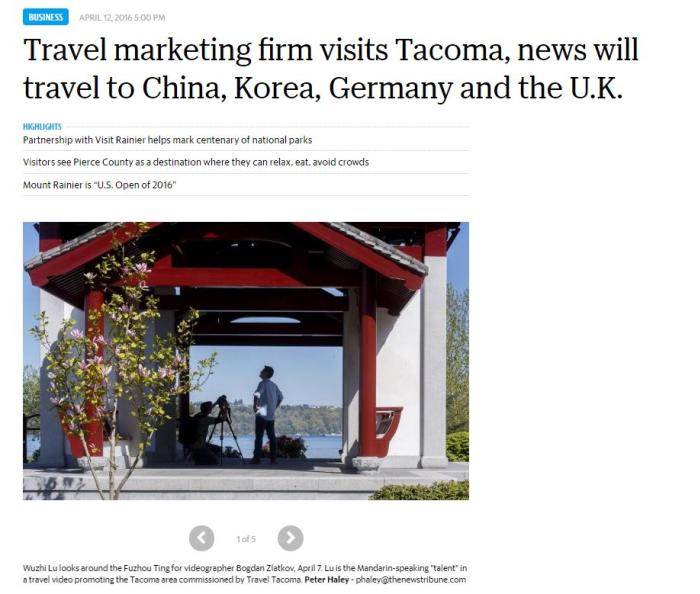 In addition to being shared and marketed by Travel Tacoma and Visit Rainier, the videos will be on BrandUSA's websites and YouTube Channels, which get nearly half a million monthly views, and more than 12 million video views respectively.  The videos are set to launch in early summer.
The videos are part of a larger project, celebrating the National Parks Service Centennial, which is a cooperation between Visit Rainier and Travel Tacoma. Together the three organizations are working to help impact the local economy through bringing in tourism dollars.
"This partnership means joining Brand USA in supporting the American economic engine of tourism," said Bennish Brown, President + CEO Travel Tacoma + Pierce County. "For us here in Pierce County, it also means taking a place at the table as an international destination. Our region--which includes Mt. Rainier and Tacoma, continues to develop world-class attractions. And we're excited to share some of those experiences with an international audience."
"As a result of welcoming more international visitors to the United States, the U.S. economy grows, jobs are created and more importantly, there is a more favorable image of the United States around the world," said Christopher L. Thompson, President and CEO of Brand USA.