Nothing silently screams "Christmas is almost here!" like the appearance of holiday lights on homes, businesses, yachts and thrill rides. Fortunately for people living in or visiting in Pierce County, we have plenty of opportunities to see magnificent light displays from Gig Harbor to Puyallup and from Tacoma to Sumner. Some of them, you don't even need to leave the comfort of your heated car to experience.
Zoolights at Point Defiance Zoo and Aquarium
What: More than half a million holiday lights let visitors experience brilliant 3-D animal light displays, including larger-than-life rock crabs, a polar bear family, a giant Pacific octopus and a 17-foot tall tiger head.
Where: Point Defiance Zoo & Aquarium; 5400 N. Pearl St., Tacoma, WA
When: Nov. 27 - Jan. 3 (closed Dec. 24. Open Dec. 25 & Jan. 1); 5:00-9:00 p.m.
Why: It's a holiday staple, and the hot chocolate makes even the frostiest night bearable.
How much: $10 for adults; discounts available online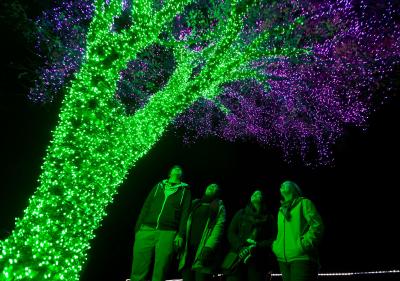 Fantasy Lights in Spanaway
What: The beautiful two-mile drive along Spanaway Lake features more than 300 elaborate displays and has become a memorable lakeside tradition for the entire family. 
Where: Spanaway Park; 14905 Bresemann Blvd. South, Spanaway, WA
When: After dusk; Now through the new year
Why: You don't even have to leave your car.
How much: $14 per vehicle/mini-bus (up to 24 passengers)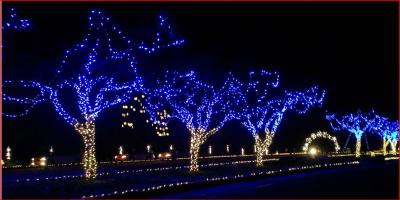 What: For the past 17 years, the historic Stuck River Bridge on the east side of Old Cannery gets the holiday treatment with more than 10,000 Christmas lights in colors that cover the whole spectrum. The downtown area is also aglow with holiday cheer and voltage, so make sure and
Where: The Old Cannery Furniture Warehouse; 13608 Valley Ave E., Sumner, WA
When: After dusk; Now through the new year
Why: Since the Stuck River Bridge slated to be replaced with a more modern one soon, this may be one of the last years it gets to shine during the holiday season.
How much: Free!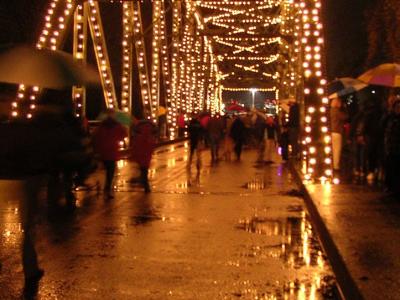 Gig Harbor Holiday Lights Cruise
What: Destiny Harbor Tours offers tours by boat along the well-lit and historic Gig Harbor waterfront, where you can enjoy the spectacular light displays on homes and yachts.
Where: Destiny Harbor Tours; 1817 Dock St., Tacoma 98402
When: Nov. 26 through Jan. 1 nightly, by reservation only; 4:30-5:30 p.m.
Why: You've seen holiday lights by foot and by car. It only makes sense to experience them by boat.
How much: $25 for adults; $20 for seniors, military and kids 5-12 (4 and under are free)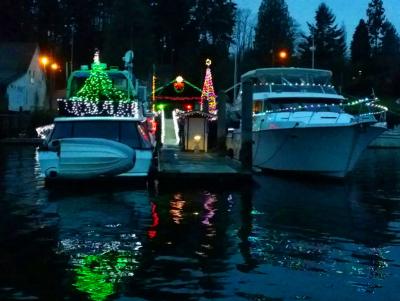 What: The real holiday draw to the Washington State Fairgrounds in Puyallup is undoubtedly the full wonderland of North Pole at the Fair, including Santa's office, his workshop, his toy museum and Mrs. Claus's kitchen. However, you don't want to miss Extreme Christmas. The tallest structure in the Puyallup Valley, the Extreme Scream thrill ride, becomes a glowing, 185-foot-tall artificial Christmas tree.
Where: Washington State Fair and Event Center North Pole Building (Red Gate)
110 9th Ave SW, Puyallup, WA
When: Now through Dec. 24. Detailed hours here.
Why: With the North Pole at the Fair, it's basically a two-for-one deal, where you can let the kids enjoy a winter wonderland, while you wonder how crazy a person would have to be to ride the Extreme Scream.
How much: $5 for ages 2-99