This Saturday, April 22, is Earth Day! Celebrated annually since 1970, Earth Day provides us with an opportunity to appreciate the natural environment, and reflect on conservation efforts. If you're visiting Pierce County this weekend, there are plenty of simple, enjoyable ways to celebrate Earth Day. I've rounded up three easy ways to acknowledge Earth Day.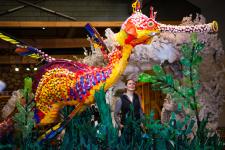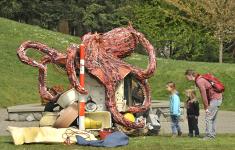 Attend a local Earth Day event
A uniquely fun and educational way to celebrate Earth Day is to spend some time appreciating art, while also learning about the world's oceans. Washed Ashore: Art to Save the Sea is a new series of art installations at the Point Defiance Zoo + Aquarium, artist Angela Pozzi created the detailed sculptures purely from debris found on beaches. The installations are colorful, larger than life, and make for great photo-ops. Kids will enjoy the scavenger hunt to find certain items hidden in each sculpture (pick up an activity page from the Zoo), and will simultaneously learn about how human actions impact our planet's oceans.
Another great option is to spend the day with your family at one of these fun Earth Day events. The W. W. Seymour Botanical Conservatory in Wright Park is hosting an inexpensive Earth Day Celebration on Saturday, and a Family Yoga Play day on Sunday. Kids can get into gardening and horticulture with the Green Thumb Explorers at Lakewold Gardens in Lakewood - this weekend, children will learn about the vital role bees play in our gardens, and then will plant cool-weather crops and learn about garden mollusks! Participation is free, but please pre-register.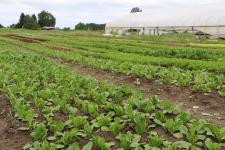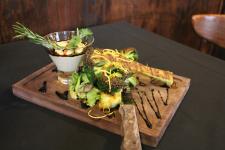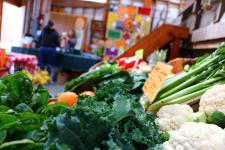 Savor local cuisines
How better to spend Earth Day than by celebrating the agricultural bounty grown here in Pierce County?
For thousands of years, the Puyallup Valley has provided for the humans who lived there, from the Native Americans of the Puyallup Tribe to the current residents. The mild climate and close proximity to Mt. Rainier has created the perfect environment for growing hops, berries, flower bulbs, and a multitude of other fresh produce. This Earth Day, celebrate the bounty of Mother Nature and the hard work of local farmers by enjoying fresh, local cuisine. Puyallup has a fantastic Saturday farmers market, which will be featuring live music this weekend, so spend the morning in Pioneer Park Pavilion browsing the agricultural bounty. Market tip: skip the plastic bags and bring your reusable tote bag to carry home any goodies. After the market, cross the pavilion to Arista Pasta to sample true farm-to-table cuisine, featuring handmade pasta and seasonal produce grown at the restaurant-owned farm.
You can also find Pierce County grown agriculture at the Saturday markets in Gig Harbor, and Tacoma's Proctor District. Marlene's Market and Deli is hosting an Earth Day celebration, and will be offering food and wine samples from local producers. Speaking of wine, the Workshop Tasting Room will be hosting a $5 wine tasting celebrating Oregon-based winery, Airlie. The head winemaker will be on hand to answer questions.
For more farm-to-table fun check out our curated itineraries, or learn about more restaurants with locally sourced menus.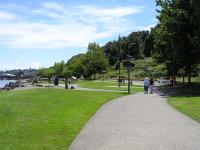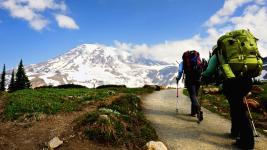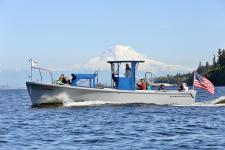 Appreciate the natural environment
Coincidentally, Saturday is also Parks Appreciation Day, making it the perfect time to breathe clean, fresh air and appreciate the natural beauty of the South Puget Sound. Go take a walk in a park (here are six of our favorites!) or participate in some human-powered transportation by renting a surrey or bike along the Ruston Way Waterfront. If you want a  fresh take on the region, combined with the knowledge of a local expert, try taking a guided tour. Spend an afternoon on the water with Captain Tom of Destiny Harbor Tours, or John Synco of Gig Harbor Gondola. Besides the stunning waterfront, Pierce County is also home to Mount Rainier National Park, and there's no better way to explore the mountain than on a small-group tour with Discover Nature. 
Happy Earth Day, Pierce County!