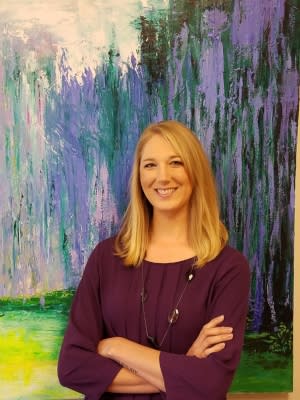 After only about eight months at the Harbor History Museum in Gig Harbor, Executive Director Katharine Hensler has already been getting some good press and making the connections in the community that will keep the museum flush with new programming and exciting exhibits. We wanted to let you get to know her and her organization better in just five questions:
How did you start working at the Harbor History Museum?
I started working at the Harbor History Museum by good fortune! I have worked in the museum industry since 2003 (in PA, AZ and NC), and in 2014, both my husband and I transferred to Washington with our jobs. I was working in Seattle for a non-museum nonprofit, but lived in Tacoma, so I was making a long commute for a job I didn't have a great passion for. When I learned the executive director position was open at the Museum, I jumped at the chance to return to museum management. After a whirlwind of interviews, I was offered the position, and I can't imagine a place where I would fit in better.
What are some of the perks of your job?
The greatest perk of the job is to be back in an industry I love. My passions are 1) history, and 2) building relationships. I get to do both of those things in this job. Museums are quirky places. Some amazing minds gather here, and it never ceases to amaze me, the talented, brilliant, and giving people you meet in the day-to-day operation of this organization. The professional development is also something I benefit from. As a professional historian, I have the opportunity to be part of some high-profile research projects like publications, documentaries, restoration projects, community change, and things that can really have an impact on the intellectual environment locally and beyond. I am often just stunned by the next project to come around the corner!
What are you most excited about for the Harbor History Museum and Gig Harbor in general for the rest of the year?
Gig Harbor is a pretty exciting place no matter what season. It's a very vibrant community, and there is almost no down time. I am most personally excited for our museum's annual fundraiser, History Rocks on October 1. This is our organization's largest fundraising event, that generates almost ¼ of our annual operating income. We have some really aggressive and dynamic plans for this year's event, and I am thoroughly excited to see our hard work produce successful results.
What do you do in your spare time?
I don't remember. I haven't had any in so long! My husband Craig and I love the outdoors so we spend time hiking, backpacking, kayaking, and traveling. I enjoy volunteering with community initiatives like Rotary Club, Muscular Dystrophy Association, Permission to Start Dreaming Foundation, and instructing therapeutic horseback riding lessons. I am also a charter member and associate director of the Society for Historic Exploration. Lastly, we have a little Boston Terrier named Schatzie who we spoil rotten.
What are the first websites you visit every day?
Our museum CRM site, Altru.com, Facebook and some variety of BBC and NPR to catch up on the news.