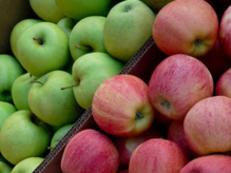 Washington state's rich soils, diverse climates and large-scale irrigation makes it one of the most productive growing regions in the world.
Washington has nearly 40,000 farms growing nearly 300 specialty crops which power a diverse agricultural economy.
Top 10 Commodities in Washington:
Apples [first in U.S. production]
Milk
Wheat
Potatoes [second in U.S. production]
Cattle/Calves
Hay
Cherries [first in U.S. production]
Nursery/Greenhouses
Grapes [first in U.S. production]
Pears [first in U.S. production]
Other Notable Washington Farm Facts:
Washington is the second largest wine producer in the U.S. with more than 700 licensed wineries.
Washington ranks first in the U.S. for production of certain commodities, including apples, grapes, sweet cherries, pears, red raspberries and hops.
Source: Washington State Department of Agriculture
---
Farm Facts: Pierce County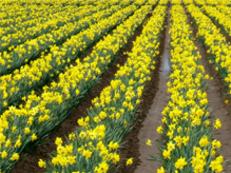 Pierce County is home to nearly 1,500 farms. From seafood to rhubarb, wine to eggs and pumpkins to daffodils, the variety of products that come from the region contributes greatly to the local economy.
Top Commodities in the County
Poultry
Nursery/Greenhouse
Aquaculture
Rhubarb
Other Major Crops:
Daffodils
Tulips
Pumpkins
Lettuce
Cabbage
Radishes
Green Onions
Raspberries
---
Rhubarb Capital of the World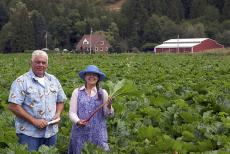 With more than 275 acres, commercial production of rhubarb is concentrated in Washington state. Pierce County leads the United States in rhubarb production, raising about 50 percent of the nation's supply. A majority of the rhubarb is grown in the Puyallup Valley and Sumner, which boasts itself as "Rhubarb Pie Capital of the World."