Let me start by saying I love getting out on the water during the summer, but I also love pizza. For me – and for most Pierce County visitors – a kayak is the easiest and fastest way to get on the water, but it's not exactly pizza-friendly.
That's why I'm thanking my Canadian-bacon-and-pineapple-loving stars for Gig Harbor Boat and Kayak Rentals (a.k.a. Gig Harbor Yachts) right about now. Just a couple weeks ago, they launched a brand-new electric boat rental operation. Now you can rent an electric boat with or without a skipper and cruise around Gig Harbor's waterways. And eat pizza.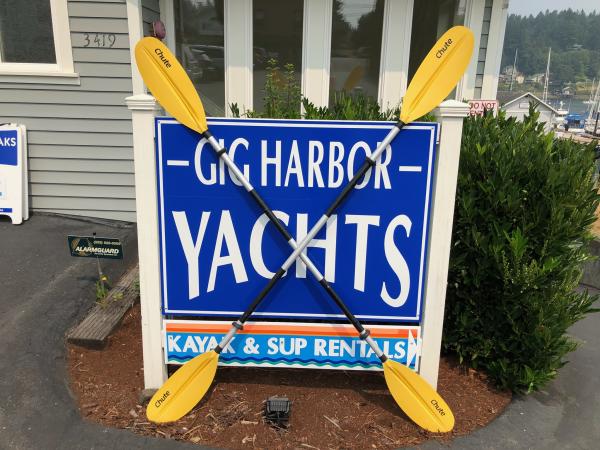 The Travel Tacoma team took a boat out for a spin around the harbor, and found that after a quick crash-course in not crashing, it's easy enough to pilot the boat without a skipper. You don't even need a boating license, since it's electric. The skipper does come in handy if you want to learn more about the parks, restaurants, houses and businesses that line Gig Harbor's waterfront. Also handy if you don't want to have to draw straws to decide who will be a designated driver.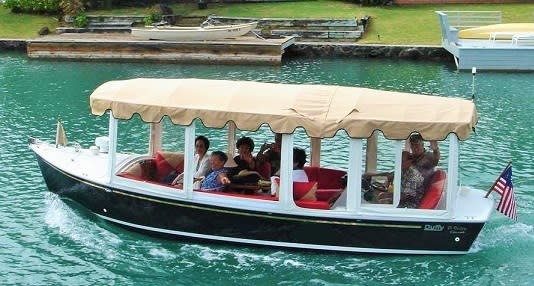 There's a refrigerator on board to keep your beverages cool, and a wrap-around plastic windscreen to keep you warm. A better-than-decent sound system keeps the energy going, but you won't need to crank it up, because the electric engine is eerily silent. If you've been on motorboats before, it might throw you off when you're able to have a conversation in normal tones at cruising speed.
The two boats are roomy 10-seaters, and fit our group of eight with room to walk around. The prices seemed pretty reasonable at $195 for two hours without skipper on Monday to Friday ($295 with skipper) and $295 for two hours without skipper Friday Evening through Sunday ($395 with skipper).
Of course, it's not all fun and games. This is boating; there are rules. But to be fair, their rules list is short and simple:
No smoking
No pets
No red wine
Stay in the Harbor (there's a lighthouse at the end; can't miss it)
But with great responsibility comes great power, and the options this opens up are pretty sweet:
See how the better-half boats - Skim in and out of the docks where the big yachts are tied up. Being respectful, of course.
Dine like a boss - Park and dine at Tides Tavern or Anthony's – At the Tides, they'll even serve you at your boat.
Make an entrance - Pull up to concerts at the park like you own the place.
Combine two pleasures - Eat delicious pizza from Millville, right next door to Gig Harbor Boat and Kayak Rentals. It's so close, and the boating instructions are so quick that it'll probably still burn the roof of your mouth by the time you launch into the harbor.