Ambiance is the word you can't avoid in Sumner during the Holiday season. But unlike some other "holiday towns," Sumner's ambiance has grown slowly, naturally over time. It was developed by locals, for locals, but welcomes visitors with arms just as open.
Antique, bemuraled, and restored brick buildings lined with soft-white, glowing Holiday lights along Main Street. 
Coffee shops, bookstores, bakeries, boutiques, and antique stores competing in a window-decorating contest to see who can bring the most cheer to Main Street.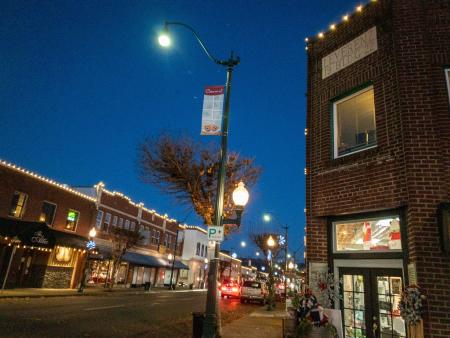 The Cannery Way Bridge that lights up with a green-and-red light show at dusk each day to welcome the evening, the shoppers, and the season in general.
It's a community that supports local businesses with programs like a Restaurant Bingo, where shopping local can win someone (even a visitor!) $50 in Downtown Dollars .
An Elf Hunt that keeps kids' heads on a swivel, trying to be the first to spot Santa's helper, and win $25 in Downtown Dollars for their hard work and keen eyes.
And music. Holiday music piped in throughout downtown Sumner, putting the final touch on an entire season. The ambiance is complete. 
To say that 2020 hasn't been an easy year is an understatement, but it's hard to disagree that the simple things have taken on new importance this year. Small towns invite slower enjoyment, and Sumner during the Holidays is just the kind of small town Americana that asks us to remember that not everything worth doing needs a ticket or a crowd. 
So come to Sumner. Have a cup of hot tea, coffee, or cocoa on Main Street. Browse the shops for a gift for someone else (or yourself!), and maybe grab a meal, dining outdoors, or get something to go. Stay the night in a local hotel, and wake up to a hot breakfast at another Sumner favorite restaurant on a frosty December morning.