"When the racers are competing, they stay on their bikes, right?" I asked.
"Yeah...well, mostly. Except for when they're carrying them," she said.
That was my introduction to Cyclocross, the edgy, intense-yet-approachably-quirky side of USA Cycling's family of competitions. Next week, the 2019 USA Cycling Cyclocross National Championships will be held Tuesday, Dec. 10 – Sunday, Dec. 15 at Fort Steilacoom Park in Lakewood, and it's an event worth breaking out the mittens to see.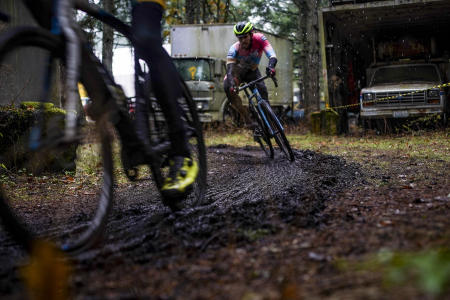 What is Cyclocross, Anyway?
Cyclocross is a bicycle race format where racers make several laps around a short (about 1.5 - 2 miles) course of terrains like grass, mud, sand, pavement and unpaved trails. Sometimes there are stairs made of railroad ties, and riders often have to dismount and carry their bike for parts of the race. And since that isn't challenging enough, races typically take place in the fall and winter, and in places like the Pacific Northwest that can - shall we say - maximize the mud effect. That brings us to the big event.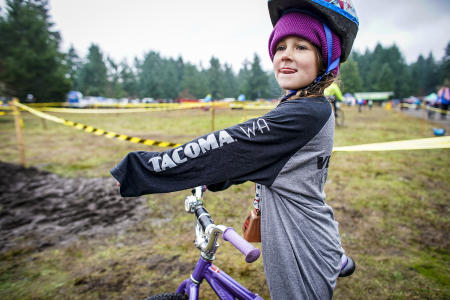 Tell Me About the National Championship
The best athletes in the sport (nearly 2,000 of 'em) descend on a tough, purpose-built course (1.5 - 2 miles of it) next week at Fort Steilacoom Park in Lakewood for a non-stop series of races (37 of 'em) that make up the National Championships.
Winners of the coveted Stars-and-Stripes jerseys will be joined on the podium by Podium Pets, local pets that are up for adoption through local shelter Wet Noses Dry Paws.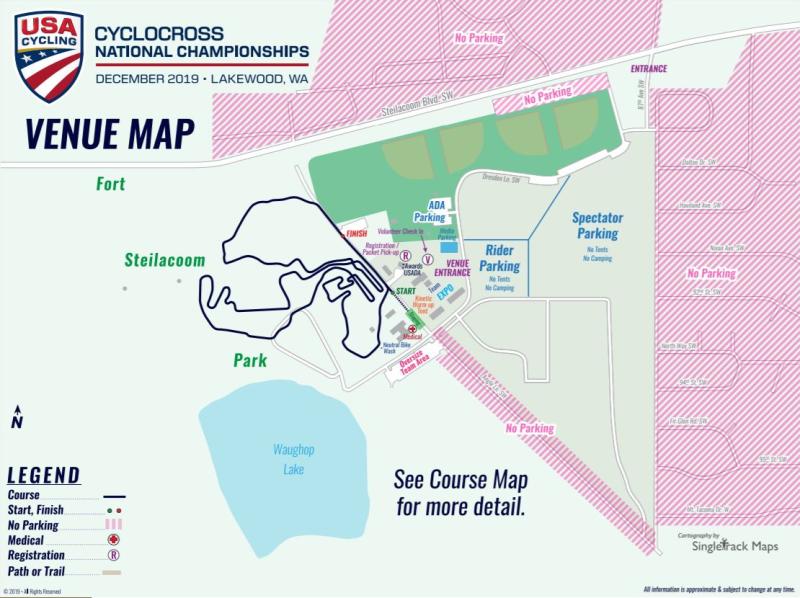 Food and Drink
The event week will showcase vendors from across the country, two beer gardens, three food trucks, two coffee vendors, and the opportunity to watch daily podium presentations. Tuesday through Sunday the main beer garden will be open near the sand pit. A satellite beer garden will be operated at Descent One / Run-Up Two on Saturday and Sunday. 
Admission
The Fort Steilacoom Park course opens daily at 8 a.m. for the competition, with racing and awards concluding 4-4:30 p.m. (check schedule online; all times Pacific Daylight). Wristband admission is $20 per person including tax, which is good for the entire event week. Free vehicle parking will be available (see below).
Race Schedule:  
Tuesday, Dec. 10          9:05 a.m. to 4:15 p.m. Non-championship and Masters Women 60+, Men 70+
Wednesday, Dec. 11      8:30 a.m. to 4:15 p.m. Masters Men and Women; Non-championship Mixed Relay
Thursday, Dec. 12         8:15 a.m. to 4:15 p.m. Collegiate; Men 11-22 Non-championship; Masters Men
Friday, Dec. 13             8:10 a.m. to 4:30 p.m. Collegiate; Women 11-22 Non-championship; Masters Women
Saturday, Dec. 14          8:30 a.m. to 4:15 p.m. Industry and Singlespeed races; Juniors Men and Women
Sunday, Dec. 15            8:15 a.m. to 4 p.m. Junior 17-18 Men and Women; U23 Men and Women; Elite Men and Women; 10 and under Non-championship
Entrance and Parking
Racers, spectators, teams and vendors will enter the venue from 87th Ave SW and Dresden Ln SW. Racers and spectators will stay in the left hand lane, the opposite lane of traffic, once inside the park to enter the main parking area. Following parking signs, rider parking will be closest to Dresden Ln SW and spectator parking will be to the east of rider parking