Growlers hang like roosting bats from the warehouse ceiling at the Elk Head Brewing Company in Buckley, 25 miles east of Tacoma. Below the growlers, the bartender pulls pints of Peacherino, Liberty Cap IPA and Imperial Porter, rich with locally roasted Buono coffee. But it's the Blast Zone that keeps beer-connoisseurs coming back for more - spicy, smoky chile-pepper ale as surprising as its rural-industrial-strip turned taproom.
Pint-size producers like Elk Head are sprouting up quicker than moss on Pacific Northwest wood siding. Beer-passionate Americans are opening breweries faster than at any given time since Prohibition ended. There is nearly a new brewery every day of the year, and Tacoma is perfectly situated to take advantage of these tasty startups.
---
A Homegrown Community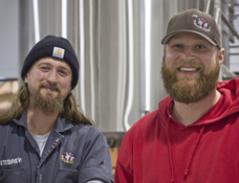 All across the region stories like this are playing out, echoing the 1990s microbrewery explosion.
Unlike in many other disciplines, most brewers delight in helping hobbyists go pro. This has led to a strong cadre of artisanal breweries and a growing scene. The Tacoma Craft Beer Festival draws big crowds, and it's in good company with the Gig Harbor Beer Festival. More than 1,200 people turned out for its inaugural run, crowning Dubbel Entendre their favorite: Poulsbo's tiny, three-man Sound Brewery makes this abbey-style ale with aromas of chocolate and dark toffee.
People are the key - from producers to the pubs and the public. There are a healthy amount of craft and nanobreweries on tap at area bars like The Spar, The Swiss, The Red Hot and Parkway Tavern, which grow the community and allow for creative yet well-executed local brews.