Let's set the scene. It's July 15-16, and all eyes are trained on the wide blue expanse above Joint Base Lewis-McChord (JBLM) in Washington. We're not talking about birdwatching here, friends. Nope, we're gearing up for an adrenaline-pumping, awe-inspiring shindig in the sky. And everyone's invited!
It's been dubbed "Warriors Wanted: Explore Your Destiny." Sounds epic, right? While there's no sword-fighting or treasure hunting involved (as fun as that would be), we've got a sky-full of death-defying aerial stunts and spectacular displays that'll make you feel like a true adventurer.
Our Stellar Line-up
Picture this. The U.S. Air Force Thunderbirds streaking across the sky like supersonic daredevils. Vintage warbirds like the B-25 sharing airspace with modern marvels like the MEDEVAC-configured Black Hawk. Not to mention, the Stryker Demo team will be there, kicking up dust and reminding us that high-octane thrills aren't just limited to the skies.
The Nitty-Gritty
The party kicks off at 9:00 am, bright and early. We recommend arriving in good time, as traffic promises to be as stubborn as a mule on a Monday. If you're not a fan of long drives or gridlock, don't sweat it - we've got free shuttles from three locations to get you there hassle-free.
Remember, folks aged 16 and above, don't forget your photo ID. This isn't just a fancy get-together; we're all about safety and security. And bear in mind, schedules and appearances might change. After all, even the most well-oiled machines can have their off days.
Parking doesn't promise to be a cinch, so take a gander at the map below and make plans accordingly.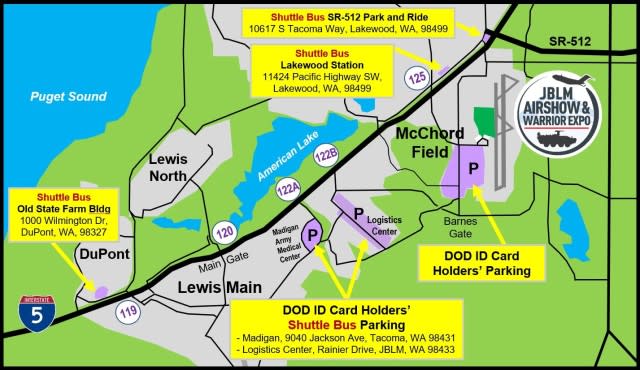 A Skyward Celebration
We're celebrating more than just our return after a seven-year hiatus. We're also marking 50 years of women making waves in modern military aviation. It's a momentous occasion, and we're pumped to share it with all of you. So mark your calendars, gather your loved ones, and join us as we salute our brave men and women in uniform at the JBLM Airshow & Warrior Expo 2023. It promises to be a truly unforgettable event!