When car enthusiasts talk shop, you'll often hear about horsepower, torque, cubic inches and gear ratios. That's appreciation through the hard numbers, and it's an effective way to evaluate vehicles. However, it's not the only way. There's a softer, more emotional side to automobile appreciation – "automobiles as art" - that deals with materials, form, design and brand pedigree, and this side hasn't always received the reverence it deserves. Until now.
America's Car Museum
's new exhibition –
Exotics@ACM: Seductive Supercars
– delivers on the name, paying homage to the low-slung, high-performance, high-end vehicles that feature soft curves, sleek styling and the power and handling to back up their aggressive stances.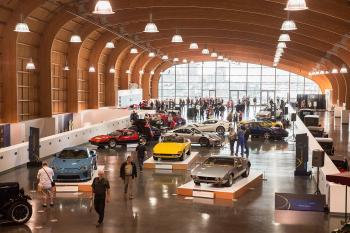 More than simply looking like they're going 80 miles per hour while they're standing still, the eye-catching design of these cars connects with a different part of the brain, often eliciting a more emotional response. In introducing the exhibition, Curator of Exhibitry Scot Keller said "I'm not supposed to be emotional about the cars that come into the museum, but this V12 is a rare thing."
Rare indeed. The V12 he referred to is a 2012 Aston Martin V12 Vantage, one of only about 1,200 Vantages in the world. The car's owner, Tim Morgan, echoes Keller's evocative language, describing both the look and handling of the Aston as "visceral."
With limited-production vehicles from Ferrari, Lamborghini, Mercedes, BMW, Lexus, Acura, Porsche, Maserati and even a De Tomaso spread throughout the museum's first-floor gallery, it's not easy to find something that holds one's eye for long.
However, a blinding-white Ferrari F12tdf tries hard. Even faced with data and statistics such as 0-to-60 in 2.9 seconds and a 6.3L V12 powerplant, the owner's description of the "unfriendly" driving experience turns passionate. "It darts into corners instead of resisting. It's madness. Pure madness," he says with a smile.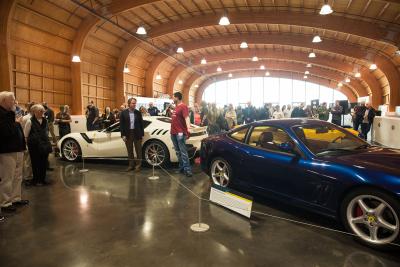 Once you've been desensitized to walking amongst the height of the automotive industry's offerings, the oddities begin to stand out: The triangle-shaped triple-exhaust of the Lexus LFA, for example, or the gull-wing doors to the engine bay of the De Tomaso Mangusta.
Putting together such a display of design and performance was an ambitious endeavor, even for the largest car museum in North America. Each of the 18 exotics, supercars and hypercars in the carefully curated exhibition was identified in a process that took nearly four months, while gathering them together took more than a year.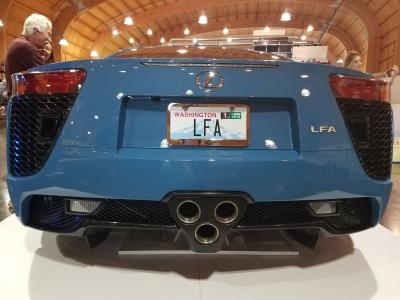 Representing the very best of an industry whose biggest fans often skew to the technical side, it would be natural to assume it's the sky-high horsepower, engine displacement and top speeds that define this exhibition, but that's not the case. The reaction to these vehicles is more akin to a reaction to works in an art museum: emotional, primal and reflexive.  Children, laypeople, non-"car people" and the casual observer can all appreciate the sleek design and intentionality behind every aspect of automobiles crafted at this level.